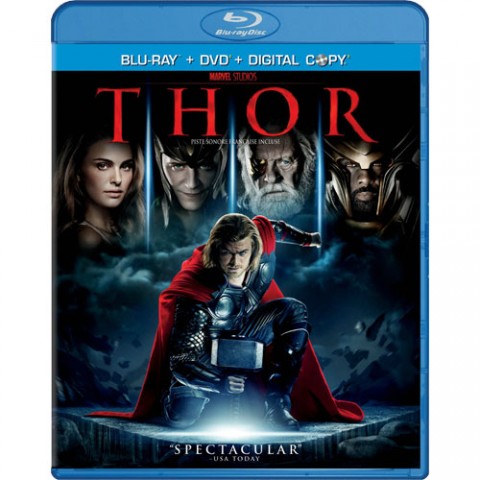 This summer's blockbuster hit Thor comes to Blu-Ray and DVD Sept 13/11 (also available on 3D combo pack).
The Blu-Ray comes with 80 minutes worth of extras, but more importantly it comes with 20 minutes of deleted scenes that include more scenes of Odin and Frigga (Anthony Hopkins and Rene Russo).
The anticipation for the release of Thor is pretty high (also the release of Captain America – coming Oct 25/11) especially with the release of The Avengers in 2012.
Thor was the surprise hit for me this summer.  I originally thought Green Lantern would have been a better performer at the box office than Thor, but with a worldwide box office take of $448,512,824 (source Box Office Mojo) it is clearly one of this summers biggest movies.  Which should see a return of all its stars for the sequel.
This movie is a perfect date movie.  I know what you're thinking… it's a Superhero movie.  Well your wrong.  This is the perfect date movie.  Thor and Jane Foster have more of a romantic relationship in this movie than any "upside-down-Spider-kiss" could ever have.  Just the scene where Thor and Jane sit and he talks about the 9 realms around the fire is enough to get any lady to watch this one for date night.  And guys if you have a hard time selling your "lady friend" on that one, just show her the clip of Chris Hemsworth walking around with his shirt off.  She'll be ready to watch this one anytime, and you shall be in all of your "Asgardian Glory" with a perfect date movie (just make sure to prepare a feast that would rival the halls of Valhalla).