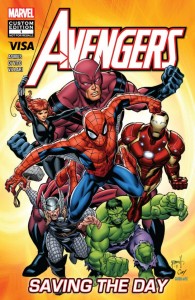 Here's a great link someone sent me from the Financial Post.
It says on one website that the book will be printed in 8 languages so I'm assuming Greek, Spanish, Portugese, post bubble Irish, Italian and Sub-Prime English are among the 8 languages chosen.
Avengers: Saving the Day has a cover by Tom Grummett, art by Andrea Di Vito and is written by Visa, I mean by James Asmus.
Too bad the financial papers just use news like this to lighten the mood and have a little fun. As far as I'm concerned there should be some better coverage of graded comics as investments. WE need a Dow, an S&P, a TSX or perhaps a COMEX. I'm thinking CBD writer and ComicTrend creator RJ can get on that ASAP! I for one will set up funds that include buckets of books dependent one ones risk tolerance!