Diamond posted some interesting information about participating in Free Comic Book Day, or to be more accurate to be a Free Comic Book Day 2013 Participating Retailer and receive its benefits.

Store owners looking to maximize their potential on Saturday, May 4 can become a Free Comic Book Day 2013 Participating Retailer and be listed on the freecomicbookday.com shop locator website simply by ordering at least 20 copies each of the 12 Gold Sponsor titles by their Order Increase Cut-Off date of Monday, February 18. (Please note that only storefront businesses are eligible.) Because this is the 12th FCBD, the committee thought selecting 12 GOLD books made sense for the occasion, instead of the usual 10. Selected by retailers who serve on the FCBD Committee, this year's roster of Gold Sponsors and their books include a comic book for everyone's tastes.
Please Note: By buying FCBD editions, you agree that you will give them away for free on May 4, 2013, with no purchase required, nor will you place any of the goods on sale online.
APE ENTERTAINMENT: SESAME STREET/STRAWBERRY SHORTCAKE ($0.28)
ARCHIE COMICS: THE WORLD OF ARCHIE DIGEST ($0.25)
BONGO COMICS: BONGO COMICS FREE-FOR-ALL! (0.23)
BOOM! STUDIOS: KABOOM! SUMMER BLAST ($0.26)
DARK HORSE COMICS: STAR WARS/CAPTAIN MIDNIGHT/AVATAR ($0.28)
DC COMICS: SUPERMAN SPECIAL EDITION ($0.26)
IDW PUBLISHING: TMNT NEW ANIMATED ADVENTURES ($0.27)
IMAGE COMICS: THE WALKING DEAD SPECIAL ($0.23)
MARVEL COMICS: MARVEL FCBD 2013: CLASSIFIED! ($0.25)
PAPERCUTZ: THE SMURFS ($0.30)
UNITED PLANKTON PICTURES: SPONGEBOB COMICS FREESTYLE FUNNIES ($0.24)
VIZ MEDIA: IT'S THE UGLY DOLL COMIC & OTHER STUFF ($0.25)
In addition to a free FCBD promotional poster, window cling, and two shelf talkers (offered in the December 2012 Retailer Order Form), all Participating Retailers receive promotional support from Diamond and all of the supporting publishers and organizations involved with the event.  
As a Participating Retailer, you will be automatically enrolled in a special store locator on www.freecomicbookday.com. This locator functions just like the Comic Shop Locator Service (CSLS) and will enable interested parties to find you quickly and easily. Best of all, if you are already a CSLS participant with an online profile, your profile will automatically be shown to visitors at www.freecomicbookday.com, too! 
You will also be able to download a bag slick for promoting the event, both in your store and/or in cross-promotion with other businesses, plus a co-op ad slick and a customizable press release to send to local media to gain coverage and exposure. Additionally, FCBD comics are designed to allow for prominent placement of your store stamp on either the front or back cover, effectively extending the life of this promotional event indefinitely. 
Complete descriptions of all FCBD 2013 titles can be found online now at www.freecomicbookday.com, and in the January issue of Diamond's PREVIEWS catalog.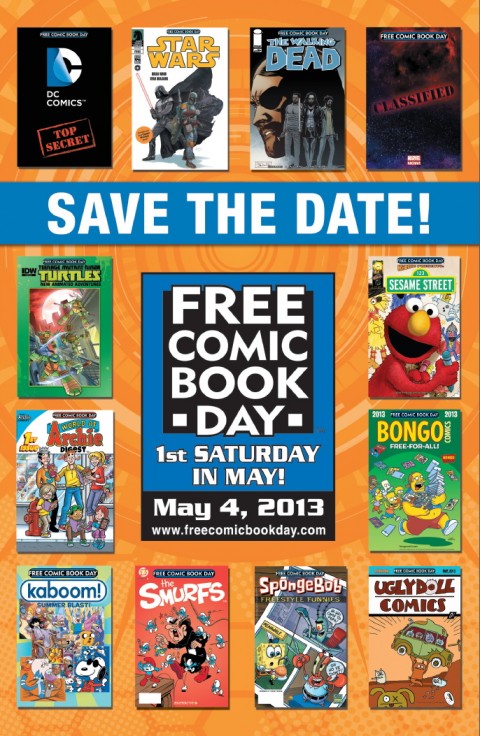 So a brick and mortar comic shop will need to spend $62 purchasing twenty copies of all twelve gold sponsor books to get themselves listed on the FCBD store locator website. That doesn't seem like a lot of money to take advantage of the largest comic book press event of the year.