With critics poised and ready to cheer and jeer all at once, Batman Live raises its curious curtain on a "buzzing" cast and creative team.  The instant adjective chosen by Executive Producer – Nick Grace, during rehearsal time in Manchester.   Nick was kind enough to 'down tools' briefly – and share with me his hopes for the shows (then) looming, opening night in the north of England.
BATMAN LIVE
The intrinsic (and modernized) Dick Grayson is 'celebrated' at the forefront of a rollercoaster narrative.  We see him evolve from young and talented circus performer, through the pain of losing his parents – and later finding that dark, common ground in Batman.  Grayson develops his circus skills on Gotham's crime-filled streets under Batman's watchful wing – and before long, finds himself in the position of 'right hand man' and assumes a new identity…  Robin.
Not knowing the true identity of his new mentor, Robin quickly becomes Batman's protégé – and with Gotham City herself, screaming out for a saviour in a disco-dance of villains (including The Joker, Harley Quinn, Catwoman, Riddler, Two-Face, Penguin and Poison Ivy) our faith rests upon the Dynamic Duo to protect us, serve us and most importantly, entertain us.

Gotham City is featured as the blood and bones of a hugely impressive, audience intruding stage, which finds itself relentlessly pummelled with state-of-the-art pyrotechnics, special effects and illusions.
In the hunt for Comic Culture shaped tit-bits and general inside info, I opened by asking where this all came from??
Nick was relaxed but, excited to talk about a project he's (quite literally) lived and breathed for two and a half years, a project he had the idea to do himself, an idea he pitched to a (skeptical) panel at Warner Brothers…
Tuesday 12th July – 13:00
I understand you dreamt this up yourself? and pitched the idea to Warner Brothers – where did the inspiration come from? and how did they react initially?
Well, about two and a half years ago, myself and some friends/colleagues decided make 'wish list'…  the top 5 productions we'd all like to create and work on.  Batman was on everyone's list and, for me, Batman was at the top – we developed a strong concept and took it to Warner Brothers.   The reaction initially was, as you'd expect… quite tentative, it was the creative team line-up (and their credentials) that won the pitch.
Everyone involved in the show are at the top of their game.  Warner Brothers had such confidence in the team, the excitement quickly began to build – and we got the green light.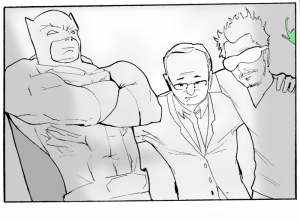 Who in particular were they most excited about?
Well, the whole team really… Creative Director Anthony Van Laast and Co-Director, James Powell.  Set designer Es Devlin (who's designed stets for lady Gaga).   We've got music composed by James Brett, sound designer Simon Baker, lighting design by Patrick Woodroffe, video direction by Sam Pattinson, costume design by Jack Galloway… the list just goes on and on! we've also worked closely with circus consultants.  Some of these guys have worked with the biggest performers in the world and built some of the biggest traveling shows ever designed.   We've got original art by Jim Lee telling Batman's origin story on the video screen, with writing from Jeph Loeb.  Also writing is (comic book fan) Allan Heinberg, whose resume includes Grey's Anatomy and Sex And The City… so, we've got an incredible team writing strong comic content and believable, relatable relationships.
We've been doing this for a long, long time… the creative team are second to none.
What a fantastic feeling to get the green light!  So you've been planning and working on the show since then? How has it evolved? Will the show feel like a comic book?
The whole idea of the show is to bring the comic book to the stage, so Inspiration came directly from the comic books.  I want the entire show to feel like a comic book from start to finish.  We've got a 100ft video screen which we use for moving backgrounds, set changes and location.  We also use the video screen to tell Batman's origin story (as I mentioned before) with Jim Lee's original artwork so, it's very much a comic book on stage.  There's an original Batmobile designed by Gordon Murray… an actual supercar, engineering legend!  it's a fully functional, working car designed with no road-legal restrictions so, it could actually go 150mph, upside down on the ceiling.   We also have a revamped Robin origin AND all the key characters from the Batman universe which, is probably the best line-up of villains in the comic book world I think?! maybe some of the best fictional villains ever created.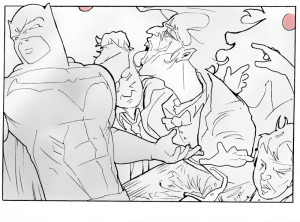 What can you tell me about the new Robin origin?
It's a more modern take.  The key points are all still in there, it's just a allot more modern and very well told.
I understand you were a big Batman fan as a child, what's your favourite incarnation of the Caped Crusader?
My fondest memory of Batman as a child is the TV series with Adam West,  though, our show isn't nearly as 'camp' that.  I loved the family-friendly storytelling and lightness, it was cheesy as hell… and that was ok.  That speaks volumes for the character, as you can go completely the other way with him and make it as dark as, say… Frank Miller has done or Christopher Nolan.  Batman is a comic book character first and foremost.
Are you aware of the DC revamp set to impact the DCU in November? Have DC/Warner Brothers been involved in the look and feel of the show?
Yes, we are aware of the coming changes, DC/Warner Brothers have been involved in EVERY single aspect of the show… everything… look and feel of costumes, characterisation, story design, personnel… everything.
Our Batman is designed to fit directly into a current Batman universe and absolutely belong there.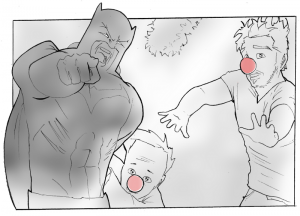 What kind of Batman is the show closest too?
Nowhere near as camp as Adam West, not quite as dark as Christopher Nolan's Dark Knight.
What makes this show different from other shows? namely, Spiderman Turn Off The Dark?
We both have superheroes in our show… the similarity stops there… ours is global and it's not a theatre show or a musical.
It was important to Warner Brothers to put Batman in a "big space" on a global stage.  We've delivered that.
How have you managed to 'sidestep' the negative press that they've received?
You're not the first person to ask me that.  We've been doing this for a long time now and our creative team is world-class (as you know).
We're just, very good at what we do.
What's your favourite moment in the show?
It's all amazing! there's one scene where the Joker and Harley Quinn stage a prison break from Arkham Asylum in a giant balloon.  The stage is engulfed with explosions and fire…
it's quite breath-taking.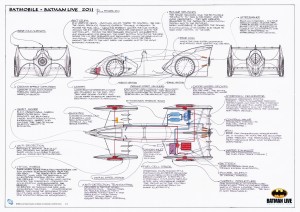 How are rehearsals going?
There's a real buzz among the cast and crew, they're all so excited to get the show out there… it's buzzing!
Who will get a bigger kick out of the show? Comic book fans or… normal people?
It's for everyone,  the look and feel of the show will appeal to everyone, young, old, Batman fan or not.
Finally… In the midst of another 'Hollywood romance' with comic books, it's an exciting time for the industry.  Will the show feed off of that?… Or does it make you nervous?
It's a fantastic time for the superhero genre at the movies.  It's massively encouraging to see – and it can only help us.  Good Superhero movies are worth their weight in gold in Hollywood currently; the good ones easily transcend generations and fan groups.  We hope to achieve the same with our show, catering for the long-time fanboys, the family groups, the kids, the newbies and the older fans and family members.
We've made something really special here and I can't wait for people to see it.
Have you got a message for the Comic Book Daily fans?
Don't miss us.  We're on a tour of the world, so once we've been and gone… we won't be back for quite a while.
Come and see it.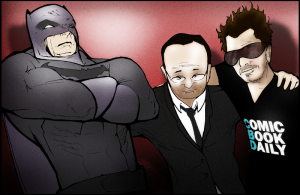 The Batman Live arena tour is produced by Nick Grace Management and Water Lane Productions Ltd (WLP).