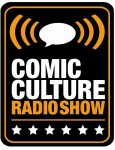 This week Comic Culture hosts Chris Owen and Walter Durajlija old comic books selling for tons of money, the new Ghost Rider movie, the new Sin City movie, comic book "pressing", as well as a complete recap of the just finished Fan Expo held in Toronto so kick back, relax and enjoy  Comic Culture, the radio show full of possibilities.
Comic Culture is produced by Anthony Falcone and is engineered by James McIntosh.
Enjoy Comic Culture August 31st 2011 Edition.