Comic Link Winter Featured Auction
The comic book portion of ComicLink's Fall Featured Auction ended Wednesday February 25th with some staggering results.
The market is still hot!
The big book of the auction turned out to be the CGC 9.6 Fantastic Four #5 that got $96,267.00. I'm not sure but I think I'd rather have the CGC 2.0 Superman #1 that got $81,222. I'm not a big Superman #1 fan but I like the result being more about the book and less about the grade.
A Hulk #1 CGC 6.0 got almost twice as much as a Fantastic Four #1 at CGC 6.5.
Here are some top 50 tidbits:
23 Golden Age
14 Silver Age Marvels
7 Batman related books
A bound collection of Golden Age Superman comics
1 CGC 9.9 – the Walking Dead #1
4 Bronze Age CGC 9.8s
Only 3 Spidey books, his must be an historic low?
OK let's look at some results.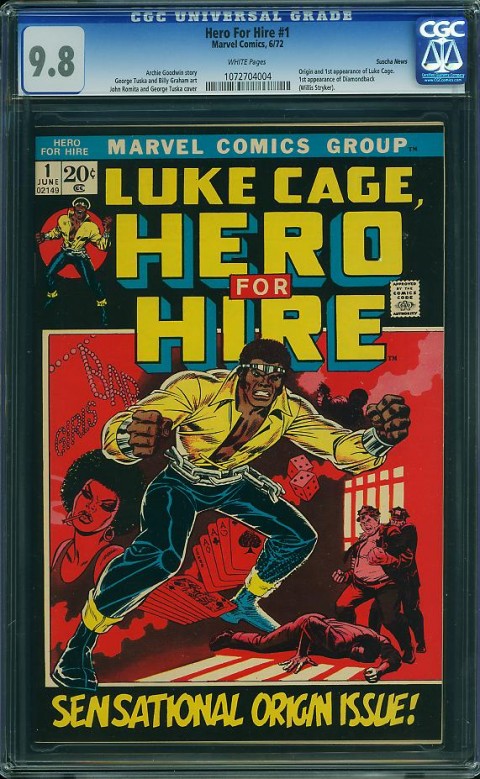 Hero For Hire #1, Marvel Comics (June 1972) Graded by CGC at 9.8 with White pages sold for $11,360.00.
I have no idea when this book will stop. To me this is too much for grade. There are still a lot of copies of this book not graded; on top of that there are a heck of a lot of nice clean tight 9.6s available at a fraction of the price. We are seeing the utility of ownership working its influence on low grade prices basically pushing the prices of low grades up, perhaps we will start to see the utility of ownership keeping 9.8 prices down? Probably not.
Advantage Seller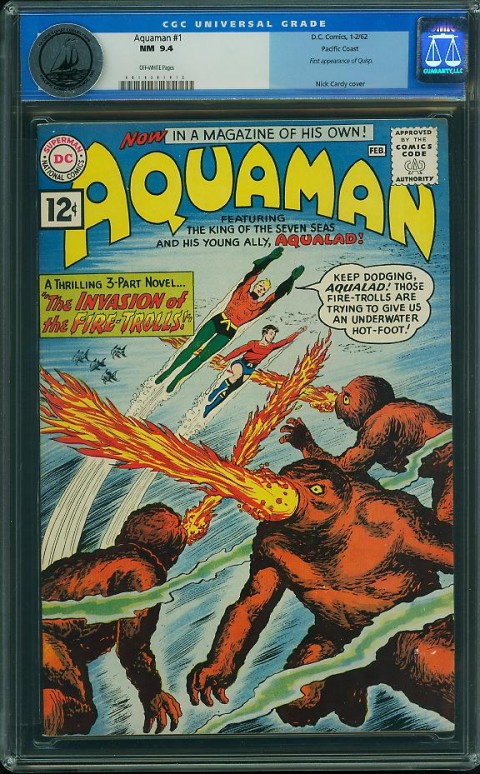 Aquaman #1, DC Comics, (February 1962) Graded by CGC at 9.4 with Off White pages sold for $11,360.00.
Crazy money for this comic. I knew there was a lot of room for this book to shoot up and I expected it to approach 10K. It was a surprise to see it crack $10,000. Aquaman was not a major title. The character appeared first in the Golden Age (More Fun #73), then he was in Adventure Comics and the 4 Showcase Comics tryouts So I'm saying we might be giving Aquaman #1 a bit too much respect.
Advantage Seller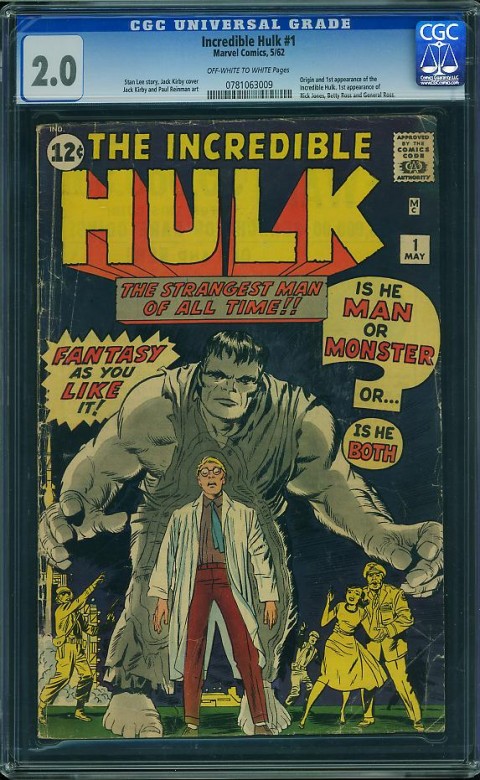 Incredible Hulk #1, Marvel Comics, (May 1962) Graded by CGC at 2.0 with Off White to White pages sold for $6405.00.
Hard to believe that Hulk #1 at 2.0 is outperforming Amazing Fantasy #15. AF #15 it 2.0 is still trading below $6k. I do like this copy though, Hulk is a tough book and at the end of the day this is a good buy in to the party.
Advantage Buyer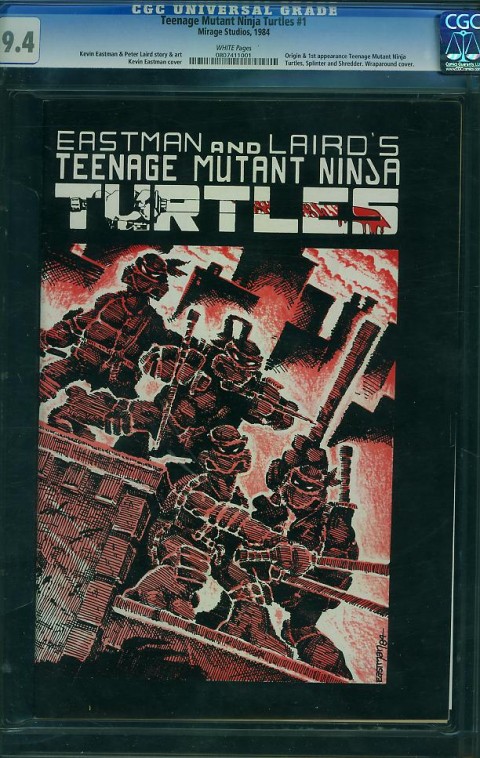 Teenage Mutant Ninja Turtles #1, Mirage, (1984) Graded by CGC at 9.4 with White pages sold for $4,863.00.
The Turtles have been trending down for the last little while. The last 9.4 before this one got over $5,200 and the average before that was closer to $6k. What gives? Not sure. I do think the property has legs though and it is here to stay. Maybe we're experiencing a trough like Hulk #181 at 9.8 and 9.6 experienced a couple of years back?
I bid on this book, was trying to steal it for less than $4,500.
Advantage Buyer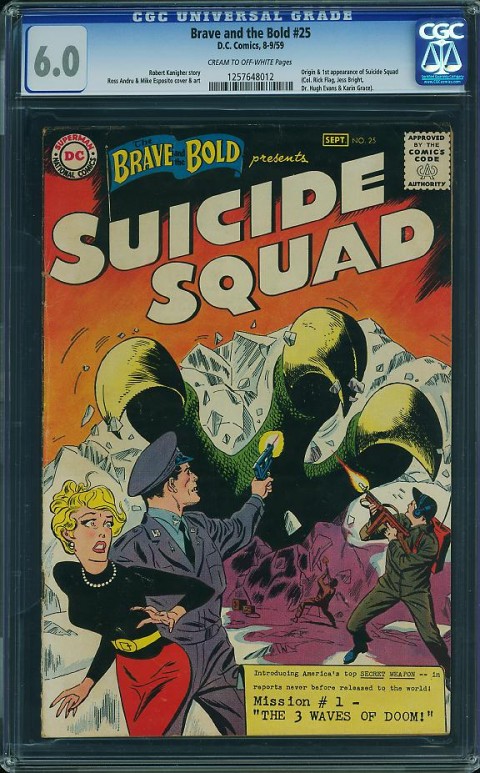 Brave and the Bold #25, DC Comics, (August/September 1959) Graded by CGC at 6.0 with Cream to Off-White pages sold for $2,500.00.
So what do we do with these 1st appearances that are no longer really first appearances? This book features Suicide Squad, Marvel Superheroes #18 featured the Guardians of the Galaxy. Both books have been usurped by more modern books that introduced updated teams. These updated teams are the current pop culture darlings, movies are being made based on them. So back to my question, how much stock do we put into these original incarnations, they did introduce the premise after all. This one is close but I'm comparing 6.0s of great properties like Hawkeye, Black Widow, Wasp etc and this seems pricey.
Advantage Seller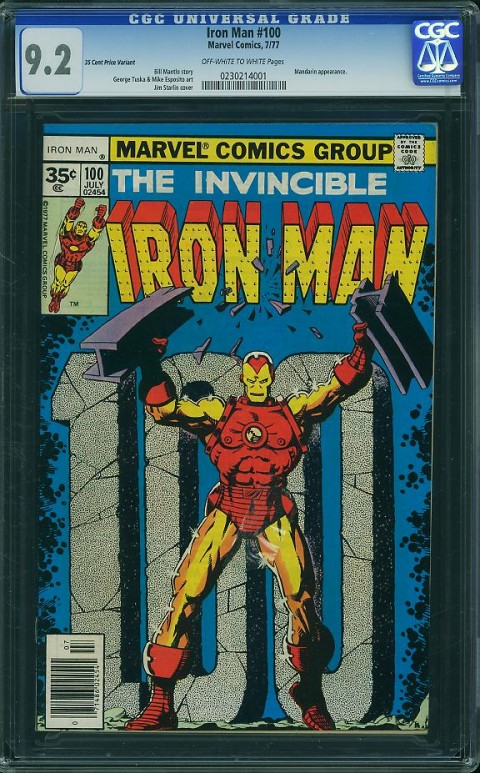 Iron Man #100, Marvel Comics, (July 1977) Graded by CGC at 9.2 with Off White to White pages sold for $1,200.00.
In this same auction Iron Fist #14 9.6 the price variant got $10,250. Star Wars #1 variants get dumb money. I don't get price variants but that doesn't mean they can't be worth money. I've been saying they are overvalued for at least the last 5 years, that's a lot of years of being very wrong. My post so …
Advantage Seller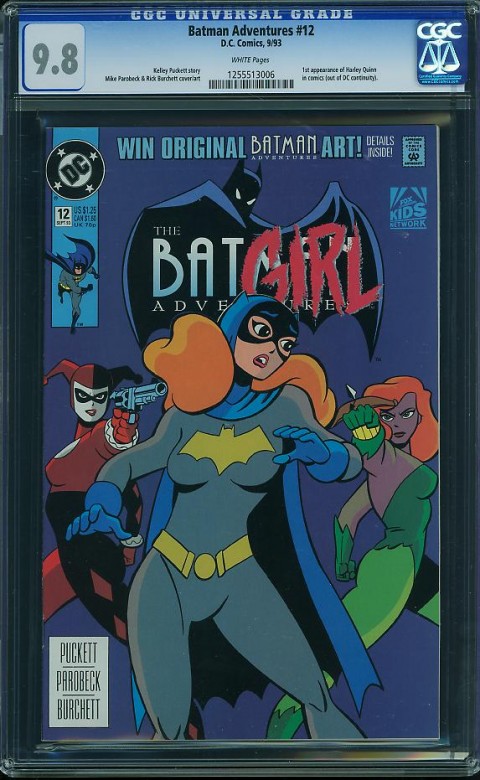 Batman Adventures, DC Comics, (September 1993) Graded by CGC at 9.8 with White pages sold for $1,555.00.
Wow! This is a great price and an indicator of the amazing demand for this comic. The only reason I'm stubbornly against this book being worth so much money is that the property was a comic adaptations.
Advantage Seller
So? Pick up anything?