Comic Link Summer Featured Auction
The comic book portion of ComicLink's Summer Featured Auction ended Wednesday September 9th and it produced some results worth talking about.
Two Marvel Silver Age CGC 9.0s fought it out for top spot with a CGC 9.0 Tales to Astonish #27 ($47,678) winning the race pipping out a CGC 9.0 Tales of Suspense #39 ($43,333), I don't know about you but I think I'd rather have the TOS?
Is it me or was it kind of a flat auction? I mean the Hulk CGC 4.0 (I watched it cuz I have one) went for below current GPA, the CGC 5.5 More Fun #73 sold for $40,000 while the same grade earned $52,566.00 in the spring. I know there were some record results happening too but, was I just watching the wrong stuff?
Here are some top 50 tidbits:
19 Golden Age books, the biggest being the aforementioned More Fun #73
30 Silver Age books and of these 13 were the traditional Marvel Keys
The lone Bronze Age book was a CGC 9.8 Hulk #181
Hulk lead the way in total # of books with 7 and the total value with just over $83,000
There were 3 Hulk #1s in the top 50, I seem to remember when Hulk #1's were way scarcer that AF #15s, these days it seems more Hulk #1s go up that AF #15? This was the case in the Spring auction as well. What up with that?
Fantastic Four and Wonder Woman each had 4 books in the top 50 with the FFs bringing in $82,000 versus the Wonder Woman's $81,000
OK now to some results.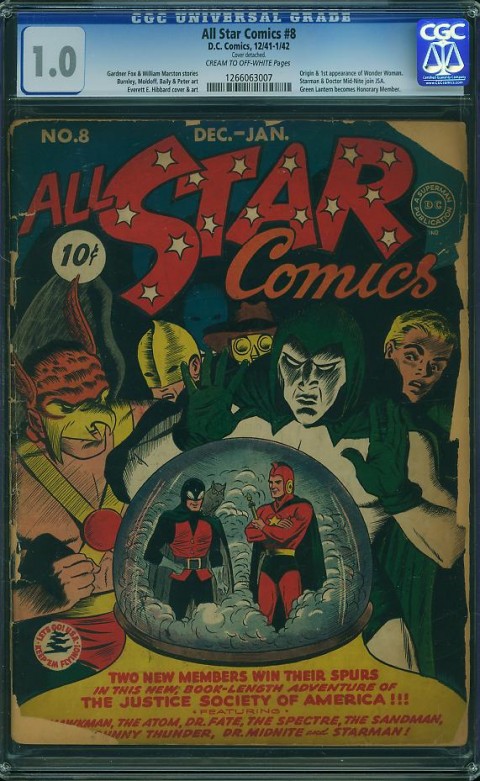 All Star Comics #8, DC Comics, 1941 Graded by CGC at 1.0 with Cream to Off-White pages sold for $12,300.00.
A super strong result for this book, I know a couple of guys that wanted it and was interested in where it would settle, I guessed just above $10k.
Here's what I'll say, the buyer has their copy. We all know the entry-level cost in the market has shot up, look at 1.0 Hulk #1s and AF #15s, books way more plentiful than this one. I think this price is fair for today and that the it will seem a bargain a few years from now.
Advantage Buyer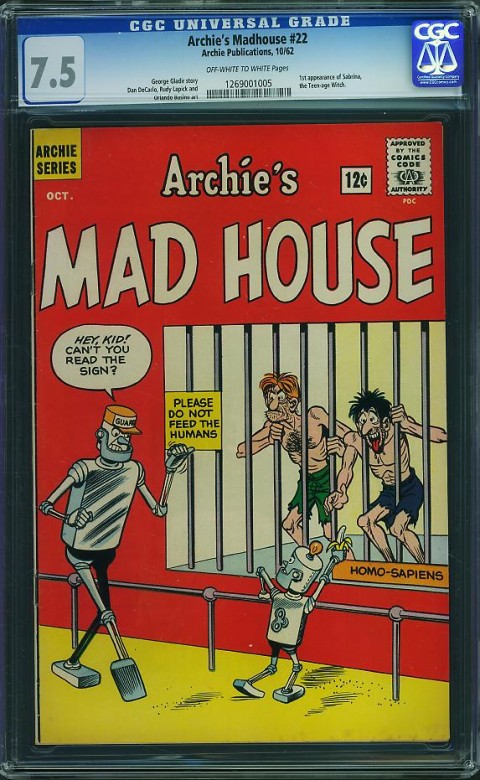 Archie's Madhouse #22, Archie Publications, 1962 Graded by CGC at 7.5 with Off White to White pages sold for $1,650.00.
I featured this book on a recent Undervalued Spotlight and thus was interested to see the end result.
Two things, first, I was not impressed with the "2nd Highest Grade" note, not many of these slabbed at the moment, this will soon be 5th highest grade I'm sure and second, it still doesn't matter, the price is still too low. Sabrina is a fantastic character with tons of upside. This was a good pick up.
Advantage Buyer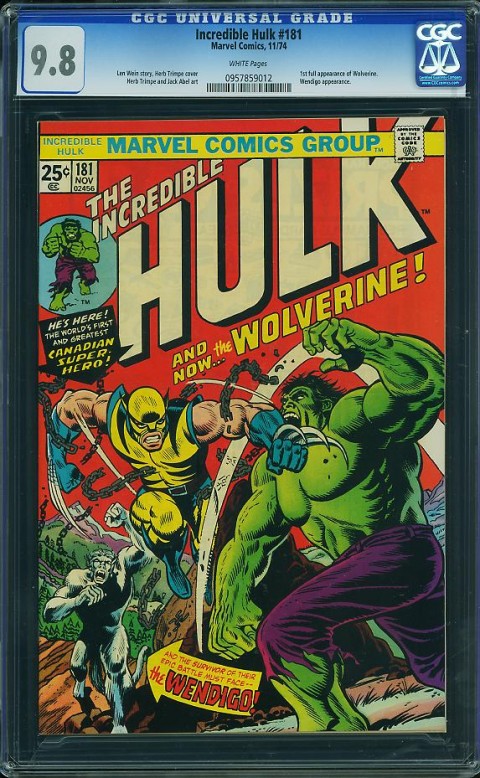 Incredible Hulk #181, Marvel Comics, 1974 Graded by CGC 9.8 with White Pages sold for $16,055.
Just when we all start to panic we see a result like this and gain some much-needed confidence. This book has proved a lot of people wrong, including me. Remember when it was selling for north of $20k? I do. Remember its long and torturous slide down to near $8k? I do. When it dipped below $10k I remember arguing that it will settle in as a $10k book: $10k would be a steal right now. The book's bounce back is a testament to the new market with all the new buyers entering it. Supply continues to go up for CGC 9.8s but is certainly seems like the demand is going up faster.
I'm going to be an ogre here and try to hold the line of my long ago prediction. Lots of CGC 9.8s out there and they keep coming and if we add the incoming CBCS 9.8s I don't see supply as an issue in the near future.
Advantage Seller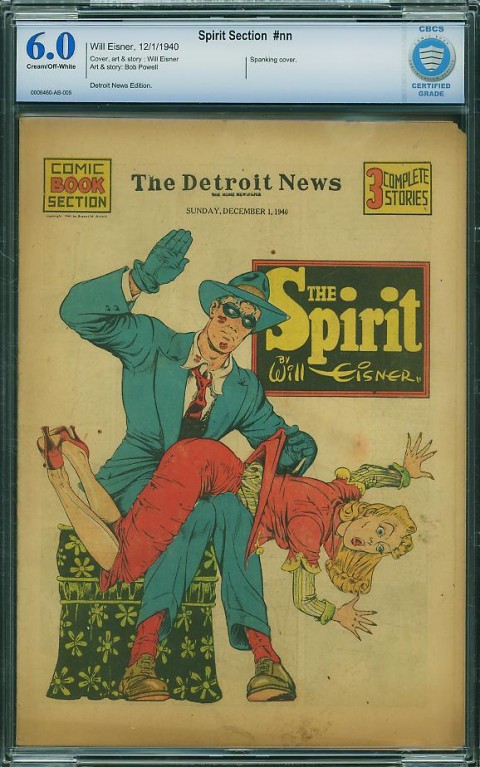 Spirit Section #no number, Detroit News, 1940 Graded by CBCS at 6.0 with Cream to Off White pages sold for $121.00.
This sale has the distinction of finishing in last place for the whole auction.
Looking at the cover content and knowing how the market works regards eye catching covers I'd say the Spirit deserved a better fate, 3rd last maybe but not last.
Advantage Buyer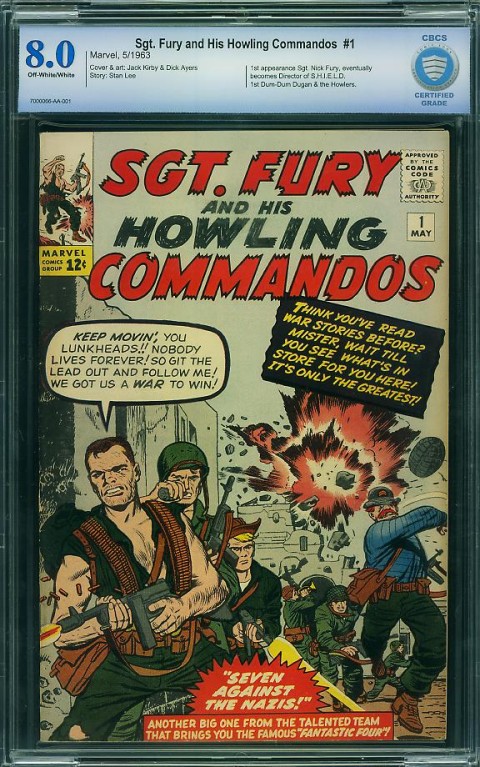 Sgt. Fury #1, Marvel Comics, 1963 Graded by CBCS at 8.0 with Off White to White pages sold for $3,609.00.
This book is a sleeper I think. It belongs amongst the Marvel Keys and it introduced one of the more important characters in the current Marvel U (albeit via a later tweak to the character). Compare any of the early Marvels at 8.0 and this is practically free. A little patience with this book and you'll do well.
Advantage Buyer
I was not active in this auction, I wish I was though, because there were some bargains.
How about you, you pick up anything?
Any results surprise you? Too high? Too low?