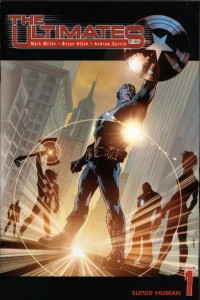 Ultimates #1, Marvel Comics, March 2002

You know what's been a tough book to snag at a good deal lately?
Strange Tales #135 from August 1965! Perhaps it was my spotlight a while back that did it?
The book features the 1st appearance of Nick Fury Agent of SHIELD. Nick Fury was a reworking of the old Sgt. Fury, basically turning the old soldier into the new spy.
With the Avengers movie being such a hit and Nick Fury playing such an important role its easy to see the books appeal.
But wait, the Nick Fury in the movies looks nothing like the Nick Fury in comics.
Samuel L. Jackson brilliantly plays the role of Nick Fury and the story goes that he first saw his likeness used for the character on the pages of the Ultimates #1.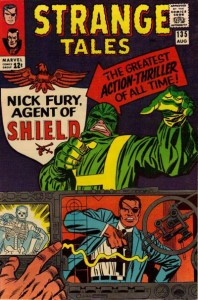 This Ultimates #1 Fury is actually the 3rd reworking of the character. In Ultimate Marvel Team-Up #5, August 2001, Marvel introduced the 1st African American version of Fury, but that character was closer to the original than he was to the Samuel Jackson inspired version.
Ultimates #1 was written by Mark Millar and drawn by Bryan Hitch, the title was an immediate success with 160,000+ circulation for the 1st issue. The 1st 13 issue series still sells well in graphic novel form.
The important thing to note here is that the Ultimate's #1 Nick Fury is now THE Nick Fury! There is no going back, this is how the whole world sees Nick Fury now, this is the version that will stick.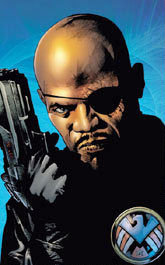 It is not the norm for a later updated version of a character to usurp the original character to become the dominant version. Think of a world where 90% of the people you ask think Spider-Man is Miles Morales!
You'll want at least a CGC 9.8 for this book, there are 483 of them on the census and they trade for just over $20 or you can try to snag a nice raw copy anywhere from $2 to $5 depending on your haggling skills.
Now before you go off and say "aww come on Walt, there are a million of these, they'll never be worth money"! I'll remind you of books like New Mutants #98 which has almost 800 graded at 9.8 and that book's value is over $300 and still climbing.
Demand should be stronger for this book and that should push the value higher.
The 41st edition of the Overstreet Price Guide shows $6 as the value for the 9.2 grade.
Strengths that make this comic book a good long-term investment are:
1st appearance the Samuel L. Jackson inspired Nick Fury
This is the Nick Fury of the future
Trading on the cheap for now!
1st appearance the Ultimates, very popular Avengers like team in the Ultimate Universe
Intro Ultimate Captain America