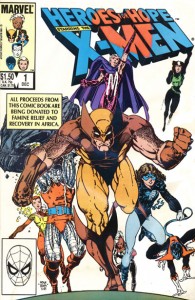 Heroes for Hope Starring the X-Men, nn, Marvel Comics, (December 1985)
Some of the defining events of the 1980s were surely the massive famine relief efforts initiated by Sir Bob Geldof.
If you remember Sir Geldof put together a British all star band and recorded "Do They Know its Christmas". All proceeds to go to the famine relief efforts in Africa. Great video! Boy George was awesome and check the mullet on Bono!
The Americans quickly followed suit with "We Are the World" in which I thought Stevie Wonder stole the show. I didn't understand a word Dylan said.
Canadian pop stars did an awesome job with "Tears Are Not Enough" I thought I was in heaven seeing Gordon Lightfoot, Joni Mitchell and Neil Young all in the same video and oh yeah Corey Hart was there too.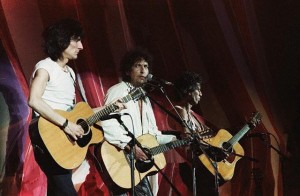 All this of course led to the amazing Live Aid concerts in London and Philadelphia. For me the highlights for those concerts were Bob Dylan, Keith Richards, Ron Wood all with acoustic guitars doing Dylan's Hollis Brown. I think each was playing a different song.
Inspired, Marvel comics artist Bernie Wrightson called up fellow Marvel artist Jim Starlin and told him the comic book community should also collectively help. The powers at Marvel liked it and soon enough a story was hammered out by Chris Claremont, Berni Wrightson, Jim Starlin, Jim Shooter and Ann Nocenti (Ann is probably best known as co-creator of Longshot and Typhoid Mary btw).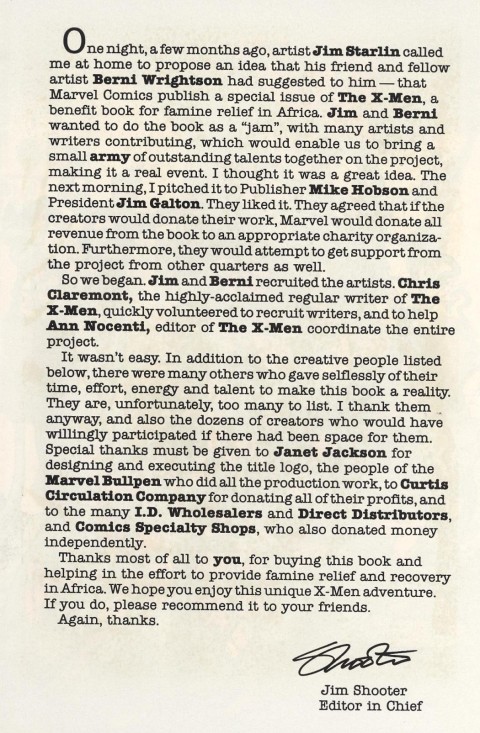 I read on the Wiki that the initially intended charity organization Oxfam thought the book was horrible, rife with racism and sexism. Perhaps no one at Oxfam had ever read a comic? Anyway Marvel found the American Friends Service Committee more than willing to turn a blind eye to the excesses of comic books and take the $500,000 raised.
Arthur Adams drew the cover and Jim Starlin drew the back cover. On the inside front cover the contributors are listed. The list is jaw dropping! Bill Sienkiewicz inking Frank Miller (Sienkiewicz later did the awesome back cover to DC's famine relief comic)! Still my favorite dream team has to be Stephen King and Bernie Wrightson. Just have a look over this list!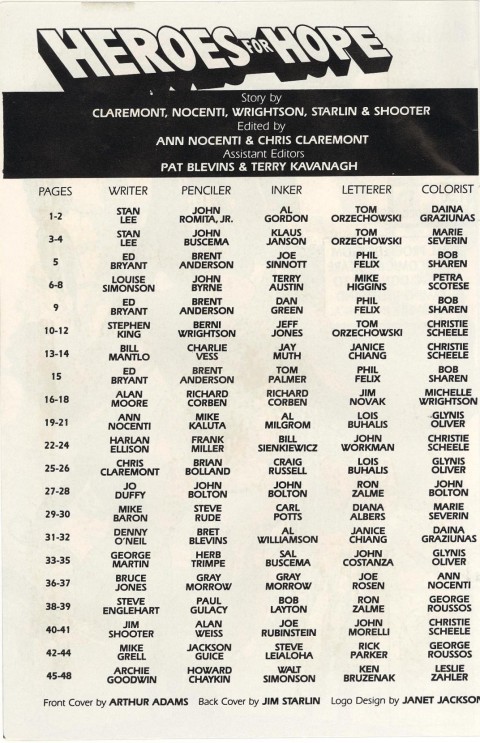 I remember DC trying to jump in with Heroes Against Hunger a few months later. They too had an all star list of contributors and Heroes Against Hunger features a haunting Neal Adams cover but the mantle must go to Marvel who were first to seize the opportunity to help. Actually it wouldn't hurt you to have a copy of each, they serve as great time capsules.
We're fast approaching the 30th anniversary of this historic event and when I see CGC 9.6 copies go for less than $20 and CGC 9.8 copies selling from $27-$49 bucks I see one thing, opportunity.
You know there are not that many graded at this time, I counted only 16 9.6 and 16 9.8 copies on the CGC Census.
The 42nd edition of the Overstreet Comic Book Price Guide shows $5 as the 9.2 price.
Strengths that make this comic book a good long-term investment are:
Historically significant comic
List of contributors does not seem possible!
Dirt cheap in the Guide and dirt cheap on line