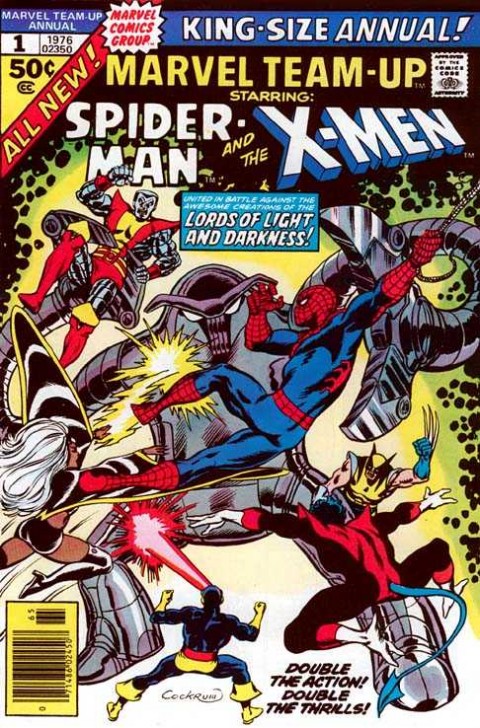 Marvel Team-Up Annual #1, Marvel Comics, (December 1976)
Here we have the 1st new X-Men team appearance outside the X-Men title. Better yet they make this appearance in a great little title called Marvel Team-Up, a Spider-Man title. Correct me if I'm wrong but I think this is the 1st meeting between Spider-Man and Wolverine, these guys are perhaps the top 2 properties in Marvel's stellar stable.
This is a very early New X-Men appearance by the way. I think it's tied for 10th with X-Men #102.
Compare Marvel Team-Up Annual # 1's $45 guide value to X-Men #102's guide value of $135. That's 3 times the value in the guide.
The markets are no kinder to Marvel Team-Up Annual #1. The last CGC 9.4 sale fetched $63. Compare that with the $172 the last CGC 9.4 copy of X-Men #102 got and you get the picture.
Yet our Team-Up Annual #1 is 3 times as rare on the census in high grade, there are only 115 graded at CGC 9.2 or above while a healthy 353 CGC 9.2 or better copies of X-Men #102 are out there floating around getting way better money!
I recognize that my pick is not in the main title but that won't stop me from calling the book undervalued. This same type of reasoning can be seen with books like Strange Tales Annual #2, where Spidey's early appearance is dwarfed in value by his next appearance in the character's main title (in this case Amazing Spider-Man #3). Strange Tales Annual #2 was one of my earliest spotlights btw).
I think more education is needed here. If some of us are right about title runs becoming less and less important to collectors then perhaps we should all revisit books like this.
The New X-Men's 1st x-over, their 10th appearance and the Amazing Spider-Man's 1st meeting with the team are all good things this book brings to the table. And it's fine dining at fast food prices with what the book is getting these days.
Pick up your bargain soon before the prices go up!
Great Dave Cockrum cover and some awesome Sal Buscema and Mike Esposito art in the 35 page "The Lords of Light and Darkness" story written by Chris Claremont, Bonnie Wilford and Bill Mantlo.
The 42nd edition of the Overstreet Comic Book Price Guide shows $22/$34/$45 as the 8.0/9.0/9.2 price splits.
Strengths that make this comic book a good long-term investment are:
1st Spider-Man/Wolverine meeting
10th appearance of the New X-Men
1st New X-Men x-over
way cheap these days