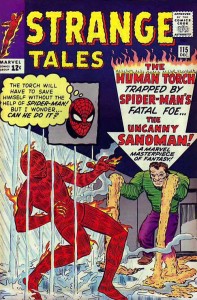 Strange Tales #115, Marvel Comics, December 1963
This is about as safe a bet as there is.
Strange Tales #115 has long been a staple of the Silver Age. All one has to do is look this issue up in the Overstreet Price Guide; 'Origin Doctor Strange, Sandman 2nd appearance and brief origin, early Spider-Man cross over, December 1963'. That's all good stuff; no wonder the book is a staple.
I'm here to tell you the book is a forgotten gem, the victim of its own early success. It's time for the book to be rediscovered.
This is an early Spider-Man appearance; the issue came out the same month as Amazing Spider-Man #7. This Spidey factor has made Strange Tales #115 a staple for collectors for decades but I'm telling you the Spidey factor has more room.
I've talked a lot about the decline of the run collectors in comics, how collectors and investors zero in on certain books in a run. While Amazing Spider-Man will continue to be the most collected title in comics it will still experience a bit of a relative decline.
Currently Strange Tales #115 holds 40% of the value of ASM #7. I see Spidey fans gravitating to early and key appearances as the prospect of collecting the whole run becomes more and more daunting, should help close the gat at least a bit.
But the bulk of the increase in value that this book will realize in the coming years will be driven by the fact that it is the Origin issue for Doctor Strange.
Strange Tales #110 has shot through the roof since my short and sweet spotlight on it a few years ago (not because of my post but because Doctor Strange's star is rising).
These first appearances are a bit like canaries in a coal mine, they sound the alarm.
What we have to do next is look for the next most important issues. I'll argue that Strange Tales #115 is the Doc's second most important issue. Origin issues are important issues.
Again I've argued here in the past that character is the most important driver of value. When the first appearance and origin don't happen in the same book we should look to grab the origin books. Long term the character's origin should outweigh any other gimmicks that other lesser books may be currently enjoying. See my Spotlight on Detective #33 for more on that.
Doctor Strange is a character that is cooler than cool and you know Marvel/Disney have him up on the drawing board. The premise, the history, the great stories already told bode well for Dr. Strange enduring as a character.
Surprisingly Strange Tales #115 has been looked over by the market so far, I mean you can still pick up a CGC 8.0 for below guide! I'm sorry but a Silver Age Marvel with a 1963 publication date in 8.0 is something to hold and cherish.
The last CGC 8.0 sale was $358 and that's up from a 12 month average of $325 (I'd buy 10 of them at $325 each). CGC 9.0s are getting about 40% above guide but that is still a bargain, a 9.0 at $1,100 is a great deal.
The CGC Census shows 104 of the 277 graded as of this post to be 8.0s or better; only 44 make the cut at 9.0 or better.
The cover boasts Torch vs Sandman with Jack Kirby pencils and Steve Ditko inks.
Inside the book Dick Ayers gets pencil and ink credits for the 13 page Human Torch story while Steve Ditko gets the pencil and inks credit for the 8 page Dr. Strange stor., Stan Lee gets writing credits for both though the GCD gives co-plot credit to the artists as well.
There really is nothing to defend here on my part. I can practically pull a Babe Ruth here and point up for this book.
The 43rd edition of the Overstreet Comic Book Price Guide shows $368/$834/$1300 as the 8.0/9.0/9.2 price splits.
Strengths that make this comic book a good long-term investment are:
Origin Doctor Strange
Very early Spider-Man appearance
Stan Lee/Jack Kirby/Steve Ditko
It's a 1963 Marvel hero book!