You've probably seen them at your local comic book shop, or at your "big box toy retailer".  Poly-bagged toys sitting there on the shelf.  They're not expensive.  They are affordable.  But you have no idea what is inside the bag.  You may have been like me, pass by and "pay them no nevermind".  I have done that for years.  I couldn't have cared less.
Then… I bought one.
What I'm talking about are "Blind Bag Toys".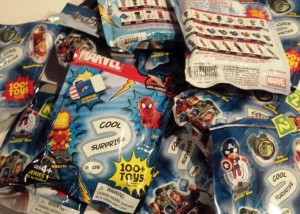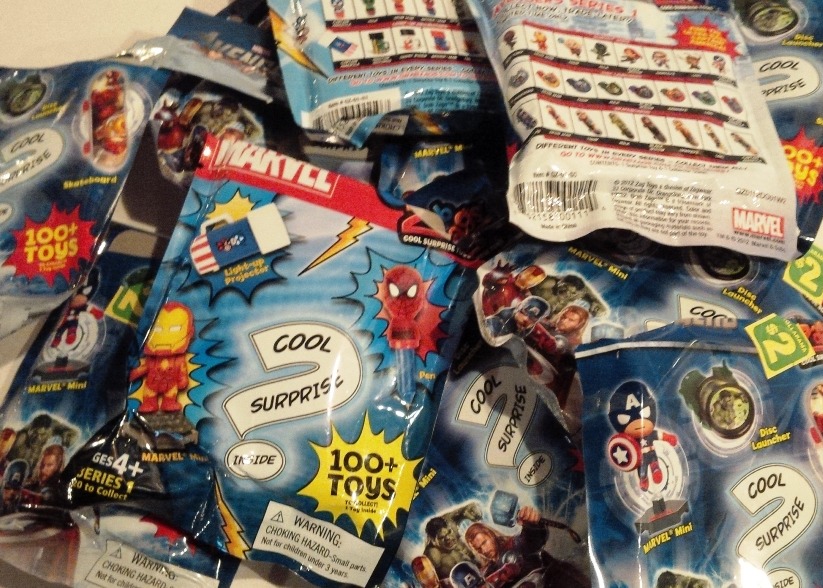 There are all kinds of them available.  Lego Mini-Figures are probably the most popular and most sought after toys on the market right now.  And something I would never have thought of… they can be worth a lot of money.  For example, I saw a Boba Fett Lego Mini Figure sell at a toy show for $300.  Really?!?  A Lego figure for $300?!?  I still can't believe that.
Other similar brands are available as Blind Bags too.  Mega Blocks and Kre-O have jumped on board too.
But recently I was informed of another Blind Bag toy that was available at the dollar store, Grab Zags.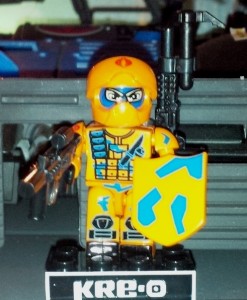 As I said off the top, I couldn't have cared less about these Blind Bag toys.  Until one day I was at Toys R Us and saw they had a case of the Kre-O G.I. Joe figures.  I looked at the case and noticed that they had the Alley Viper.  Alley Viper is one of my favourite soldiers in the Cobra ranks.  I really wanted to have him.  But since they are packaged "blind", I had no idea which one to buy.  Not wanting to waste my money on a lame figure, I did a quick search of the internet and found there are forums and blog posts dedicated to these Blind Bag toys.  As luck would have it, G.I. Joe Kre-O has a production stamp on the back of the bag.  I just looked at the list, found the code for the Alley Viper, and I was off to the checkout to purchase my new Kre-O figure.
In comparison these "mini-figures" are expensive compared to mainstream (in my opinion) action figures.  The Kre-O mini-figure came to $3.49 after tax, and a 3-3/4″ G.I. Joe or Marvel Universe figure could cost up to $13.  But I was impressed by the attention to detail in the Kre-O mini-figure.  That led to me purchasing the Adventure Team Commander (Joe Colton) and Quick Kick figures.  I had to have Joe Colton because of the fuzzy hair (in reference to the G.I. Joe figure from the 70's), and Quick Kick because he came with the "Frozen Fudgee Bar" (watch the cartoon from the 80's, you'll get that one).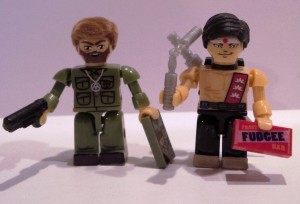 My new Blind Bag addiction is the Marvel and Marvel Avengers "Grab Zags".  A friend turned me on to these.  They are available at select dollar stores.  Each Grab Zag could include a mini-figure, mini-skateboard, pen or projector light.  These Grab Zags do not have production codes stamped on them, so you can't rely on the internet for help.  But I have a tip for you.  Feel the bag.  Just by feeling around you can tell which toy you are going to get.  I only wanted to get the mini-figures and after "checking" out each bag I was able to figure out there were 8 figures in the bin of 12 blind bags.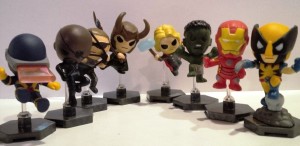 The Marvel Grab Zags are cute and fun.  They are cheap, so you aren't out a lot of money if you buy them.  I think they would be great to have with you at the office.  They could sit on your desk, and I guarantee they will bring you a smile while you are at work.
I know there are people out there who are die-hard collectors of Blind Bag toys.  I am only a "newbie" when it comes to collecting these toys.  Help us out.  If you have some great tips, or know of other blind bag toys we should buy, use the comments below to help us out… and happy collecting!