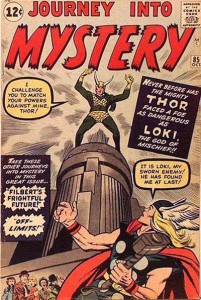 Journey into Mystery #85, Marvel Comics, October 1962
Last Saturday evening my kid decides we should all watch Thor 2; I wanted to watch the Habs/Senators game.
So Thor 2 starts and I kind of like it, I actually thought it was better than the first one. Near the end of the movie my kid mumbles something like "I really like Loki, he's smart and crafty". Woah!
His admiration for Loki took me by surprise. My Loki, the one that I knew and grew up with never got the same respect from me that Doctor Doom, Green Goblin or Galactus did. It's like I never took him that seriously as a villain. Maybe it was just me, not being the biggest Thor fan.
Or maybe it wasn't just me. I can't tell you how many copies of Journey into Mystery (JIM) #85 I've had over the years but I can tell you that each successive one seemed to get harder and harder to sell.
Whenever I landed a JIM #83 (1st appearance of Thor) the thing would be sold within days. Whenever I landed a JIM #85 and it seemed I'd get ten for every one JIM 83, they'd hang around for months if not years. I think at one point I actually had four of them in inventory.
My kid's like for Loki, I realized, had nothing to do with my Loki, the one found on the pages of Thor comics. My kid's like for Loki came from the Avengers and Thor movies. Actor Tom Hiddleston does a wonderful job in the role by the way.
This of course got me to thinking about JIM #85.
I took a closer look at JIM #85 and found that the book has slowly been coming to life in the collecting community. For some reason I don't recall that the book featured the 1st Asgard appearance or the 1st brief mention of Odin or the 1st Heimdall appearance. Had I paid more attention and known these things back in the day I would have added the comments onto the backing board to help sell the damn things.
Heimdall got me to thinking about the controversy that surrounded news that black actor Idris Elba would be cast as the character in the Thor films. Elba was wonderful in the role in both films.
Heimdall in the movies sure is a much bigger deal than Heimdall in the old comics.
In a moment of cleverness I deduced that perhaps all these new fans of these old characters that are being generated from a medium different than the medium the characters were originally introduced in might start affecting demand for the comic.
Turns out I was right. The GPA website shows some slow steady growth across most grades. Two years ago CGC 6.0s were getting just below guide, now they are getting a 30% premium. CGC 8.0s are getting a 30% premium as well. Like I said across most of the grades I'm seeing increasing prices for JIM #85.
Based on the massive new fan base that characters and concepts introduced in this book are getting I'll say this book has higher heights to climb.
The best part is I think you can still snag solid raw copies from old time dealers at or below guide. OK so you have to have access to old time dealers but that's what cons are for right?
The 43rd edition of the Overstreet Comic Book Price Guide shows $1,370/$3,085/$4,800 as the 8.0/9.0/9.2 price split.
Strengths that make this comic book a good long-term investment are:
1st appearance Loki
1st appearance Heimdall
1st appearance Odin (albeit 1 panel)
1st appearance Asgard
1962 Marvel hero comic, still very early