All that talk last week in Undervalued Spotlight about Amazing Spider-Man #37 and the importance of how it fits into the history of Spider-Man got me thinking and asking the question. Why isn't the Spectacular Spider-Man #2 magazine more in demand.
I remember the lead up to this story like it was yesterday.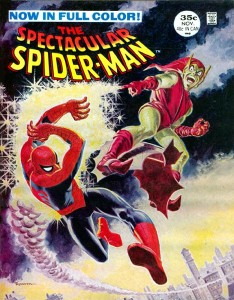 After the Goblin learned Spider-Mans identity in Amazing Spider-Man #39 and 40 and then had his memory loss due to the battle and explosion at the climax of number 40, it was a major plot line with a slow fuse that lasted over two years until Norman Osborn got his memory back and returned in a huge way in the now Full Colour Spectacular Spider-Man #2 magazine. I remember how hard I had to hunt for this book. Hanging out in the local pool halls checking out the magazine section( ooh la la), at 11 years old, going to variety stores and drug stores hunting for this book.
When I finally got it home I dove in! How could you top the magnificant painted cover by John Romita? By opening the book to find the first ever, to my knowledge, double page spread! John Romita Sr. And Jim Mooney were at the top of their game and this book features some of the best artwork to ever grace the pages of a Spider-Man book!
The opening sequence and recap of the earlier battles that led up to the conclusion of #40 set the stage for the upcoming battle that was sure to follow.
Stan Lee wrote a masterful story, and the tension building up to the return of the Goblin and the inevitable battle was palpable. The story weaved in and out of Peters personal life, and Spider-Man's search for the Goblin.
Gwen Stacy never looked better than she did in this book, and all the major cast of characters, Harry, Mary Jane, Captain Stacy, J. Jonah Jameson, had important parts in this book.
Frank Giacoia was given third billing on the frontis piece for illustration, and after looking through this issue in preparation for writing this article, I decided to see if I could tell what exactly he did. I believe he inked some of the background characters on pages 28-34. Frank was a great inker , but he had a little harder edge to his line than Jim Mooney. This is not a criticism, but an observation. Frank did some amazing inks on John Buscema ,Gene Colan and Jack Kirby ,and basically worked on every title Marvel put out!
There are so many iconic panels, half page splashes and full page splashes as well as two double page splashes! It makes your head spin.
The climax to the battle (spoiler alert) where Spidey uses the Goblins own hallucinogens against him to once again induce amnesia works very well and is graphically satisfying.
In looking to see where Frank Giacoia was evident earlier, I noticed another interesting artistic tidbit. The last four pages of the story were both pencilled and inked by John Romita.
Once again, I have no idea why this magazine isn't at the top of every Spidey collectors list. Fantastic story! Fantastic artwork! Fantastic villain and supporting cast! All woven masterfully by arguably the premier team of Stan Lee, John Romita and Jim Mooney at the height of the Silver Age!
Somewhere along the way, I have heard that one of the reasons why this book never became incredibly expensive was because a warehouse in New Jersey was discovered full of mint copies. How true this is I have no idea, but if you are a Spider-Man fan and you don't have this as well as the 1st issue of the Spectacular Spider-Man magazine in your collection, you are truly missing out on a fantastic and important piece in the history of the wall crawler!
Nuff Said!