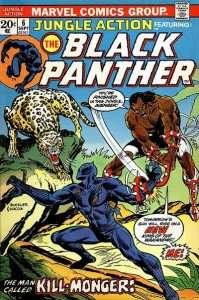 Jungle Action #6, Marvel Comics, September 1973
Fantastic Four #52 (July 1966) featured the 1st appearance of Stan Lee and Jack Kirby's the Black Panther (T'Challa), comicdom's 1st African American super hero. The Black Panther followed comicdom's 1st African American hero Lobo, D.J. Arneson's creation published by Dell Comics a year earlier, click here for my Lobo post.
FF #52 has always been a tough book to find in grade and these days high grade copies have shot through the roof, recent sales include a CGC 8.0 at $750 and a CGC 9.4 at a staggering $4,500. These are strong prices and they are still climbing!
The Black Panther is an awesome character and a rising star, I'm expecting some great projects to surface around this character, he was a prominent Avenger for such a long time, through their best year's I'd say, Black Panther joined the team with Avengers #52 (May 1968).
Collectors are starting to load up on Black Panther keys. Favoured targets include Fantastic Four Annual #5 (his 3rd appearance I think), the aforementioned Avengers #52, Jungle Action #5 the July 1973 book that launches the Black Panther as a headliner and of course Black Panther #1 (January 1977) by, the just returned to Marvel from DC, Jack Kirby.
These are all good picks though I'd argue that Jungle Action #5 is a bit overvalued seeing as it's a reprint of Avengers #62, Black Panther #1 is an OK pick but I've asked the question before as to whether #1's are overvalued?
This week I'd like to feature Jungle Action Comics #6 as the sleeper Black Panther book. I strongly believe this book is undervalued.
Jungle Action #6 is the true launch of Black Panther's headlining run in Jungle Action, a run that lasted to issue #24.
Jungle Action #6 is also the beginning of something quite special, the issue launches writer Don McGregor's epic 13 issue story arc (running through to issue #18) entitled "Panther's Rage".
The "Panther's Rage" story is nothing short of a Marvel Classic, it has received raves for its intelligence and complexity. It is a complete thought out story from beginning to end. From what I've read most consider it Marvel's 1st true graphic novel, though serialized.
Rich Buckler provides cover and interior art while a young Klaus Janson gets credit for the inks.
Jungle Action #6 introduces the Black Panther's arch nemesis and fellow Wakandan Eric Killmonger.
So for those of us who simply can't afford a nice copy of Fantastic Four #52 I highly recommend Jungle Action #6.
I still can't believe Black Panther #1 guides 25% higher at $50 and even more puzzling is the fact that the reprint issue Jungle Action #5 guides 12.5% higher at $45. I see these anomalies being corrected over the next few years as the legion of new Black Panther fans that will soon be hunting his key books down figure things out and set things straight.
As of this post Black Panther 1's in CGC 9.2 grade are trading for $100 while a CGC 9.4 copy of Jungle Action #6 recently got $100 as well. Comparatively the Jungle Action buy was a steal.
The 43rd edition of the Overstreet Comic Book Price Guide shows $19/$30/$40 as the 8.0/9.0/9.2 price splits.
Strengths that make this comic book a good long-term investment are:
Launches Black Panther's now classic "Panther's Rage" storyline
Will be considered the key in this run versus #5
The Black Panther property has a very promising future