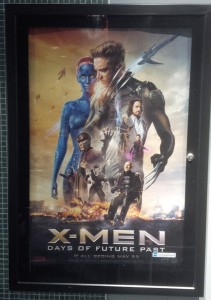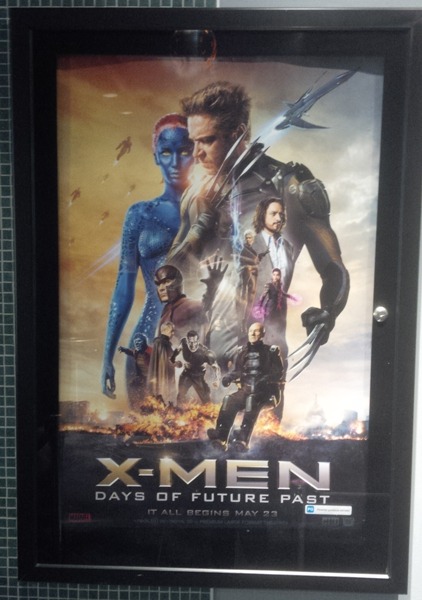 The latest installment of the X-Men film franchise hit theatres this past weekend.  To help celebrate the event, Big B Comics had a table set up at the Cineplex Odeon Galaxy in Barrie.
My cosplay teammate Stephanie and I showed up at the theatre to help out Big B, dressed as X-Men.  This was going to be a challenge for me.  Stephanie has many costumes in her repertoire – Rogue being one of them – but I don't have much stuff when it comes to X-Men.  I have some of the Chris Claremont comic run from the 80's, but other than that I've avoided X-Men.  It's sort of a rule.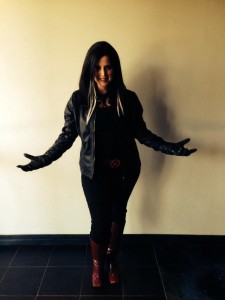 Don't get me wrong… I like the X-Men.  Personally I feel that if I'm going to get into the X-Men, I have to go all in.  That means buying all the comics, every title.   Also I would have to buy every action figure.  It's just easier to not collect X-Men at all.  But I do have one collectible that's X-Men… a set of Wolverine's claws.
When we decided to show up at the theatre as Rogue and Wolverine, I knew there would be some criticism thrown my way.  I look nothing like Wolverine.  I don't look like the comic version.  And I sure as hell don't look like Hugh Jackman.  Instantly I knew I would get people voicing their opinions about my costume and my look.
The Wolverine costume was relatively easy to throw together.  Leather jacket.  Jeans.  Claws.  Shave my beard into some "chops".  Easily done!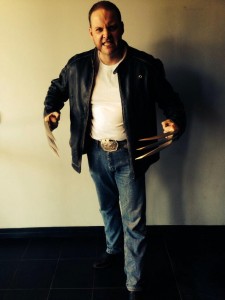 To my surprise the costume went over well.  Some people said I looked like Wolverine.  Some said I looked more like Sabretooth.  But all in all it was fun being Wolverine for a night.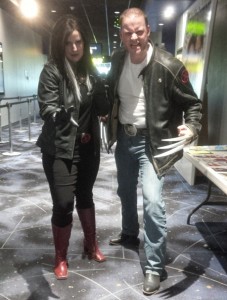 As an added bonus of being a "mutant" for the night.  I got to see X-Men Days of Future Past.  This movie is the best of the X-Men franchise.  It does take some liberties with the continuity of the movies that have already been released.  But comic book movies are changing – all thanks to The Avengers – and X-Men DoFP is a large scale, franchise blockbuster that ties them all together and could really be a launching pad for X-Men films in the future.  We may not see Hugh Jackman "pop claws" on screen too many more times, but DoFP introduces us to new story ideas, characters and directions for the franchise to evolve.
Next up for our "First Class" of mutants will be X-Men: Apocalypse in 2016.  It will be interesting to see which era the new movie will take place in, and if the future of the franchise will be "period pieces".