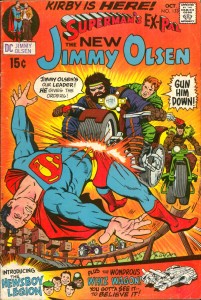 Superman's Pal Jimmy Olsen #133, October 1970
On the heels of Mike Huddleston's own thinly disguised homage in Undervalued Spotlight #209 I'd like to pay tribute this week to the most fertile, most productive, most influential and most loved of all comic book creators.
Jack Kirby was born August 28th 1917, a few short days away from this post. I'll be at Fan Expo in Toronto on August 28th, I've asked that the hall PA system announce a con wide singing of Happy Birthday to "The King".
I've been in comics a long time and I've talked a lot of comics with a lot of people over the years and hands down, by a wide margin these fans have voted Jack Kirby as "the Man". Kirby not only has the most fans he also has the most rabid, hard core fans, to many he is a god.
Kirby's career in comics began in the late 1930s when he worked for the Eisner/Iger studios. Soon after he partnered up with Joe Simon and together they created a little character called Captain America. The rest, as they say, is history.
A Kirby biography would take hundreds of pages but I just want to say that the stuff he created and co-created is a cornerstone of the American comic book.
We could just start adding up all the characters Jack helped bring us, that would be a very long and a truly jaw dropping list for sure. We could talk about his art, that sense of movement evident on his pages, that energy, that crackle! We really could go on and on for a quite a while and still not do this man justice.
The Spotlight format only allows passing references and hopefully some insightful tidbits sprinkled here and there. In other words I have to pick a book worthy of a birthday tribute to the Man.
I've picked Superman's Pal Jimmy Olsen #133 because this book sticks out among the books that stick out, it represents Jack Kirby embarking on the most ambitious project of his career.
With Superman's Pal Jimmy Olsen #133 Kirby launches what is known and The Fourth World. Jimmy Olsen (October/70), New Gods (March/71), Forever People (March/71) and Mister Miracle (April/71) are titles that are tied together by the Fourth World project. Here we have one cohesive story being told over multiple titles all at the same time.
Jack Kirby's Fourth World vision was beyond epic in ambition and scope. Here we have a comic creator with his hand in some of the greatest creations in the medium attempting to take all he's learned and redefine it and funnel it into a personal project with the grandest of intentions.
Some quotes I found on Fourth World laud Jack's vision of a finite mega series told over multiple titles, express awe at the limitless imagination of his concepts, credit him with changing our view as to what is possible in superhero comics.
For me Fourth World represents Kirby creatively unleashed. The years at Marvel, being edited by Stan Lee, doing things the "Marvel Way" must have been creatively stifling. I can only imagine the excitement Kirby must have felt going over to DC and having the opportunity to create a world of characters and mythology and concepts from scratch.
In the Fourth World Darkseid, (introduced one issue later in Jimmy Olsen #134 and currently one hot book) is the evil lord of Apokolips who seeks the Anti-Life Equation that would gain him control over all beings in the universe. Orion, who is Darkseid's son and ruler of the world New Genesis, fights for the preservation of free thought and will not allow the Anti-Life Equation, which would allow control over all thought in the Universe, to fall into his father's hands.
For some reason the Fourth World project never wrapped up the way it was supposed to. Perhaps the scope was too much for just one man, perhaps Marvel's courting of Jack in the mid 1970s had a role, I don't know.
I do know that no single book can sum up Jack Kirby and of course Superman's Pal Jimmy Olsen #133 does not, but it does serve as a portal to much more and a symbolic marker, which many have called a high point, in the career of the King, Jack Kirby.
Happy Birthday Jack.
The 44th edition of the Overstreet Comic Book Price Guide shows $35/$63/$90 as the 8.0/9.0/9.2 price splits.
Strengths that make this comic book a good long-term investment are:
Launches Kirby's ambitious Fourth World
Overlooked in the guide when compared to the other Fourth World keys
Very symbolic book and one that should be owned by all Kirby fans