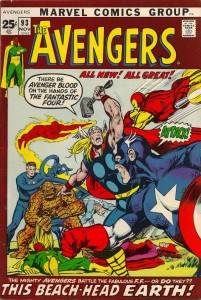 Avengers #93, Marvel Comics, (November 1971)
Recently I spent a good whack of money on a nice little pile of raw books. I had to pay a hefty premium for some of the hotter books like Fantastic Four #52 and Avenger #55 but I did manage a deal or two on some of the others.
As I priced up the pile I reached the nice tight copy of Avengers #93, I couldn't put it down.
What a great Neal Adams cover! This was a nice copy and I did pay good money for it but I was able to buy it for well below guide, I did not have to pay a premium for it.
I looked the book over and began rhyming off all the positives it would deliver its lucky future owner. The more things that came to mind the more I realized Avengers #93 had to be this week's Undervalued Spotlight.
It felt good picking this book. There's no speculation, there's no movie announcement, there's no two second screen shot at the end of the credits, there's just lots and lots of quality.
Avengers #93 is a major intersection that has so many collecting strains running through it. The book is mighty, a stalwart for decades, it's like the Arc de Triomphe with all those avenues heading towards and moving away from it.
Where should I start?
OK, let's start with the Kree/Skrull War, Roy Thomas' epic arc that ran from Avengers #89 through to Avengers #97. The Kree/Skrull Arc is classic Cosmic Marvel and this arc set the standard for the early Bronze Age. I've actually posted Avengers #89 in a past Spotlight because that book launched this now classic arc.
I also thought of the Neal Adams angle. This is a classic Adams issue, easily one of his most sought after Marvel works. Neal Adams is the most collected of Bronze Age artists, well ahead of Wrightson, Starlin and the others. This is Neal Adams! The man who saved Batman! The Neal Adams collecting strain is alive and well.
Personally Avengers #93 is a favorite because it is the beast that anchors my favorite Marvel Bronze Age collecting strain – the November 1971 25 cent issues. Oh I could go on about how cool it is to collect these issues. Check out my Spotlight #94 for more info.
Even within the Avengers run this book is nestled in that most collectible Bronze Age era. It is always such a pleasure going through Avengers issues between #71 and #118, this was truly a golden era for the Avengers.
I should also mention the book's street cred. Avengers #93 has tons of it and it's always been a sought after book. I think perhaps today, in the whirl of all the speculation going around, the book is being neglected.
I think this is a great time to pick up a nice – say CGC 9.2 copy of this book.
I had a quick check online and I see 9.2s of Avengers #93 are selling for 9% premium above guide. Compare that with the 33% premium Avengers #89 is getting and the 90% premium Avengers #87 (Black Panther origin) is getting and you can see what I'm talking about.
The 44th edition of the Overstreet Comic Book Price Guide shows $89/$195/$300 as the 8.0/9.0/9.2 price splits.
Strengths that make this comic book a good long-term investment are:
Giant 52 page Neal Adams extravaganza!
Kerr/Skrull War issue
November 1971 issue