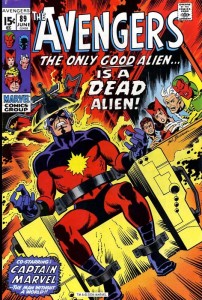 Avengers #89, Marvel Comics (June 1971)
A while ago in my Undervalued Spotlight #88 longtime comment contributor to the site Charlie made a great point. He hinted that we should be collecting more comic book story arcs. We may not necessarily want to collect the whole X-Men run but it sure feels great hunting down all the issues that make up the Dark Phoenix Saga. When you think about it the few issues of Web of Spider-Man and Spectacular Spider-Man that hold any value do so because they belong to the Maximum Carnage story arc. Heck even my undervalued pick 2 weeks ago was the climax book for the great Avengers/Defenders War story arc. So yeah, maybe the collecting of classic arcs from comic book history is already picking up steam and will prove to be a growth area in collecting.
Avengers #89 is the 1st issue of the classic Avengers "Kree-Skrull War" story arc. The arc ran through Avengers #89-97 and it contained a few other gems including the massively popular #93 (November 1971).
"The only Good Alien… Is a Dead Alien" was written by Roy Thomas (who wrote the whole arc) and was drawn by one of my favorite Marvel artists of the era Sal Buscema (who later gave way to Neal Adams and then to his brother John Buscema).
The issue starts with the team seeking to capture Captain Marvel (a Kree) who is unaware that he poses a public danger thanks to having been recently exposed to radiation. His capture (thanks Rick Jones) and subsequent events leads to a story epic in scope seeing the two galaxy spanning races (Krees and Skrulls) at war throughout intergalactic space with things threatening to spill over onto Earth. The story boasts a huge cast of characters including the Fantastic Four and The Inhumans. It is a saga often referenced today by both fan and comic historian alike; it is an important Avengers story that among other things introduced the Vision/Scarlet Witch romance.
In the special New Avengers: Illuminati (May 2006) Marvel revealed that it was the Kree/Skrull War that led Iron Man to form the Illuminati (Iron Man, Black Bolt, Mr.  Fantastic, Prof. X, Namor and Doc. Strange). Iron Man felt that individually they possessed information that could have averted Earth's involvement in the war only if they'd communicated as a team.
Marvel has invested heavily and will continue to invest heavily into their Cosmic Marvel characters and stories. The Thanos cameo at the end of the Avengers movie has everyone speculating on all things Cosmic Marvel.
As of this post there are 60 CGC graded copies at 9.2 or better and though sales results are sparse the issue seems to be getting a bit above Guide at 9.2.
I say lay low and snag yourself a nice crisp CGC 9.4 copy with great page quality, it may cost you just over $100!
The 42nd edition of the Overstreet Price Guide shows $35/$55/$75 as the 8.0/9.0/9.2 price splits.
Strengths that make this comic book a good long-term investment are:
1st issue of a major and highly influential Avengers story arc
Embedded in an extremely collectible era for the Avengers
Great "electric chair" cover