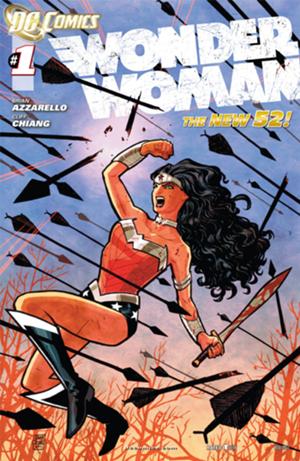 Wonder Woman #1, DC Comics, November 2011
I've always hoped that one day I'd get to do this post, this Undervalued Spotlight featuring a book from DC's New 52 first wave.
Back in September 2011 I posted a Market Trends asking "Can New Comics be Long Term Collectibles". With today's post I think I'm answering my own question.
There were a few books to choose from for this post; I could just as easily have went with Deathstroke #1, Aquaman #1 or heck even the book that started it all JLA #1.
I was buoyed by the now strong proven track record of New 52's Batman #1, a book that has averages $193 over the past 41 sales ($177 over the past 164 sales so it's still trending upwards). I'm also encouraged by the recent explosion of value in the New 52 Suicide Squad #1; the last 9.8 topped $250. While the Suicide Squad print run was less than 45,000 the Batman book was close to 190,000 and that still isn't deterring value.
Wonder Woman #1 had a print run of just over 76,000, small by traditional standards. But supply is just one side of the equation isn't it. There are over 6,000 graded New Mutant #98s and the book is still climbing in value. I'm not comparing content of the 2 books here, of course the introduction of Deadbook merits more demand than the launch of a Wonder Woman title, I'm just trying to show that high supply can be nixed by higher demand.
I've chosen Wonder Woman for a few reasons, she is our marquee female superhero heading into an era of growing demand for female superheroes, I think her title is a safe long term bet meaning I don't think she will be going the way of Static Shock any time soon and in general I think all the New 52 re-launch books will enjoy a brighter future as the whole DC brand gets stronger.
What cemented the deal for me was DC/Warner's good looking long term prospects. Their big schedule roll out for movie projects over the next 5 years and their successes on the TV front have got everyone optimistic about DC.
Wonder Woman #1 has not yet caught fire in the way Batman #1 and Suicide Squad have but it wouldn't be too much of a prediction to say that I think it will. I like the sound fundamentals, her star is definitely on the rise.
The 44th edition of the Overstreet Price Guide shows $6 at the 9.2 grade.
Strengths that make this comic book a good long-term investment are:
Part of DC's New 52 First Wave
Wonder Woman has a bright and secure future