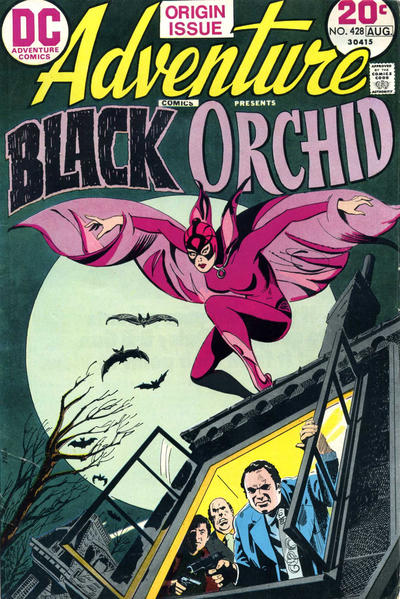 Adventure Comics #428, DC Comics, (June/July 1973)
I've run across Adventure Comics #428 countless times over the past few years as Spotlight ideas came to me but I've never been able to pull the trigger and feature the book. I'm pretty sure it's been the book's lack of movement out of my Adventure Comics bin that has held me back. Simply put the book does not sell.
Recently I was reading up on the origins of DC's Vertigo imprint and I came across a reference to Neil Gaiman's 1988 three-part prestige format Black Orchid mini-series. High marks were given to the way Gaiman gave much needed substance to the Black Orchid origin story. The mini-series' writing style and art style were seen as precursors to the DC Vertigo imprint that was still a few years away.
So Black Orchid got into my head again and I started asking myself whether it was perhaps time to give the book another chance.
The more I thought about it the more I warmed up to the idea that Adventure Comics #428 was a worthy Undervalued Spotlight.
First off I like the fact that the New 52 Black Orchid is cast similar to the original character from Adventure Comics #428. Their powers are similar and their costumes are as well. Different alter egos aside (the current Black Orchid is Alba Garcia while the original was Susan Linden-Thorne) there is an advantage of having a stronger continuity connection to the original character. What DC has in store for Black Orchid is anyone's guess.
My guess though would be that better things are in store for the character, as I've mentioned before we are entering into an era where female superheroes will make great gains in popularity, it's already happening to the A-listers like Wonder Woman and rest assured the publishers are aware of the trend and are making plans as you read this.
I also like the current trend of the market leaving no Key issue unturned. Adventure Comics #428 technically qualifies as a key as it introduces us to a new character, how big a key will depend on how popular the Black Orchid character can get.
Adventure Comics #428 being a Bronze Age comic helps its cause as well, there are not that many Bronze Age keys left that have not caught fire on the market, this is one of the rare ones that has not… for now.
The good news is that speculating on the Black Orchid won't cost you an arm and a leg because the book is still performing poorly on the market as of this post. CGC 9.2s go for below Guide while a CGC 9.6 will cost you about double guide.
This isn't just some "it's due" call here, I like all the indicators this book is lighting up.
I've decided I'm going to hunt a few down and wait patiently for the Orchid to bloom!!
The 44th edition of the Overstreet Comic Book Price Guide shows $33/$57/$80 as the 8.0/9.0/9.2 price splits.
Strengths that make this comic book a good long-term investment are:
First appearance Black Orchid
Bronze Age key
Female superheroes are an important collecting strain