I have just returned from Belgium after visiting for a week. Right in the midst of the of the high anxiety as a result of the terrorist attacks in France as well as lots of activity in Belgium. There is something very surreal when you are watching the news about a terrorist shootout and it is about a half hour away. The sheer size and scope of Canada tends to lend itself to everything being far away. Not there. You are literally a stones throw away from many different worlds.
The weather was not very cooperative either, for being a tourist, but I was fortunate enough to visit a couple of different comic shops.
The first one I went to was in Brugge, which is a beautiful city with the history and architecture one would expect in a city that is hundreds of years older than our country. Nestled among the cafés and patisseries was the world famous De Striep, or The Strip, in English.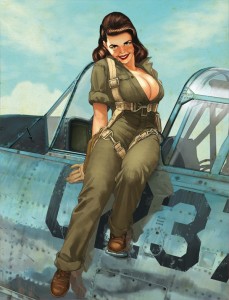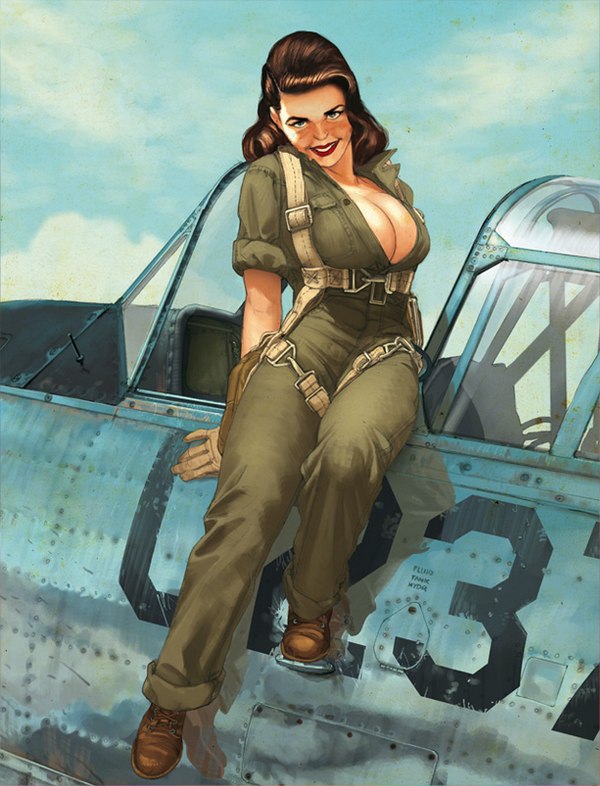 The thing that struck me most was how obviously strong the European market was in its diversity of product and with high quality content. Many books were in the Dutch language and were things I had never seen before. I picked up a couple of books simply for the art as I was unable to read the story, but there was every genre you could think of and most had nothing to do with long underwear and capes. You found those in the American comics, which were a large selection kept separate of the European books.
I would have liked to have explored longer to check out the many examples of European strip art that was on the second floor, but I had to make do with the time available.
One of the books I picked up was called "Angel Wings". Written by Romain Hugault and illustrated by Yann.  Which as far as I could tell was a series of books featuring what looked like the pin up girls from WWII era, fighting alongside the Allied Forces. Beautiful and detailed examples of  the period. I have attached a couple of pics for your enjoyment. This was, like many of the European books in the shop, a high quality hardcover costing 17 Euro, or roughly $25 Canadian dollars.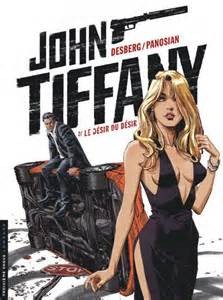 The second was a James Bond type character called "John Tiffany". Again in Dutch, only this was in a more familiar trade paperback format and a little less money. Written by Stephen Desberg and illustrated by Dan Panosian. I am sure many of you will recognize Dan from his many titles for Marvel, DC and Image etc.
I asked the owner of the store how many copies of these issues would be sold in the market place and he said it obviously depends on the title but 5000 copies would be a successful title.
I asked about Silver Age back issues and that did not seem to be his market, and any back issues of American comics were relatively recent as in modern back issues.
Worlds End Comics was on a busy street in Gent. Also in Belgium. This store seemed to have his American comics more at the front of the shop. Trade paperbacks as well as action figures and different gaming items that I am not familiar with. Both of the stores I visited were very clean and organized with owners that were  certainly excited to talk comics and the differences in our respective markets.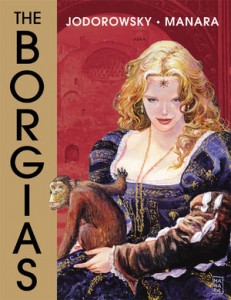 At Worlds End I picked up a rather large hardcover in English of "The Borgias", by Alejandro Jodorowsky and Milo Manara. It was such a beautiful book published by Dark Horse and definitely for an adult audience. When I asked the shop owner about the book, which was high up, out of the reach of short people his description was that it was a beautiful book but that it was filled with"strange people doing strange things". That is as good a description as any. I was not familiar with Milo Manara but fell in love with his rendering! His exceptional ability with the period costumes and the beauty of his female characters and architecture had me hooked! The book didn't come cheap and I believe it is available to order in our marketplace as it is in English and has a $64.99 Canadian price tag.
Now I certainly am not any kind of an expert on the European market, but from what I saw and was able to learn, is that there is a decidedly adult feel to many of the Euro books. Again, every genre you could think of. Spy, Fantasy, WWII, Funny Animal and so on.
There was also no CGC books in sight! I asked the owner of Worlds End about this, as I noticed again on a very high shelf, this one behind the counter, a very nice looking copy of Walking Dead #1 first printing. It looked like it was in a CGC case but no grade label.
He told me that CGC is not liked at all in Europe because people like to be able to look at the book! Made sense to me.
Oh by the way the book was encapsulated in what looked like a cross between the outer case of a CGC holder and the inner well only you could easily open it and get the book out if you wanted to look at it. It was very well designed and would protect the book very well. Price tag for what looked like a 9.2-9.4 grade was …$1500 Euro or roughly $2000.00 Canadian dollars.
Next time I plan on doing a bit more exploring as there are quite a few shops in Europe and they seem to focus on different segments of the marketplace.
Continued Happy Collecting! There's no place like home!