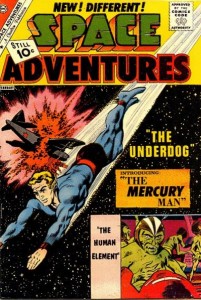 Space Adventures #44, Charlton Comics, (February 1962)
You'd have to go back to the infamous April Fool's Day post of last year to find a Charlton comic featured on the Spotlight, and I didn't even mean that one! Still, it's been way too long without a Charlton – if you ask me.
I bought a nice group of books recently that included a strong run of Space Adventure. One of my favourite books in the pile was a tight crisp copy of this week's Undervalued Spotlight pick, Space Adventures #44.
The Space Adventures title is probably most famous for issue #33 featuring the origin and 1st appearance of Captain Atom by Steve Ditko. Ditko's Captain Atom feature ends at #42. With Space Adventures #44 Charlton gives us a new hero to cheer for in Mercury Man.
Mercury Man was very much a product of the early 1960s and followed the tradition of Captain Atom and Doc Solar. His run in the title only lasted until the next issue, #45. Mercury Man never really got the chance he deserved.  Never say never though…
…In 2014 Tommy G Warren / Spiderwood Productions acquired the rights to Mercury Man and have launched an on line project now 3 episodes in. This mercuryman.com re-launch hopes to propel Mercury Man back into the mainstream world of superheroes. I'm hedging that a well devised and executed project will inject new life into this 50+ year old character and by extension renew interest in this week's Spotlight pick.
There is not much sales data on this book but the CGC 8.5 Bethlehem copy sold for $63 in 2012 while a CGC 7.0 went for $26 in Nov 2014. They don't come up often but when they do they go cheap.
I think this book is a good gamble. You're getting some true scarcity here. This is a 10 cent comic that predates every Marvel character except the Fantastic Four and Hank Pym. There are only 12 graded at CGC 9.2 or above.
Had the property remained dormant I wouldn't be jumping on this book like I am but there is this new Warren project going on and its raising awareness. I'm choosing to give this new Warren project a chance to make good, I think I'll hold on to my Space Adventure #44 for a while.
The 44th edition of the Overstreet Comic Book Price Guide shows $31/$53/$75 as the 8.0/9.0/9.2 price splits.
Strengths that make this comic book a good long-term investment are:
First appearance Mercury Man
Early 60s era ensures a level of scarcity
Very undervalued in the Overstreet Guide