Over the last year or so, it seems like there is no end in sight to the record prices in our fantastic hobby.
Never was it more evident than in  ComicLink's  Featured Auction which ended last week with some staggering results.
There was a lot of discussion in Walters' column Auction Highlights #88 and many well thought out comments by people who take this hobby seriously and with a great deal of passionate, emotional connection to it.
I made a decision to sell my high-grade Amazing Spider-Man and to use ComicLink as my vehicle. I was a little hesitant but made the decision largely because the market is so hot, especially Spider-Man, as it is the grease that really seems to keep the wheels turning.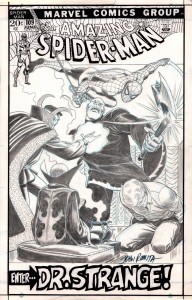 Now my nervousness was as a result of my decision a few months back to sell two grail pages of Amazing Spider-Man, one a vintage splash from ASM #74 and the other the finished pencils of the cover for ASM#109. Now I loved these pieces and thought it would be a good bet to sell them now when the market and the dollar have been so strong.
I was wrong. They underperformed greatly at Heritage, and by no means was it because Heritage didn't highlight it properly. They gave both pieces the full page treatment in their always impressive catalogue. That's just the way it is sometimes in the collectable market. What was so aggravating was that you see some pieces over perform and not be nearly as rare or important as my pieces were and they fetched stupid money.
So after that experience I went back to ComicLink. Part of it was sour grapes , but mostly because of the Buyers Premium of 19.5% that Heritage charges. I am happy to say of the twelve books that were posted, all 9.6's and 9.4's really performed well, with 90% outperforming what I had hoped for.
Now why am I bringing this up? I know that anyone reading this column is more than likely very passionate about this hobby. Many of us either help subsidize our collecting habit by buying and selling or very seriously pursue the business aspect of this hobby and keep some of the best treasures we come across for retirement.
I have a great time searching for the next Grail Page, or the next investment grade key and will continue to do so, but the thing you have to remember is , it doesn't always end up with the big win. You always hear about the big win, and very rarely hear about the loss. The loss does happen. I argued with myself about putting a reserve on the original art pages , and I know that instantly some of you will say…doh! I planned on it and unfortunately listened to the recommendation that when you post a reserve you really don't help to create the bidding frenzy that happens in auction. I took that risk. Will I do it again ? Probably not, but it is a proven fact that no reserve auctions way outperform those with reserves.
One of the obvious trends that is happening in our hobby is the effect that Hollywood is having on prices. Speculators abound and again I would refer you to Walt's last column, Auction Highlights #88. This has caused a lot of Bronze Age books to really escalate in value recently. Crazy money for books that are sure(?) to drop because of the likelihood that a lot of 9.6's and 9.8's will be heading down to CGC to get slabbed over the next few months.
I for one am kind of pleased about this. I am an admitted "Son of the Silver Age", and that is where my childhood passion started and where it is felt most deeply, so it is a lot easier for me to buy and sell the Bronze Age keys than it is the Silver Age keys. So I have been scooping up a bunch of Bronze and Modern keys where the emotional connection isn't in the way of sentimentality and logic.
So, I really just wanted to share that sometimes you win some, and sometimes you lose some, but in the end, it is better to have these treasures go through your hands than to never have held them at all.
Continued Happy Collecting!