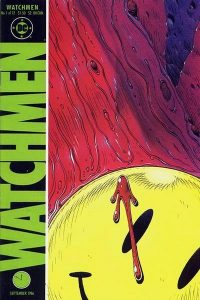 Watchmen #1, DC Comics, September 1986.
This week's Undervalued Spotlight pick is Watchmen #1. The 1986 Watchmen maxi-series by writer Alan Moore and artist Dave Gibbons stands as one of the greatest achievements in the comic book medium, it's a work of immense weight and importance which has been studied, dissected and critiqued perhaps more than any other comic book. I'll add that the Watchmen changed my relationship with comic books, it was a mind-blowing read.
It kind of doesn't make sense to wrest Watchmen #1 away from the other 11 issues as they are so deeply viewed as one but this is comic book collecting after all and the 1st issues always hold sway especially when they introduce the concept and all the heroes.
So why now? Well, I've been following with interest DC's current Doomsday Clock maxi-series written by DC's President Geoff Johns. The 12 issue series ends December 2018 and it's not really clear how it's all going to play out. Johns has been pulling the Watchmen characters into the DCU in this series, as of this post, final intentions of the project remain murky. The fact that the President and Chief Creative Officer of the company is writing it should mean that the story's resolution will have longstanding consequences.
If the Watchmen are successfully integrated into the DCU their fan base should grow considering the broad appeal of the DCU, this should lead to an appreciation in value of their source material.
The fact that Alan Moore wants nothing to do with this makes the whole thing even more intriguing. Can mere mortals harness and tame an eccentric genius's thoughts? We'll see.
This speculation on Watchmen #1 started back when the Doomsday Clock series was announced and the book has made some gains in the CGC 9.8 grade, it currently trades at an average of $420 over the last 75 sales.
I think Watchmen #1 has a lot more room. As of this post, there are only 309 copies graded at CGC 9.8, compare that with the 428 CGC 9.8 copies of that other seminal 1980s DC work, Batman: The Dark Knight Returns. Dark Knight CGC 9.8s sell for almost twice as much as Watchmen even with 35% more supply. I'll argue that Watchmen #1 with its 1st appearances should trump a Dark Knight #1.
Fundamentally the book is undervalued as is, add the unknown variable of potential broader appeal in the near future and you get a book worth taking a chance on.
The 47th Overstreet price break for this book is $27/$44/$60 in the 8.0/9.0/9.2 grade splits.
Reasons to buy this comic book as an investment:
1st appearance of the Watchmen
DC currently trying to work Watchmen into continuity