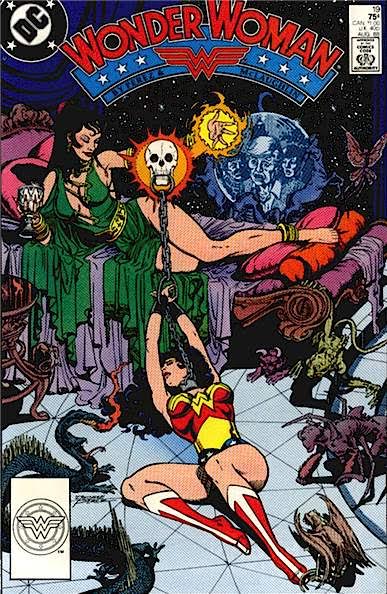 Wonder Woman, Volume 2, #19, DC Comics, August 1988
A while back Carey graced us with a solid Guest Spotlight pick in Wonder Woman Vol. 2 #9. It was a solid pick and it was actually only one of two books he felt strongly about, the other is this week's Undervalued Spotlight Wonder Woman Vol. 2 #19. This is a great little book that surprisingly has next to no activity on the market at the moment. Casey has the honor of chiming in with Spotlight #299, his great pick frees me up a bit to prep the hell out of next week's 300th Undervalued spotlight. So let's slow it down a bit, let's not jump ahead, let's stay on target. Let's turn things over to Carey.
With Gal Gadot's strong performance as Wonder Woman in Batman V Superman: Dawn of Justice now behind us, we turn to the upcoming Wonder Woman movie for a little inspiration. This week's spotlight features the first appearance of one of Wonder Woman's top antagonists and who is also rumored to be in the Wonder Woman movie. This week's pick is Wonder Woman vol. 2 #19, the first full appearance and origin of the modern Circe.
The Circe is a goddess or sorceress in Greek mythology. In Homer's Odyssey, she invites Odysseus' crew for a feast before turning them all into pigs. Hmmm, I wonder if Homer was a closet feminist. In any case, the comic book version draws much of its inspiration from the Greek mythology, a beautiful enchantress with magical powers. The original Circe first appeared in Wonder Woman vol. 1 #37 but only made a handful of appearances in the golden, silver and bronze age, seemingly with a different look each time.  It wasn't until the post Crisis reboot of Wonder Woman by George Perez in 1987 with a renewed focus of incorporating Greek mythology into the Wonder Woman stories where the Circe would become a consistent character in the DC universe and a regular foe of Wonder Woman. This is the most famous and popular comic book version of the character. She first appears in a cameo at the end of Wonder Woman vol. 2 #18 with the story continuing in #19.
As mentioned in prior posts, TV and movies have played a big role in spiking the interest in a book and nothing spikes the interest more than having a big name actor or actress take on the role. With the rumored villains for the Wonder Woman movie being Ares and the Circe and the rumored casting of Eva Green to play the Circe, I can see a potential spike in interest for this character.
The 45th Overstreet price lists both of these books at $5 in the 9.2 grade.
Strengths that make these comics a good investment are:
First full appearance and origin of the modern Circe
Nice George Perez bondage cover
The Circe is rumored to be one of the villains in the upcoming Wonder Woman movie
Can be had for next to nothing, for now