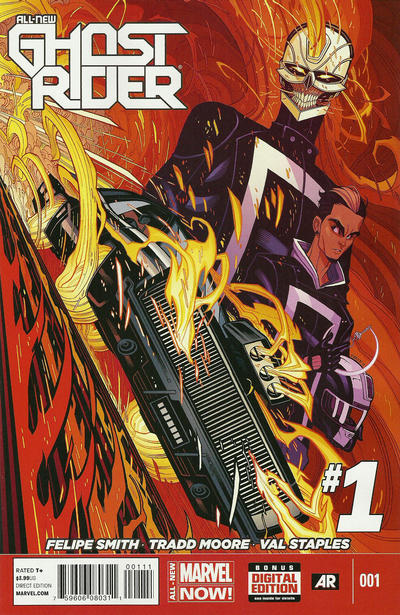 All New Ghost Rider #1, Marvel Comics, May 2014
We were talking movies and TV shows at the shop recently and someone mentioned Agents of S.H.I.E.L.D. and how much they liked it. The show's Season 5 air date was announced at the New York Comic Con last weekend as December 1st and our Agents' fan was pumped. I thought Agents of S.H.I.E.L.D. was a floundering show but apparently Season 4 saw a revival with new fans coming on board. Part of the reason for the show's rekindled success seems to be Roberto Reyes a.k.a. the New Ghost Rider.
Robbie Reyes 1st appeared in this week's Undervalued Spotlight pick All New Ghost Rider #1.
Most of us Bronze Age fans know Johnny Blaze as Ghost Rider. Blaze first appeared in 1972's Marvel Spotlight #5 and was infamously played by Nicholas Cage in those very sub-par Ghost Rider movies of 2007 and 2011. I remember prices tanking for Spotlight #5 after that 2011 movie!
Let's get back to the new Ghost Rider. Robbie Reyes is a new Latino character who met his fate on the mean streets of East L.A. His love for his younger disabled brother has Robbie make a deal with the devil and become the new Ghost Rider!
To be honest I remember this book coming out a few years ago and not being a fan of the art. Luckily there are 4 variant covers, a couple of which I like, plus a Hastings Retailer cover to choose from. CGC 9.8s vary from $50 to $190 depending on the Variant. The regular cover sells for just over $100 in CGC 9.8 with the CGC Census showing only 43 9.8s of the regular cover as of this post, CGC 9.8s of the variants are much scarcer.
I really like this book. I think the Johnny Blaze Ghost Rider was at a bit of a dead end and this new alter ego was just the thing the property needed. I see the alter ego switch to Roberto Reyes working brilliantly with new fans and old embracing it. The whole things reminds me of how well the Ms Marvel switch to Kamala Khan has gone.
I've read that Ghost Rider in the S.H.I.E.L.D. series is tied somehow to the Doc Strange sequel due out next year. Nobody is saying it's a sure thing but the buzz online is that Ghost Rider opens up a second front to the new "Mystic Marvel" theme that the successful 1st Doc Strange movie started.
All New Ghost Rider #1 is really about Roberto Reyes and the success the character is having with audiences. Much has been written about Marvel totally mucking up their en masse conversion of their characters' identities and not enough has been written about the changes that have worked.
You'll have to stick to a CGC 9.8 on this book, the print run was just over 50,000 but with 5 different covers there is some scarcity for each cover.
I'm sure you'll still be able to find this book is comic shop bargain bins! Happy hunting.
The 47th Overstreet price break for All New Ghost Rider #1 is $4 in the 9.2 grade split.
Reasons to buy these comic books as an investment.
1st appearance of Roberto Reyes as Ghost Rider
The New Ghost Rider's success on TV is helping the character gain awareness and acceptance