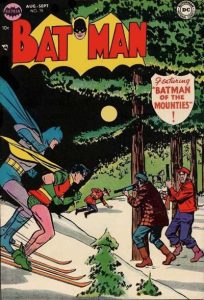 Batman #78, DC Comics, August-September 1953.
A guy brought me in some rat chewed old Batman comics from the early 1950s recently and while I didn't buy them because the grades were simple not worth the asking price (in my mind) I did enjoy looking through the batch as decrepit as it was. The best of the lot happened to be a maybe Fair to Good copy of this week's Undervalued Spotlight pick Batman #78. I even tried to buy Batman #78 separately but was unsuccessful.
Batman #78 features the 1st appearance of Roh Kar, the 1st Martian lawman to visit earth. The green skinned Roh Kar is introduced in the 10 page story titled "The Manhunter from Mars".
Picking Batman #78 to spotlight brought to mind Mike Huddleston's recent post on prototypes, he was pretty harsh on iffy prototypes but I'm certain this one fits the bill. J'onn J'onzz the Martian Manhunter famously made his debut in Detective Comics #225 (November 1955) over two years after Batman #78 was published.
Batman #78 really gets no love, the Guide has the common issues around Batman #78 at $1,500 hardly giving any premium for what I think is an important issue. The Guide is not the only one ignoring my book, on the markets a recent CGC 4.5 sold for $262, well below Guide. As of this post I found a CGC 6.0 for sale on line at around double Guide with no takers. Important Golden Age comics in higher grades like CGC 6.0 don't last at double Guide.
Perhaps it's the cover? A couple of Quebecois villains and a Mountie. Maple Syrup heist?
Obviously I think the market should be demanding this book a lot more than it is. The book offers a great prototype of a major DC character and its in the sequence of issues that are among the Batman titles's hardest finds.
The 47th Overstreet price break for this book is $742/$1,271/$1,800 in the 8.0/9.0/9.2 grade splits.
Reasons to buy this comic book as an investment:
First Appearance of Roh Kar, the Man Hunter from Mars
Embedded in the coveted early 50s (very hard to get) Batman run