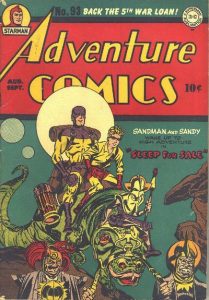 Adventure Comics #93, DC Comics, August/September 1944.
I love browsing through some of the bigger auctions. I always start by having a peek at the Golden Age offerings, there's so much great Golden Age out there!
It was a recent ComicLink auction, I was perusing the Golden Age selection when I saw a book and had this immediate "hey! Kirby Monster Cover!" reaction. The book I saw was Adventure Comics #93 and it's this week's Undervalued Spotlight. It must be the Kirby kick I'm on lately.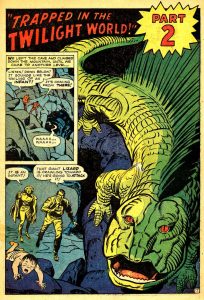 Adventure #93 is obviously not a Kirby Monster Cover in the classic sense being about 15 years early but it is kind of a Kirby Monster Cover if you look at it at the right angle and from the right frame of mind.
I'm not even going to try to claim it a prototype (though the thought did remind me of Mike Huddleston's great post on the subject matter). I'm simply claiming that this gem of a Golden Age book has an obvious connection to Kirby's later Monster Era and I think this fact gives the book some collectability, more collectability than it's enjoyed as a common run book within the Golden Age Adventure Comics run.
I've actually seen this book for sale at least 3 times over the past year and contemplated throwing in a bid on a stunning 9.2 (I think it was a 9.2, might have been higher). Copies go for around Guide and a CGC 9.4 (might have been the one I saw) went for $2390.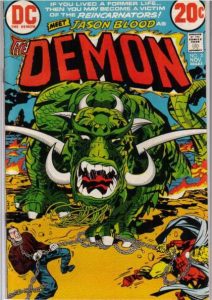 As I mentioned above I think there is enough here to merit consideration, essentially we have a cover (and story) drawn by the most celebrated artist in the history of comics and we have an obvious link with the cover subject matter to one of his more memorable and collectible eras (or phases?). I'd say a tight crisp 8.0 would look great in your collection.
The 47th Overstreet price break for this book is $621/$1061/$1500 in the 8.0/9.0/9.2 grade splits.
Reasons to buy this comic book as an investment: