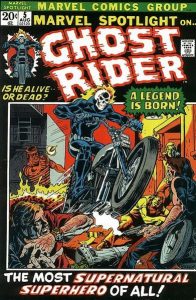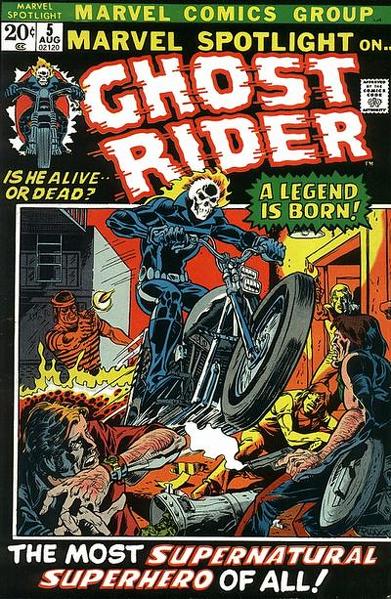 Marvel Spotlight #5, Marvel Comics, August 1972.
Oh my goodness, the back issue market has been on fire recently. Bronze Age keys from Marvel have fared particularly well with Incredible Hulk #181, Amazing Spider-Man #129, Giant Size X-Men #1 and Werewolf by Night #32 all running up solid gains.
There is one book that seems not to have been invited to the party and that is this week's Undervalued Spotlight pick, Marvel Spotlight #5.
Marvel Spotlight #5 features the 1st appearance of the Johnny Blaze Ghost Rider, the character was one of the 1st out of the horror/macabre block after the relaxing of the Comics Code Authority (thanks in part to Amazing Spider-Man #96).
Ghost Rider was an instant success, his run on Spotlight lasted through to #11 and then he jumped over to a successful 80 issue Ghost Rider run.
The character achieved mega pop culture success with the Nicholas Cage Ghost Rider movies. The movies were not the best super hero films ever made but they did attract a bit of a cult following and did make Ghost Rider a household name.
Marvel Spotlight #5 really does have it all when it comes to the ingredients needed for a nice strong value appreciation, fantastic cover with our principle hero front and centre, the 1st appearance of a major character, embedded in the much coveted by collectors early Bronze Age, mass pop culture exposure thanks to feature films and the book itself belongs to that short list of iconic Marvel Bronze Age keys that seem to be must haves right now.
Yet the book is flat and has been for the past couple of years. I'm betting that is going to all change in a hurry, there should be some extreme price pressures working on this book. Like I mentioned above, the Bronze Age keys are going crazy right now.
I think I can best illustrate by doing a quick one on one comparison to one of Mike Huddleston's favorite books – Werewolf by Night #32.
I was surprised to find out that the 48th Overstreet Price Guide has Werewolf #32 at $1,350 in the 9.2 grade while it has out Spotlight #5 at $1,250. I was also surprised to see Werewolf #32 market prices at the CGC 8.0 and CGC 9.0 grades stronger than their Spotlight #5 counterpart.
Currently CGC 9.4 Werewolf #32s are getting $2,600 and climbing, the last Spotlight #5 CGC 9.4 got $3,700, stunning results considering the scarcity of Spotlight #5s at 9.4 or higher. As of this post there are 110 Universal CGC 9.4s or better of the Marvel Spotlight #5 compared to 252 copies of Werewolf #32 at 9.4 or better. Even checking tonight's GPA links to copies for sale I see that there are links to 15 Spotlight #5s versus links to 32 Werewolf #32s.
I don't think you can argue that Moon Knight is the stronger character, I'd argue the opposite. I think this might be a good time to grab a nice higher grade copy of Marvel Spotlight #5.
The 48th Overstreet price break for this book is $138/$359/$805/$1250 in the 6.0/8.0/9.0/9.2 grade splits.
Reasons to buy this comic book as an investment:
1st appearance of Ghost Rider
One of the big Marvel Bronze Age keys
Black cover makes this book extremely tough in higher grades