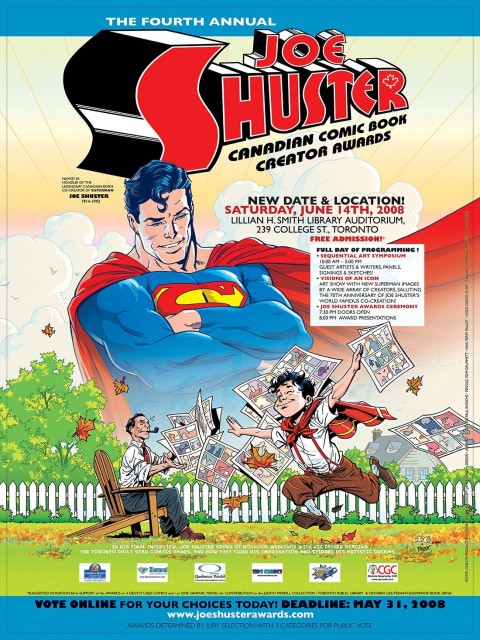 This third week in September is quite a significant week for WECA book fans. This past Saturday night I attended the Shuster Awards for the first time and served as a presenter for the induction of former Hamiltonian Edmond Good into the Canadian Comic Book Creator Hall of Fame. He and publisher of Bell Features books, Cy Bell, were the two WECA era inductees this year. In the past few years it has we have inducted two creators from the Canadian Golden Age and one more recent creator—this year well deserving Ty Templeton. One oversight that I think needs to be corrected is that a female WECA artist has yet to be inducted (top of my list is Doris Slater with Shirley Fortune not too far behind). You can see all the winners at the Shusters web site and read Scott VanderPloeg's report here.
This year's award ceremony was shackled by a series of unforeseen circumstances, but there were still about sixty attendees and the undaunted spirit of the awards shone through. From quick thoughts and conversations after the ceremony it's important that, in the future, the Shusters come to be attached to a major fan event like the Eisners are at Comic Con and the Doug Wright Awards are at TCAF. The logical place to stage future Shuster Awards ceremonies would probably be Fan Expo. The ceremony itself also needs to find a sponsor like Showtime was for this year's Eisner. A dedicated committee needs to be put in operation to realize this. The Awards and the presentations ceremony has to be an event that generates maximal pride in us for Canadian work in the comics industry.
As an aside, I was out in Waterloo and St. Jacobs last week and got together with good friend Mel Taylor, area writer and collector, and we went off to check out John Biernat's paper goodies booth at St. Jacob's Market. John was founder and original owner of Toronto's Dragon Lady Comics that started on Queen St. West in the city and then moved to College St. before morphing into the present day Comic Book Lounge and Gallery now operated by Kevin Boyd.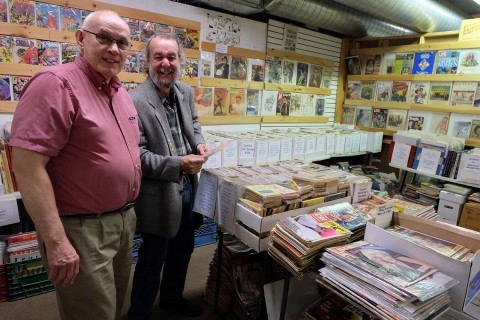 John was in his finest fun vitriolic form and sparred with Mel most of the time with the occasional barb bouncing off in my direction.  I urge everyone to get out and see all the paper goodies John has on offer at reasonable prices; why last time I was there I bought two original WECA art pages from him, one by Manny Easson and one by Harry Brunt.
This third week in September is also significant because it two of our WECA era creators who we still have with us have their birthdays. Today, the 24th of September, is sandwiched in between the birthday of Murray Karn, who was 91 yesterday and the birthday of Gerald Lazare, who is 87 tomorrow.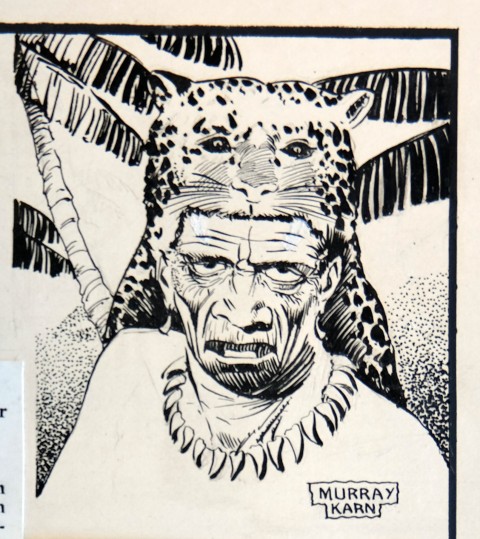 Murray Karn was the first artist on Edmund Legault's superhero creation, Thunderfist (Karn took over writing chores for Thunderfist as well around Active Comics No. 7) and created his own character, adventurer and soldier of fortune, Jeff Waring in Wow Comics No. 7. He also illustrated a number of text stories for various Bell titles. Murray Karn left Bell Features for military service in the fall of 1943 but once the war was over returned and contributed a new Jeff Waring story to each of the last two issues of Wow Comics as well as the cover and one in full colour for Slam Bang Comics No. 7. Happy birthday, Murray!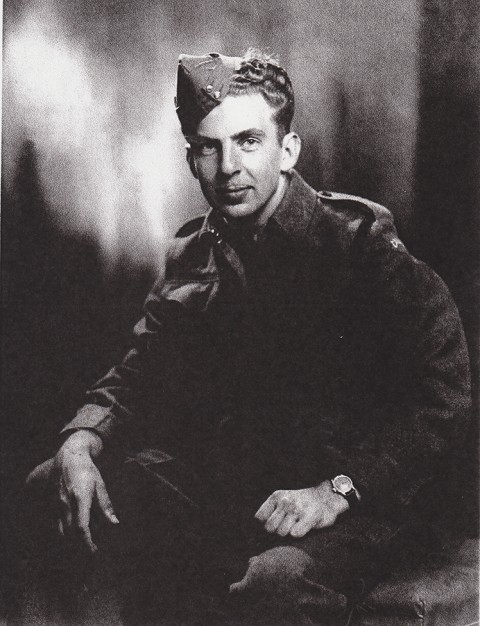 Ironically, Gerald Lazare's first job in comics was to take over the Jeff Waring feature from Murray Karn and his version first appeared in Wow Comics No. 17 (Oct./Nov. 1943). Lazare also took over Rene Kulbach's Phantom Rider feature when Kulbach went into the forces and he also revived the short lived The Wing created by John Hilkert in Joke Comics. He worked on The Young Commandos in Commando Comics. In addition to this Gerry came up with his own characters as well including Nitro and Drummy Young in Dime Comics, The Dreamer in Wow Comics, and Tommy Tweed in Commando Comics. Lazare also did a handful of "free-standing," one-shot features .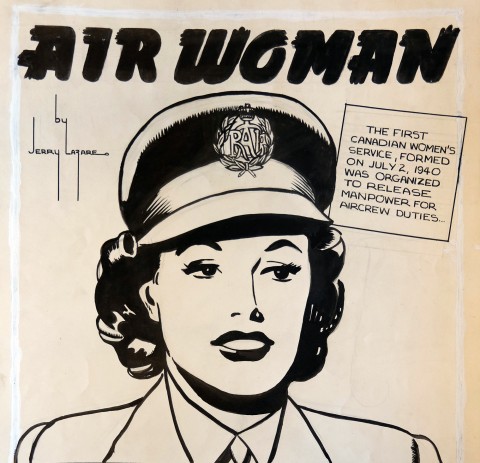 All of this made him one of the speediest and prolific artists of the WECA period. Gerry has gone on through post comics careers as a graphic artist, a book and magazine illustrator, a teacher, and a fine artist where, alongside his wife, Setsuko, he stands now. Happy Birthday Gerry!!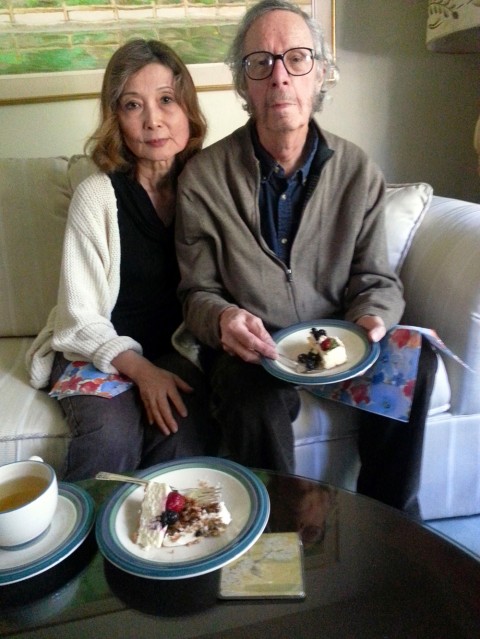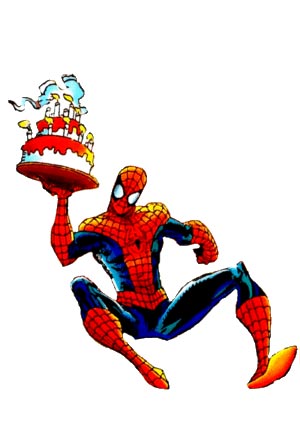 I hope that you can join me in wishing these two wonderful human beings the happiest of birthdays and quite a few more to come!