Publishing a book is a drawn out and often frustrating process even on top of researching and assembling the actual draft text and graphics material. This is especially so when the cards are stacked against it because the book focuses on such a niche topic. I can tell you that the passion for sharing the material I've researched and assembled hasn't diminished a bit since I started this project more than three years ago. I do want to get the back stories of the Second World War Bell Feature artists and the images of some of the original art pages they created into an attractive, hard copy form that those who would find it interesting enough to purchase could hold in their hands and proudly park on their bookshelves.
I want to take the opportunity of this column to share current progress and to solicit any suggestions, advice, or opinions that you readers would be kind enough to offer.
No contract has been signed with Chapterhouse yet but ongoing talks with them have been positive. Chapterhouse is very interested in publishing this book with the aid of a Kickstarter and they appear to be even more interested in a follow-up Gerber style book covering all of the Canadian war-time comics. Chapterhouse wants to take a bit of a different direction from my original vision of the book by wanting the Kickstarter to be focused on printing a large number of soft cover copies and printing the deluxe hard copies only if a stretch goal is reached on top of the first goal for the soft cover copies. Their idea seems to try to get a number of copies into libraries, schools, and brick and mortar book stores so that the book would have a broader national footprint right away. My intention has always been to have the Kickstarter based on reaching a fundraising goal that would first account for a quality hard cover copy for each supporter and have a couple of creative stretch goal on top of that. I've always felt that the production of any softcover copies for libraries, etc., could come in the form of a second edition completely separate from this original Kickstarter. I see this first Kickstarter as having the responsibility of getting a quality copy into the hands of those people who really want it (like the readers of this column, collectors of these old Canadian comics, and the family members of those individuals I have written about). Whether that produces 100 or 500 supporters, it justifies the enterprise and my effort. This first edition should be a limited quality edition that satisfies those people most interested in it. In order to see that this happens, It may very well end up that I take on this Kickstarter myself, which is something I originally didn't want to do. So there's still a bit of negotiation and arguing my position to go on with Chapterhouse. One way or another, a Kickstarter for the book will be launched by the end of June.
Gerald Lazare has agreed to sign a number of copies as has Jack Tremblay, but he is in Montreal and will be more difficult to get to. I think we should offer between 50 and 100 signed copies and at a higher premium than the other copies. I also think that the hardback should be produced without a dust jacket which always seems to get in the way and is the first thing to tear or crumple. I think that we should also try to do a slip case for a limited number of copies.
I have brought Dundas designer John Farr on board to design the book and work has been fruitful so far. I approached John because, as the son-in-law of Aram Alexanian (one of the artists written about in the book), he has a solid stake in the project. Together, we have worked on a cover design concept of mine that harkens back to those old Bell Features covers that were so great. Here is the present working state that we, of course, continue to refine. The first proposal is a full cover graphic and the second proposal is with the graphic reduced in size and centered in a dark grey or black border with spot varnish to make it pop a bit: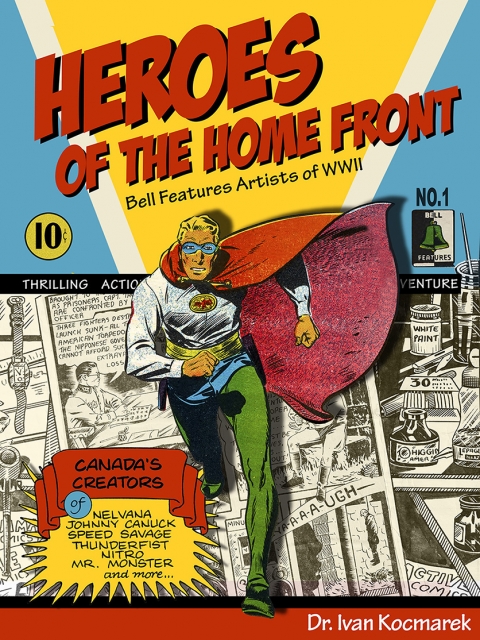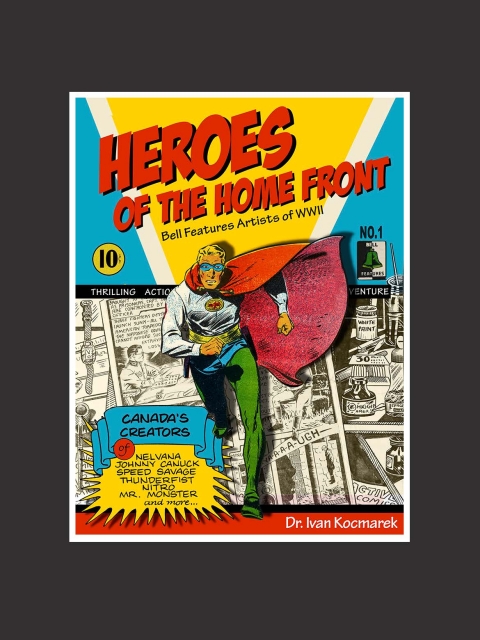 Gerald Lazare and John Bell have been kind enough to do Forewords for the book and I am expecting an Afterword from Patrick Loubert and Michael Hirsh. Here is the working layout for the first page of Gerry Lazare's Foreword (note that the originals are pdfs and that the graphic representations here do not seem to reproduce the text portions well):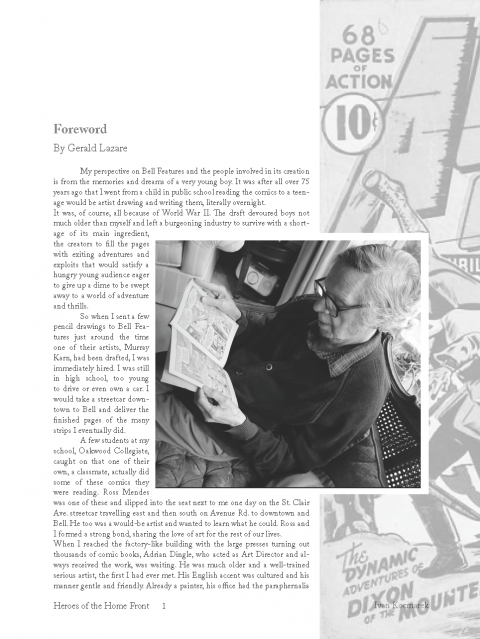 Here also is a mock up place holder for the Table of Contents with all the artist's names but without the correct page distribution. You can see that there are 35 Bell Features artists dealt with in the book: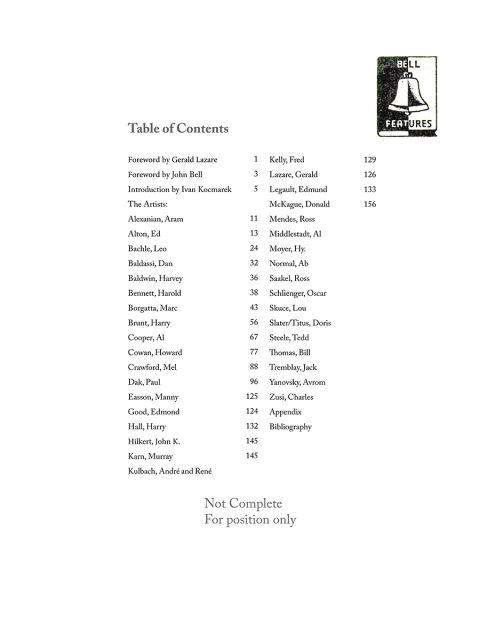 Here is the title page for the body of the book: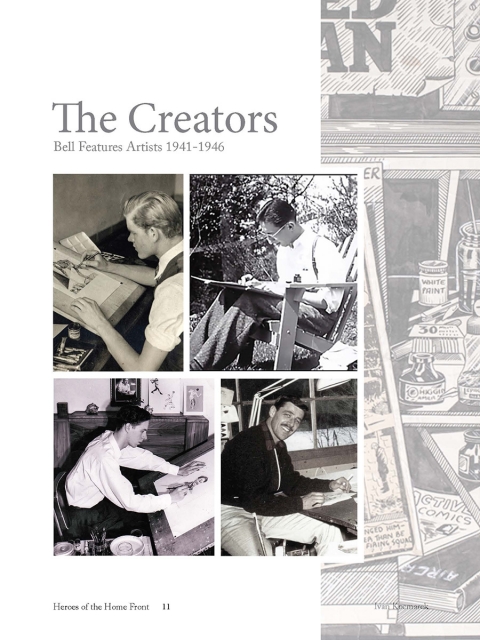 Lastly here is a fragment of the back cover in development with endorsement blurbs by John Bell and Gerald Lazare: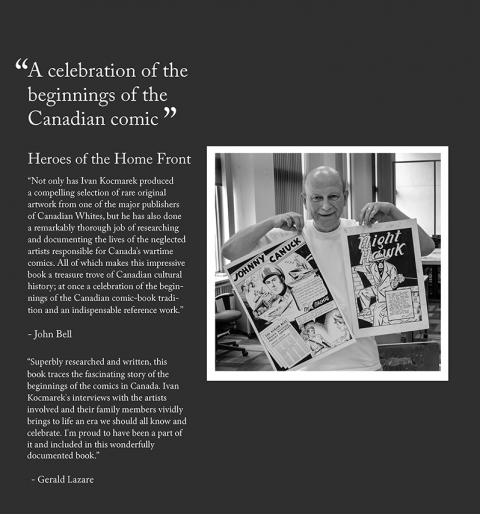 The book is being designed to come out as a 9" x 12" volume with just over 150 full page reproductions of original comic art pages with about 20 of them never previously published such as Aram Alexanian's 5-page prototype story for Super Commando called "The Black Commando."
All in all, I believe I'll be able to put out a book that is worth reading and having in a comic book reference library for anybody interested in golden age Canadian comics or in the story of comics in Canada in general.
The next couple of months I'll be trying to obtain items that can be used as incentives for the Kickstarter by soliciting some comic artists for small illustrations of a Bell hero or heroine. I will also ask the family members I've interviewed if they can donate a small item related to their artist relative. So far, artist Dave Ross has agreed to do a drawing of Thunderfist and Gerhard has agreed to do a drawing of air ace Scotty McDonald. Fergus-based artist Dan Hammond has agreed to do a drawing of The Black Commando and one of the original Orb Magazine artists Art Cooper, who is now returning to comic art after three decades in the field of mechanical engineering, is offering his take on the Bell Features character Nitro. Here is a recent pencil rough that he has done: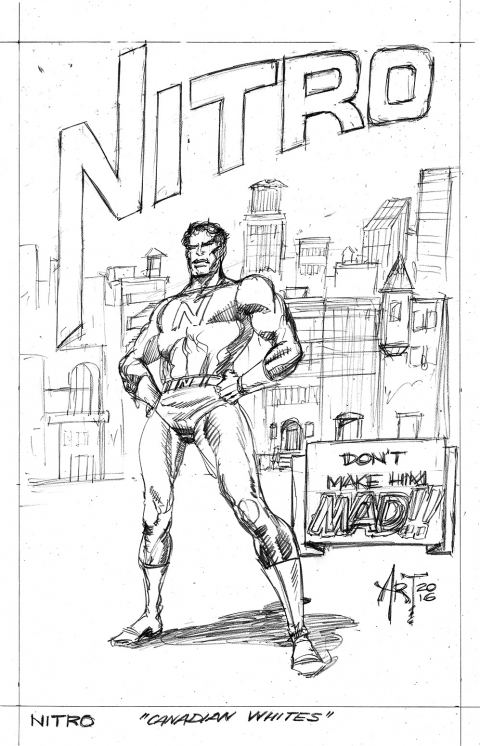 Gerald Lazare has offered to donate one of his paintings. I am donating an original sketch of Dizzy Don done by Manny Easson in the 70s that has his original signature which is quite different from the typed up and pasted on by line that he provided on his comic splash pages.  So we appear to be well on our way.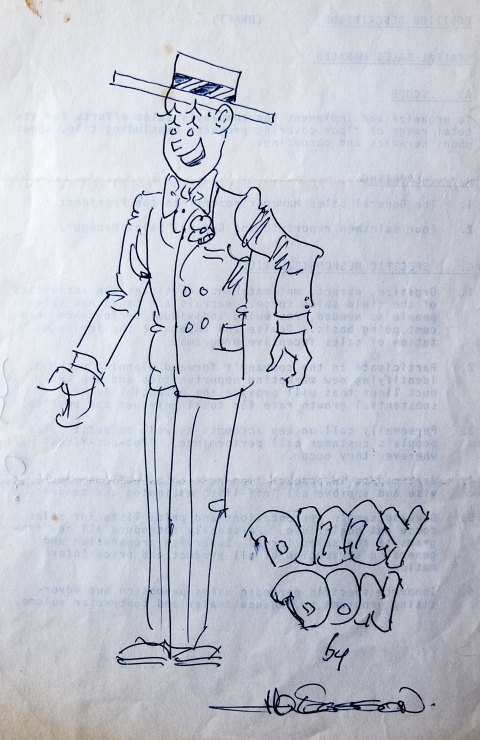 The big task for the next month or so is to put together a solid budget and compare costs for printing offshore (read China) to finding out what domestic printers can offer (anybody with suggestions for good, economical printers that can handle a book like this) would be welcome. We'll have to estimate shipping costs and determine the best price point for the book as a limited signed edition and as a regular edition. The assignment would be to make sure that costs for realizing the hardback edition and shipping the book out are covered by the Kickstarter crowd funding goal.
This Comic Book Daily column will be the main channel for publicizing the project but I tend to avoid social media if I can so things may have to change if I take on the Kickstarter myself. Publicity through social media would be where partnering with Chapterhouse would provide the greatest advantage. On the other hand, the Kickstarter supporter target is a relatively small ready-made audience that could be reached through an email campaign and it's obvious that this niche book project is not something that will appeal to a broad comic book audience so that a wide social media campaign may prove futile.
Given all these contingencies, the Kickstarter has to be given a go and we've got to see what we can make of it.
To finish off, I just recently received a couple of pictures of Jack Tremblay, one of the original Bell Features artists who are fortunately with us. The pictures were sent by Jack's son Rick Trembles and show Jack having a great time at the April 2nd Montreal Fantasticon. Jack will be 91 in a couple of weeks and worked for Bell Features 75 years ago.