1) The Daredevil Speedster.
After a fairly heavy week in the press surrounding the Aurora incident, I'd like to keep things pretty light and simple today, bringing our focus back to the familiar and innocent humour of comic-culture.   Here goes…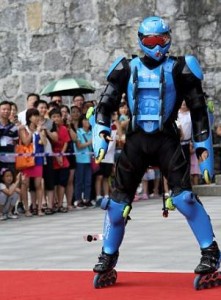 I think I've found an actual, suitable candidate to be a real-life superhero in Jean-Yves Blondeau, AKA: The Daredevil Speedster.  He certainly looks the part in his homemade, bespoke roller-suit and seems truly fearless in his attempt to break the world record for fastest unassisted descent down Tianmen Mountain, Zhangjiajie in south China's Hunan province.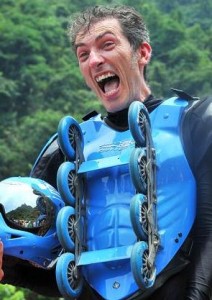 This whole thing just feels as though it belongs in a comic book.  The suit, the character, the news coverage.  You could beef up the story and flesh out the character a little for sure, but the foundation is there, right?  And this time it's not a cringe-y fat man in a sports jersey and hockey mask.  This chap genuinely fits the bill I think.  Hats off Jean-Yves.
2) Manchester Comic Con Sees Record Numbers.
Saturday's MCM Manchester Comic Con enjoyed a record number of visitors, with more than 11,300 gamers, sci-fi fans, anime aficionados and comic collectors flocking through the doors of Manchester Central.   Almost double the attendance of last year's inaugural event.  Nice.
"We were delighted with 2011, but 2012 was so far beyond our expectations,"  said Manchester Comic Con co-organiser Bryan Cooney — in a mass-report email — he went on, "We knew we would have a great show but the turnout was even greater than we expected and the atmosphere was wonderful.  We look forward to returning to Manchester next year and hopefully to an even bigger crowd and Venue!"   Course they do 😉   This is great to see outside of London, a fantastic show by the looks of things.
The next big MCM event is their "flagship" show:  MCM London Comic Con "The UK's biggest and best pop culture festival."  Held at ExCel Centre in London on the 26-28 October.  Full report will follow.  On it.