Georges Prosper Remi – probably better known under pen name – Hergé, was a Belgian comics writer and artist renowned for his creation 'The Adventures of Tintin' – which he wrote and illustrated between 1929 and 1983 – when he sadly passed on.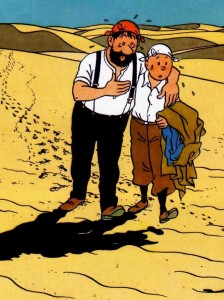 His 'Euro centric' creation Tintin received its UK movie premiere in London last week.   Secret of the Unicorn tells the story of (another) intrepid reporter Tintin, whom sets off on a dangerous hunt for a sunken treasure with drunken side-kick, Captain Haddock.   In honour of a pop-culture property that now resides somewhere between Mickey Mouse and Asterix/Obelix (in my mind),  I went along to a late screening on Sunday night in London Town, with a sceptical scowl and an open mind.   First impressions of the movie were pleasing! – a sigh of relief could almost be heard on mass,  as we all seemed to realise together that, we're going to enjoy this (smiley).  it's all very impressive to look at – everything looks un-believably… believable and the harmony of human performance VS CGI  make a perfect platform for a comic book movie,  I couldn't help but wonder how it could work with something like Spiderman?! – the look and feel of the movie is pioneering in its nature and may even be seen as a milestone for these kind of movies – potentially like a Star Wars or a Jurassic park (just on a smaller scale).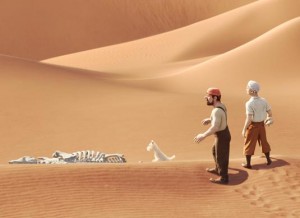 It all looks very expensive and rich, everything feels like its 'on steroids' or concentrated in some way, there's obviously no camera (as such) – so the shots are constructed with indulgent imagination, free of any physical restrictions… only by the minds of Spielberg and Jackson – and what a place to build a story.  The shot selection and cinematography are sharp and rewarding, throwing you from one scene to the next with ambitious aggression – and the moments in which the narrative is delivered are slick, tight and amusing.   It succeeds in holding your attention simply due to how beautiful it is.  The scene changes are fresh and fantastical and the plotline is adventurous, magical and the whole package validates the shape of a Tintin story… pirates, buried treasure, slapstick fight scenes, humour and hidden meaning.   On a side-note, Snowy the dog is charming in the movie and since he wasn't a live acting dog, he mixes well with other animal characters in some scenes… "never work with animals or children"… unless they're CGI I guess.
Spielberg being a big fan of the comics obviously helped deliver this story through (Indiana Jones tinted spectacles) and Peter Jackson's sense of scope and scale dictate the size of the story through the sets and location.   It's obvious to make the connection to Indiana Jones through Spielberg and, apparently – it was during filming on Raiders in 1981, that he first discovered Tintin.  During the press for the 1st Indiana Jones movie, critics' were suggesting that Spielberg took his inspiration from Herge's comics… some even suggested that Indiana Jones was a direct pull from the pages of Tintin and (as any creator would be), Spielberg grew curious and picked up the books.  He's been a fan ever since – and has planned to make this movie for some years now.
Would Hergé himself enjoy the movie?  I'm quite sure he would have, based simply on the visuals, utterly stunning.
Standouts – Captain Haddock is perfect and carries the movie.  The chase scene (for the scrolls) is unbelievable action – unlike anything I've seen in movies before.
Thomson and Thompson are spot-on but…  slightly annoying (just saying).
Good all-rounder for any audience, very well done.  Fun.
4 stars.