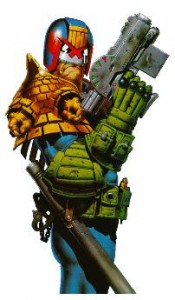 Judge (Joseph) Dredd's strip in the British comic 2000AD is the publication's longest running, first seen in the second issue in 1977. The premise: in a dark and dangerous future where uniformed Judges combine the powers of police, judge, jury and executioner, Dredd and his fellow Judges are empowered to arrest, sentence and even execute criminals on the spot. Judge Dredd was created by writer John Wagner and artist Carlos Ezquerra and was named the 7th greatest comic character by the British magazine Empire. AND this year IGN ranked him 35th in the "Top 100 comic books heroes".
But… should the flagship character in the 2000AD universe (Judge Dredd) be a little more… well, cool?  With a new movie scheduled for release in the summer of 2012 under the simple title 'Dredd' (yes, the same summer as The Avengers movie) I'm left scratching my head, asking: is the character still relevant as-he-is on printed page? Even with the bias, British praising?!, is he interesting enough to warrant a big summer blockbuster? The blurb online teases "In a violent, futuristic city where the police have the authority to act as judge, jury and executioner, a cop teams with a trainee to take down a gang that deals in the reality-altering drug, SLO-MO." And again, I'm left scratching my head and feeling a bit jaded by the whole idea.  The "reality-altering drug, SLO-MO" to me, suggests allot of moody visuals and potentially cheesy slow motion camera shots… a risk maybe?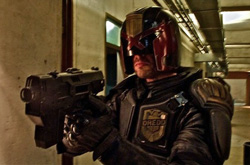 I remember the first comic I ever picked up was Judge Dredd vs Batman, the art quite literally rendering me speechless and the written story claimed me as a comic book fan forever.  Everything about it was cool: I clearly remember enjoying the chemistry between the 2 lead characters – they very much both belonged in the same 'place' as characters at the time (in my mind at least) and I would love to see this movie elevate Dredd to true global heights where he genuinely belongs.
If AD had the foresight to re-boot the Dredd character completely and tell some modern, edgy and refreshing stories ahead of time, they could've potentially gathered some momentum 'across the pond' (in the US) prior to the movie release in the summer.  As he is, a movie just feels a bit… lazy?!, though I do love the character and would really enjoy seeing it do well.

Is anyone actually interested in Dredd? – and the new movie in the summer? not sure.