It's time for another update from BIFF SOCKO, TWO-FISTED NEWSHOUND. Biff Socko covers Comic Book News like zits on the A-V Club. Faster than Perry White! Stronger than J. Jonah Jameson! He is…BIFF SOCKO!
DATELINE: NEW YORK- The Powers-That-Be at DC are pulling back on plans to cover-brand April issues with a seal of "WTF Certified".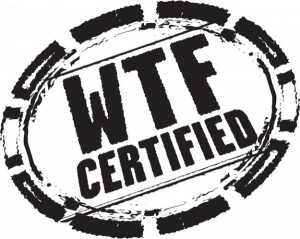 DC maintains that the reason for NOT using the seal is that they don't NEED it. Some speculation has been that the real reason behind the decision was because WTF can stand for many other things…Most importantly:  "Warner Threatened Firings"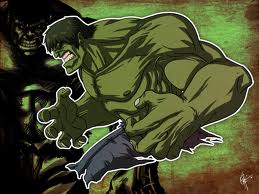 DATELINE: HONG KONG –  Honk Kong Disneyland has announced it will be adding an entire new area dedicated to Marvel Super Heroes. Disney is hoping the success of the AVENGERS movie will parlay into increased attendance at the attraction. Reflecting Chinese sensibilities, the characters will still be very recognizable to fans, including such well-known icons as: GAMMA-RADIATED GAIJIN GARGANTUA, DRUNKEN ARMORED SEX-LOVING TECHNOCRAT, and of course, CAPTAIN COUNTRY-WE-MOSTLY-OWN.
DATELINE: GOTHAM CITY- Once again, ROBIN has croaked. In issue 8 of BATMAN, INCORPORATED, Batman's son Damian dies a hero's death.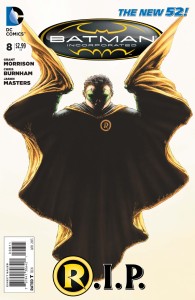 Of course, other Robin's have been killed off in the past, but this latest has sent a panic through the population. Robin Williams released this statement: "I am locking myself in a Panic Room with Robin Wright, Robin Thicke, Robin Leach, and Robin Gibb until this all blows over. WHAT? They got Gibb? SHAZBOTT!!"
STAY INFORMED, DISCERNING READERS! STAY ALERT, INVOLVED CITIZENS! STAY CLASSY, GOTHAM! FOLLOW BIFF SOCKO ON TWITTER @bsocko