It's time for another update from BIFF SOCKO, TWO-FISTED NEWSHOUND. Biff Socko covers Comic Book News like zits on the A-V Club. Faster than Perry White! Stronger than J. Jonah Jameson! Hotter than Cat Grant! He is…BIFF SOCKO!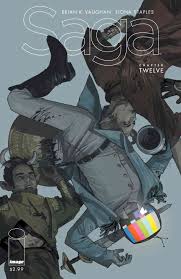 DATELINE: NEW YORK– Wednesday, Image Comics announced that Brian K. Vaughn's comic SAGA, issue #12 WOULD be available for purchase in iOS apps. There had been reports that the issue would be banned due to fears over what Vaughn called: "two postage stamp-sized images of gay sex". This apparently was not the case. In a related story, thousands of consumers are showing up at local ER's requesting treatment for fingers sprained by hitting screens repeatedly trying to get Kindles to enlarge.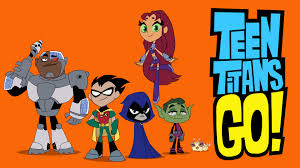 DATELINE: CARTOON NETWORK–  The theme song for the returning animated series TEEN TITANS GO  has been rolled out. When the show returns in two weeks a new version of the song, done by "Mix Master Mike", will blast through your speakers. This reporter has also learned that the lyrics are different as well. Here's a transcript:
TEEN TITANS GO! DON'T YOU KNOW IT'S TRUE,
LOOKING NOTHING LIKE THE VERSIONS IN THE NEW 52!
THEIR ANATOMY FEATURES HUGE DISTORTION
WITH GIGANTIC HEADS ALL OUT OF PROPORTION!
THERE'S A LOT OF THINGS THAT ARE NOT THE SAME SIZE.
THE ONLY HUGE ROUND THINGS ON STARFIRE ARE HER BIG GREEN EYES
THEY'VE GOT  ANIME FACES…BUT CAN I BE FRANK?
THEY DO HAVE TARA STRONG. SHE'S THE NEW MEL BLANC.
SO YOU MIGHT AS WELL SIT BACK AND ENJOY THE SHOW,
TIL "YOUNG JUSTICE" RETURNS, WE'VE GOT "TEEN TITANS, GO-O-O-O-O"!
STAY INFORMED, DISCERNING READERS! STAY ALERT, INVOLVED CITIZENS! STAY CLASSY, GIANT T-SHAPED BUILDING! FOLLOW BIFF SOCKO ON TWITTER @bsocko