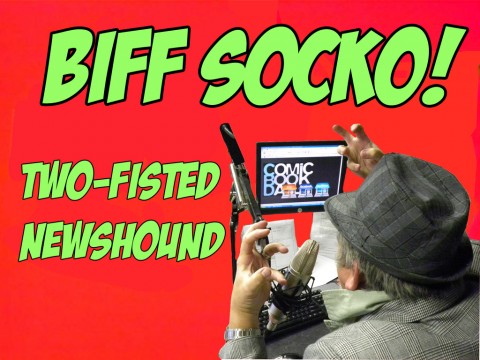 It's time for another update from BIFF SOCKO, TWO-FISTED NEWSHOUND. Biff Socko covers Comic Book News like zits on the A-V Club. Faster than Perry White! Stronger than J. Jonah Jameson! He is…BIFF SOCKO!
Through my usual secret sources, teams of uber-hackers, and hours of dumpster diving, I have discovered the SECRET RESOLUTIONS OF THE SUPER-STARS OF COMICS.
Prepare to stand amazed!
LOIS LANE: I resolve to not be so accepting when he tells me: "No, I have no idea who would leave a Golden Lariat tied to my bedpost. Huh. Weird"
PETER PARKER: I resolve to put a Reboot Button on my consciousness.
RICK GRIMES: I resolve to ask for a vacation…maybe a cross-over appearance in BETTY AND VERONICA.
SCOTT SUMMERS: I resolve to take more naked pictures of Emma if I ever get a shot at that again.
OLIVER QUEEN: I resolve to get as cut as the guy playing me on "Arrow".
DEADPOOL: I resolve to ask Brian Posehn for Sara Silverman's autograph… on my ass.
CHRISTIAN WALKER: I resolve to convince Oeming to draw me with a bigger package.
FIRESTORM: I resolve to find a foundation that really works with my skintone.
KINSEY LOCKE: I resolve to simplify my life by taking all doors off their hinges and replacing them with those Vietnamese bamboo curtains.
TONY STARK: I resolve to make my nephews stop sticking refrigerator magnets to my back where I can't reach them.
BATMAN: I resolve to kick Christian Bale in the nards for dooming me to talking like I have emphysema for the rest of my life.
HANK McCOY: I resolve to be as cool as Brian Michael Bendis writes me.
YOUNGER VERSION OF HANK McCOY: Yeah. What HE said.
GRIMBLE: I resolve to talk Willingham into putting Barbara Eden in the book.
ALAN SCOTT: I resolve to look into this 'weakness to wood' thing… because I'm afraid that might include Morning Wood.
STAY INFORMED, DISCERNING READERS! STAY ALERT, INVOLVED CITIZENS! STAY CLASSY, TIMES SQUARE! FOLLOW BIFF SOCKO ON TWITTER @bsocko