It's time for another update from BIFF SOCKO, TWO-FISTED NEWSHOUND. Biff Socko covers Comic Book News like zits on the A-V Club. Faster than Perry White! Stronger than J. Jonah Jameson! Hotter than Cat Grant. He is…BIFF SOCKO!
DATELINE: Hollywood- We're starting to learn more details of director Josh Trank's movie reboot of the FANTASTIC FOUR. According to writer Simon Kinberg, the film will be an origin story and its tone will be similar to Sam Raimi's SPIDER-MAN movies and the flick CHRONICLE. That means we know FANTASTIC FOUR will:
Have dialogue peppered with F-bombs
Feature Bruce Campbell playing an a-hole
Be made up of enough shaky "found footage" to induce chain-puking in the aisles
Show Reed Richards undergoing a personality change, having emo hair, and dancing through the streets and clubs of Manhattan
DATELINE: Philadelphia-  Mohammed Hassan Khalid last week was sentenced to five years in prison for taking part in an unsuccessful plot to kill Swedish cartoonist Lars Vilks for drawing the head of the Prophet on the body of a dog. Legal experts say the sentence would have been for a much longer period of time if the dog in question had been the much beloved MARMADUKE.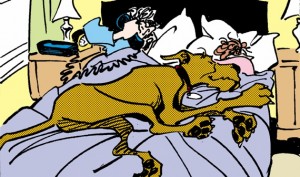 DEADLINE: Chicago-  DARK HORSE is trotting out not one, but two variant covers at C2E2 in the Windy City. The variants are for TOMB RAIDER #1 and BUFFY THE VAMPIRE SLAYER #2.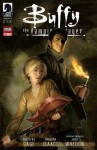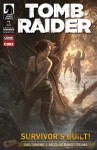 Fanboys are most excited about the "special feature" of the two covers: If you hold them against each other, it looks like BUFFY and LARA CROFT are KISSING!

STAY INFORMED, DISCERNING READERS! STAY ALERT, INVOLVED CITIZENS! STAY CLASSY, SUNNYDALE! FOLLOW BIFF SOCKO ON
TWITTER @bsocko