Fan Expo Vancouver rolled into town on April 18 to 20. This was the third edition of Fan Expo in Vancouver and it was another big success. This year's Expo was expanded to three days instead of two, and it was a little unusual to fall on the Easter holiday weekend. Like the upcoming 2014 Fan Expo in Toronto, this year's Fan Expo Vancouver was scheduled on a holiday long weekend, and this may have prevented some folks from attending. On the bright side, the organizers seemed to have solved the long line-ups problem from last year, as this year's wait lines didn't seem as long as the ones from last year.
As a whole, the comics and collectibles scene is still growing in Vancouver. Fan Expo Vancouver is the only one, big pop culture extravaganza here as our other cons are either smaller family events like collectibles fairs at the Scottish Cultural Centre or at the Vancouver Croatian Cultural Centre, or they are pure 100% comic conventions with "old time dealers" like the bi-monthly ones at Heritage Hall. We still don't attract many big shows like the ones that take place in Calgary, Montreal, or Toronto, but this is changing as new comic shows will take place this year.
The guest line-up was very diverse. The celebrities who attended the show included Stephen Amell and Manu Bennett (stars of tv's "Arrow"), Michael Rosenbaum, Lauren Cohan, Trina Nishimura, Tom Felton, Karl Urban, Bruce Boxleitner, Ray Park, Robert Englund, and many others. Among the comic book creators, highlights included Tony Moore, Mark Bagley, Bill Sienkiewicz, and Mike del Mundo. This year, Fan Expo organized celebrity sketch duels involving Tony Moore, such as Tony Moore vs. Bill Sienkiewicz and Tony Moore vs. Mike McKone.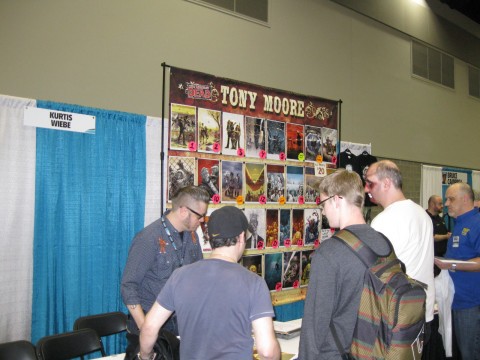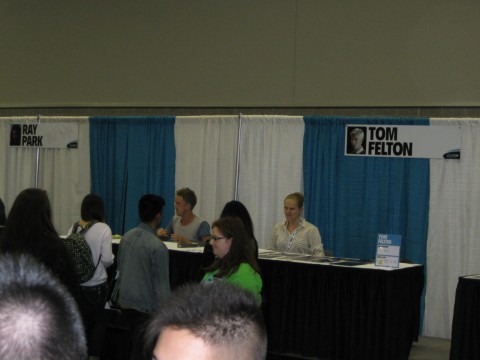 On the exhibits side of things, this year's Expo brought back the popular Lego exhibit but the Lego sculptures didn't seem as big and diverse as the ones from last year. Other familiar exhibitors included the Ghostbusters of British Columbia (a group of cosplayers), Toy Traders and Collectibles, Stylin' Online with their huge walls of t-shirts, and the "artist alley" which allows independent artists to showcase their works and sell their products.
Microsoft also had their first Fan Expo booth this year and they used it to showcase GAEMS, a mobile gaming environment with portable screen that plugs into the Xbox One console. I must admit that I had concerns when Microsoft moved into Fan Expo this year. If Microsoft was here this year, how much longer will it be before tech companies like Sony or Electronic Arts move into Fan Expo as well? Then the show could become crowded with technology products and there are already existing technology conventions for these companies.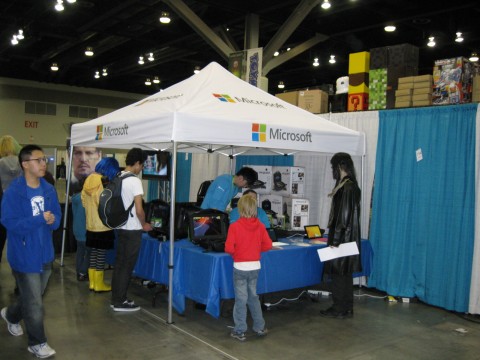 Fan Expo is a show that accommodates many pop culture themes so it seems that the comic books part of the show gets lost in the mix. During my two days at the show, I made sure to spend time at the comic book booths. I picked up a few Fantastic Four issues from the 1980's and I chatted with a few comic book dealers. It seems that not every dealer had good sales at the show. I spoke to a few dealers and about half of them said that sales were better or about the same as last year. A few out-of-town dealers were disappointed by their comic sales at this year's show. According to dealers and show attendees, the hot sellers included any movie-related issues such as Guardians of the Galaxies comics, Fantastic Four #52 and other Silver Age issues, Walking Dead comics (Tony Moore must have been busy signing these), and one dealer mentioned that issues of Afterlife with Archie were selling well.
Now that Fan Expo Vancouver 2014 has ended, the Comic Con circuit continues on across Canada. Next weekend is Calgary Expo, which is the biggest show in western Canada. Then Regina has its first-ever Fan Expo on May 3-4, Ottawa has its Comic Con on the following weekend, and then Toronto and Montreal have their Comic Cons later in the summer. Here are a few more photos from Vancouver Fan Expo 2014…