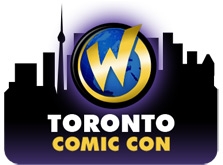 I'll be the first to admit that I wasn't all that blown away by last year's Wizard World Toronto. But, it was the first year, so I was quick to dismiss any issues as growing pains. But, I got to meet and interview Gail Simone, so it wasn't all bad.
This year, the con's hall space is half of what it was before, which is a good thing as last year there was too much space. (I was honestly quite surprised when I pulled into the parking lot of the Direct Energy Centre to see so many cars, until I realized that the Canada Blooms festival was going on in two of the other exhibition halls.)
And, while there was a pretty good turn out for a Friday night at 7pm – two hours until close – it was no where near the waiting-in-three-hours-to-get-into-the-Metro-Toronto-Convention-Centre insanity on the first day of 2010's Fan Expo.
Perhaps it's the guest list – very few comic book creators were announced. Which is disappointing because I remember Wizard World being synonymous with the best in comic conventions. But the focus has shifted now to celebrities and sports personalities. The cancellations – of Joe Madureira, Carlos Pacheco, Bruce Jones, Gabriel Hardman, Ethan Van Sciver, Bill Sienkiewicz, and Chester Brown – out of an already lean comic book presence doesn't help at all. But, there are some old favourites: Agnes Garbowska, Matthew Mohammed, Jason "J. Bone" Bone, Francis Manapul, Andy Belanger, Marvin Law, and Conor McCreery.
Regardless of how little comics programming there is, never fear, True Believers, I will endeavour to bring you whatever news (and interviews) I can. Also, take the opportunity to drop by the Comic Book Daily table and say hello to your favourite columnists (we're all taking shifts manning the table).
But, there is a brighter side. As I was walking through Artist Alley, there were a lot of new comic creators that caught my eye and I'm really excited to check those out tomorrow and Sunday. Also, there are some pretty sweet deals on TPBs and HCs.
Shelley Smarz is a business woman and comic book scholar. She blogs when she can and thinks that she should probably invest in one of those mobile internet sticks so she can post more often.