If you read my article on the March 2010 numbers in terms of dollar sales and market share, then it comes as no surprise that top-tier comic book and graphic novel publisher IDW has been advanced to "premier" status classification by Diamond. Diamond announced today that IDW is the first publisher to have done so since the "premier" status was first implemented in 1996.

So, what does this mean? Well, a new multi-year agreement between Diamond and IDW Publishing, for one. Previews will showcase IDW's new status as a premier vendor by moving them to the front of the book – along with Marvel, DC, and Image. This is also good news for retailers in terms of ordering. By being a premier vendor, IDW will eventually be added to Diamond's Final Order Cut-Off program. This allows publishers to adjust initial orders to accurately reflect sales before they ship from Diamond. As a result, retailers will be better able to meet customer demand! Party on, Wayne!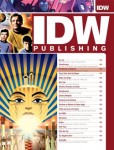 But it's not just the customers who win out. Diamond will remain the exclusive non-direct market distributor of IDW's graphic novels. Diamond Book Distributors VP of Sales and Marketing, Kuo-Yu Liang is "extremely proud of the progress we've made in helping IDW grow its sales [of its licensed products and the successful launch of kids' books under the Worthwhile Books line] in the book store market over the last five years."
Shelley Smarz is a life-time comic book fan and a comic book scholar. She's currently finishing her MBA at Ryerson University in Toronto, ON.