Honouring a person who has excelled or who has had a noteworthy contribution to a certain field is a common institutional practice. A hall of fame takes this to another level by enshrining a person as an honoured member in perpetuity. The word "fame" in such instances is synonymous with "renown," more than "celebrity." Sometimes a hall of fame is located in an actual building, where members become part of large physical shrines. In other cases, halls are in name only and only exist ephemerally as lists of honoured members. The concept of a hall of fame is actually a mid 19th to early 20th century phenomenon. In reality, it finds its roots in Norse mythology, with Valhalla being the place where honoured warriors would go if they were slain in battle. The first hall of fames ever created were opened in the mid-1800s by King Ludwig I of Bavaria, who opened two such halls memorializing important German-speaking people with plaques and statues in a museum setting. The first such hall in North America is the "Hall of Fame for Great Americans," located on the grounds of Bronx Community College in New York City. That said, in my opinion, the idea of a hall of fame in today's pop culture landscape really begins with the establishment of the National Baseball Hall of Fame and Museum in 1939 by Stephen Carlton Clark.
As a hockey and wrestling fan (of the sports entertainment variety), as well as an occasional bandwagon jumper when a particular sports team has an incredible season (hello, Toronto Raptors), I read a fair amount of sports news. Every year, the big four professional sports leagues in North America induct new members into their respective halls. This leads to a couple of days of pundits from various sports news agencies and websites, as well as amateur bloggers and forum writers discussing the validity of a certain honouree's induction, as well as who was snubbed and who should get in next year. This happens every year and sometimes debates, discussions and opinion pieces get quite heated. The same is likely true for myriad halls of fame that I have never even heard of.
We are fortunate that the world of Canadian comic books has been honoring creators and retailers in the form of the Joe Shuster Awards since 2005. If you are not familiar with the Shuster Awards, I recommend checking out their website. For the past decade and a half, the Canadian Comic Book Creator Awards Association has handed out awards to comic, graphic novel and webcomic creators, as well as retailers in the form of the Harry Kremer Retailer Award. Everyone who is connected in the Canadian comics scene will likely have friends and colleagues who have been nominated for a Shuster and some have been lucky enough to be nominated themselves. I would like to personally thank Kevin Boyd for his work as director of this organization. I imagine that setting this up every year cannot be easy.
With all of this in mind, my angle for this month's edition of Forgotten Silver is to take on the role of armchair post-hall of fame induction pundit. Unlike the sports journalists and bloggers who complain of hall of fame snubs on an annual basis, this is not my intention here. The Canadian Comic Book Hall of Fame is a "Hinterland Who's Who" of Canadian comic creators and every inductee deserves to be there. Indeed, this year's inductees are a case in point. All four deserve this recognition. Indeed, two of this year's inductees made significant contributions to the medium during the Canadian Silver Age. Gerhard's elaborate backgrounds in Cerebus brought the series to life and made it a much better comic, beginning with issue # 65 in 1984 until the series ended. Dale Keown is now a household name in comics because of his work on The Incredible Hulk and his creator-owned series The Pitt, but got his start in Ottawa working for Aircel on several series, most notably Dragon Ring and is the one true star to have started at one of Canada's most important Silver Age publishers. Al Hewetson's greatest contributions came during this era too, albeit in American publications.
---
What I really appreciate about the Canadian Comic Book Hall of Fame is that it has continuously done a fantastic job representing the Golden Age, Silver Age and Modern Era. Quebecois creators are also well-represented in the hall of fame. Some years as many as six people have been inducted, but on one occasion there were no inductees. The committee averages four inductees a year. As such, my list of potential candidates includes the four people/collectives who I think are most deserving of being inducted next year. Remember, this is just for fun and for the sake of discussion. Also, since this column focuses on the Silver Age, I am not listing creators from other eras. My suggestions are not in any particular order.
1. Vincent Marchesano
Vincent Marchesano was a major participant in the publication of some of the earliest (non-giveaway) Canadian comics published after the end of the Golden Age, such as Comic Canada and Canada's Best Comics. These were fan published works, but they did contain a nationalist sentiment, as well as original characters (such as "Freedom Fighter"). By 1971, Marchesano was publishing three mini-comic fanzines under the name Spectrum Publications called The Spectrum (which ran for seven issues), Id, Ego…Aeon (which ran for four issues) and With Pen & Brush (which had five issues). The latter publication was a portfolio zine, which featured contributions from numerous artists, but was not a comic publication. The first two publications, however, were comic publications that contained numerous characters that have mostly been forgotten to time, such as Art Cooper's "Samuel Strong," Ron Fortier's "Vicon of the Skyriders," as well as "A-7" and the further adventures of Freedom Fighter. For a couple of years, Spectrum Publications was the most important comic publisher in Ontario.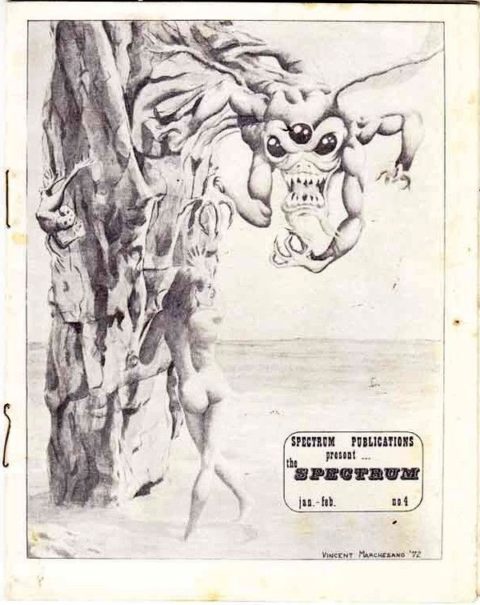 Spectrum Publications ceased production in 1973 and some unpublished material was quickly produced as Space Fantasies, a one-shot published by Fantasy House in California. Afterwards, Marchesano became an understudy/ghost artist at Marvel Comics, working under Rich Buckler on titles such as The Fantastic Four and Astonishing Tales. He later worked on comics published by DC. He is still active in comics and continuously travels to comic and fan conventions throughout Ontario.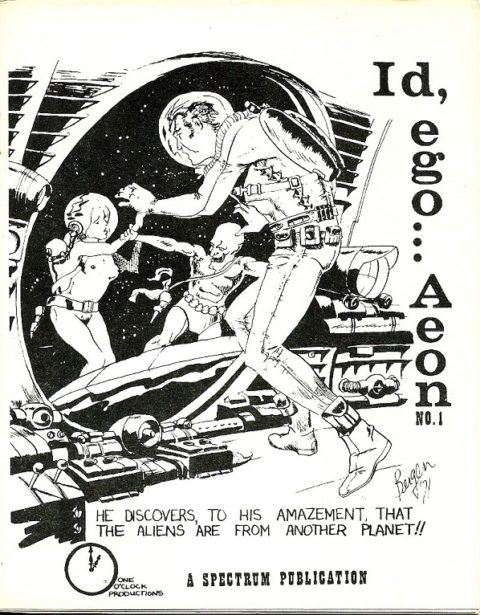 Yet, Marchesano's contributions to Canadian comics did not end with Spectrum. By the mid-1970s, he was contributing to Orb Magazine and also to Jim McPherson's Phantacea. In 1978, he participated in Art Cooper's self-published one-shot The Crap Caper (as "editor emeritus"), which featured a new Samuel Strong story.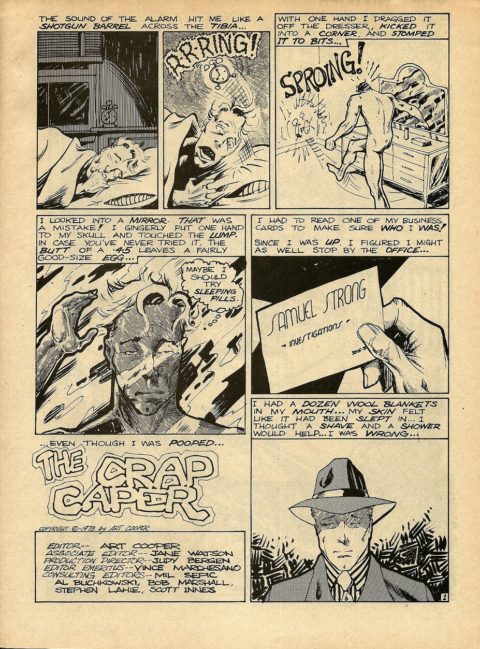 Spectrum Publications has mostly been forgotten among Canadian comic enthusiasts and collectors, but during an era dominated by Undergrounds in both English and French-speaking Canada, this little publishing company stands out as one of the few that were doing work that would be the precursor for the science-fiction and fantasy-oriented independent Canadian comic publications that would dominate the decade. Spectrum Publications is also responsible for the first mini-comics published in Canada that were not giveaways (Ganes Productions published numerous minis in the 1960s). Marchesano's contributions to the history of Canadian comic books should not be understated and it is my belief that he is worthy of induction to the Canadian Comic Book Hall of Fame.
2. Dave Geary
To date, only three Underground creators have been inducted into the hall of fame, and it has been eleven years since a creator from this subset of the Silver Age was inducted. They are Rand Holmes (creator of Harold Hedd), who was inducted in 2005 and Pierre Fournier (creator of Capitaine Kebec) and Stanley Berneche (of Fuddle Duddle fame), who were both inducted in 2008. The lack of Underground creators in the hall of fame is something that bothers me, as this genre of comics from the late-1960s through mid-1970s was one of the major catalysts of the Silver Age in both Quebec and the rest of Canada. One of the difficulties with this, however, is that few Underground creators published enough material to become significant names in the industry like the three men already inducted. That said, there is one prolific creator who worked out of Saskatoon during this era and has left an indelible mark on the comic scene in Saskatchewan. That man is Dave Geary.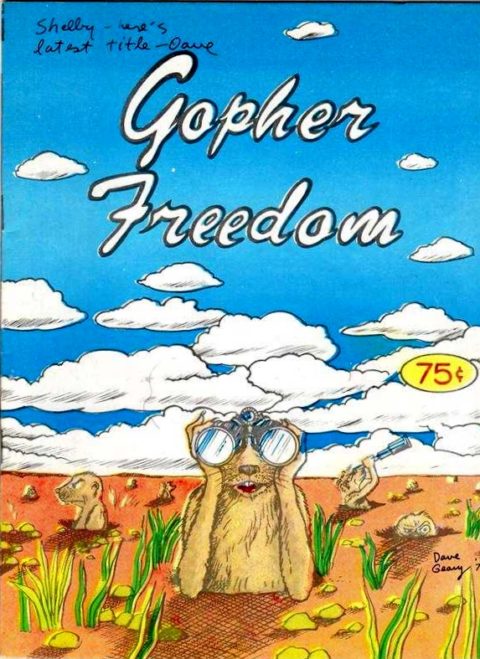 Geary published at least twenty-one comics between 1971 and 1989, with his 1970s work being some of the best of the genre. Beginning with Beer Comix and Nature Comix, he also published Bridge City Revue, Fleshapoids from Earth, Scratchatune Comics and, perhaps my favourite Canadian Underground, Gopher Freedom. All of these comics have high production values for self-published material and capture the essence of what made the best Underground comics so good: they are not just about sex and drugs, but present the political and environmental concerns of the counter-culture movement in serious and parodic ways. Geary's comics continue to be popular today on the collector market and tend to fetch large sums, with most selling for well over $100 CAD each if you can find them (though Gopher Freedom tends to be cheaper and easier to find).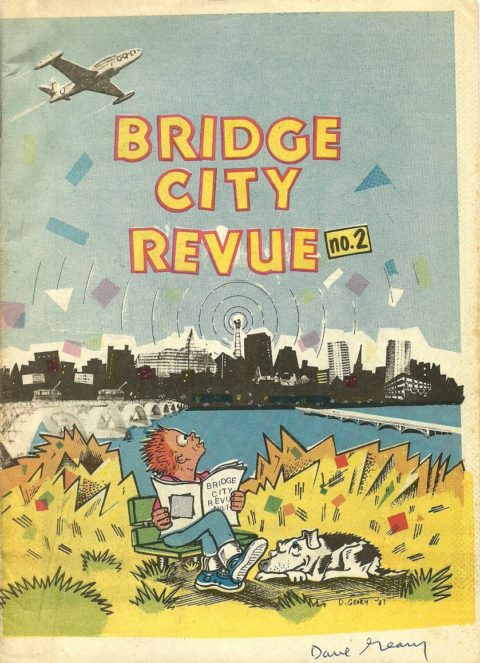 By the 1980s, Geary transitioned to mini-comics and started teaching in the University of Saskatchewan's Department of Art and Art History. He also started to become well-known as a fine artist in his own right, with pieces (both graphic and sculptural) now held in private and public collections across Canada. In recent decades, Geary has continued to support his local comic scene by participating in comic jams and zine culture. His graphic artwork also continues to make headlines, such as his 2016 exhibit Saskatchewan Atomic Mutant Monster Psychotronic Film Posters, which criticized the province's history of environmental protection and its uranium industry. With it being so long since an Underground creator has been inducted into the hall of fame, Dave Geary should be the next person from this genre/era waiting in the wings.
3. FreeKluck
By the late 1970s, the Canadian comic industry was in transition, as Undergrounds all but disappeared and the science fiction publications the dominated the scene during the mid to late-1970s ceased publication. Most comics that could be considered Undergrounds from the late 1970s and early 1980s, such as Brain Sugar, were one-shots. However, there was one stable of comic creators in Winnipeg, Manitoba whose prolific output and quality work serves as an example of the transition from Undergrounds to mini-comics and small press.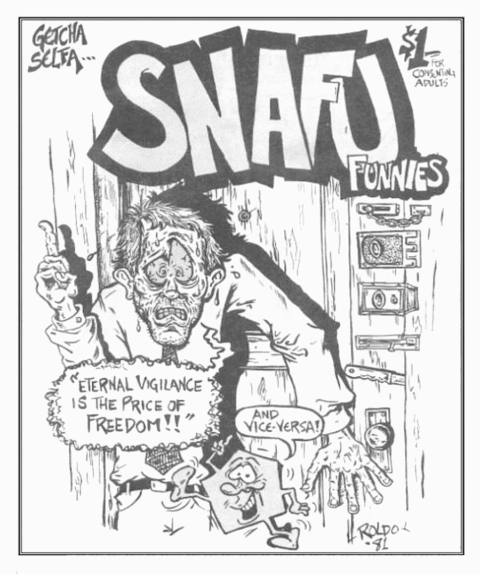 FreeKluck (pronounced "Freak Luck") was started in the late-1970s by Bobby Stahr, Frank McTruck, Basil Hatte, Roldo Odlor, and Jack D. Zastre. Prior to coming together as a comic creating stable, Jack D. Zastre had published one issue of Polar Funnies, Basil Hatte had published The Notorious Hatte Brothers and Roldo Odlor had published Roldo the Barbarian. Meanwhile, McTruck had operated Winnipeg's first comic shop, "New Universe Comics."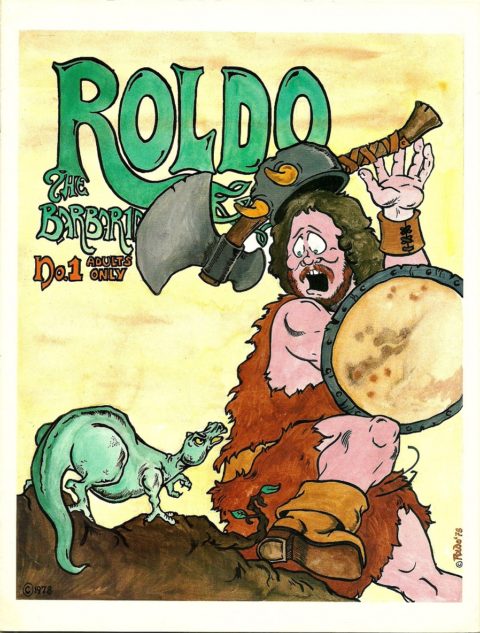 From 1978 to 1982 the group was among the first in Canada to engage in comic jams, where several members would come together to create comics under the FreeKluck name. During this period, FreeKluck published approximately twenty mini-comics together, with members continuing to publish their own separate comics. Jack D. Zastre published five issues of his Star Wars parody Bar Wars outside of the FreeKluck stable, as well as a second issue of Polar Funnies and a comic called Street Music. Roldo also published two comics outside of FreeKluck during this period: Moron Majority Funnies and Too Twisted Tales. FreeKluck titles were mostly one-shots, such as Chrome Plated, Drunk Comix, Myndphuck, Primary Event, Snapshots, Strange Times Tales, Voojaday and Wired Tales. The group's only ongoing series was called Snafu, which ran for five issues. Perhaps their most important contribution, however, was the Winnipeg Jam-Pac. This was a project where members of the group each contributed to five individual comics as part of their comic jams, which were subsequently sold as a single bundle of comics. The result was the following five comics: Bottom Doubt, Cosmic Flotsam, Holey Script, Scribbling Rivalry and Snot Reel.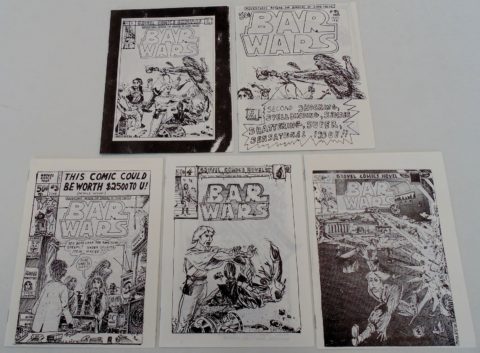 FreeKluck is significant in the history of Canadian comics for bridging the gap between Undergrounds and the small press movement. The group should be no stranger to anyone who has read John Bell's Invaders from the North, who notes that, "they would figure as the first 'new-wave' comics coterie in the country" (p. 125). Indeed, Bell holds them in high esteem and the reality is that FreeKluck's output anticipated what was just around the corner for mini-comics to the extent that several members contributed to the American mini-comics scene during the 1980s. They also helped launch the career of Kenny Moran, who participated in some of their jams and became the most prolific mini creator in Winnipeg during the 1980s. Although, the Canadian Comic Book Hall of Fame has never inducted a creative stable, it would be a great insult to induct one member, but not the others. In my opinion, FreeKluck are worthy of induction into the hall of fame.
4. Sylvie Rancourt
One of the things that I really appreciate about the Canadian Comic Book Hall of Fame is that it has a history of inducting Quebecois creators who may otherwise be overlooked by English-speaking audiences. I also really appreciate that the committee members have a track record of inducting female creators and editors, including Diana Schutz, Deni Loubert, Katherine Collins, Doris Slater and Ley (Shirley Fortune). The most recent female inductee into the hall of fame was Julie Doucet in 2017. Sylvie Rancourt is, in my opinion, the most obvious person who should be next in line to check off the boxes of French creator and female creator.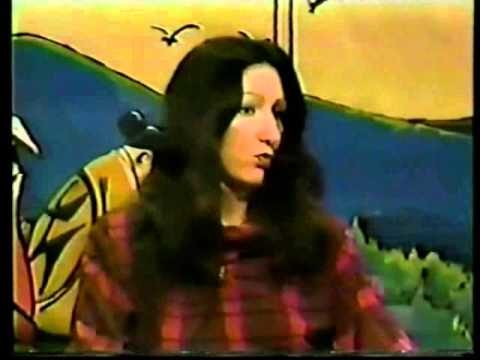 I mentioned Rancourt in my recent column about the early work of Jacques Boivin because of his involvement in propelling her series, Mélody, into the hands of English readers and international acclaim. I argued in that column that her autobiographical series about a nude dancer is the most important French-language comic series published during the era and also stated that it is a work of high art, even if the subject matter is not for everyone. The series was the first autobiographical comic published in Canada (predating works by Chester Brown, Seth, Julie Doucet and illegal alien Joe Matt) and in recent years has gained more recognition due to being reprinted in English in its entirety by Drawn & Quarterly. Rancourt may be the most important Silver Age creator who has not been inducted into the Canadian Comic Book Hall of Fame.
---
I have a great amount of respect for the Joe Shuster Awards, which is why I decided to have some fun this month with my armchair punditry. Again, if you are not familiar with the Shusters, please check them out and support them. Just to be clear, I have no skin in the game and wrote this column as a fan of Canadian comic books and creators, as well of the Shuster Awards themselves and for the sake of sparking some discussion. There are many more creators who are worthy of induction into the hall of fame and this is part of the fun of discussing a topic like this. Perhaps you, the reader of Forgotten Silver, have other ideas. Why not Colin Upton (the king of west coast minis) or bpNichol, the sound poet who created some of the most bizarre comics of the era and is so venerated that every graduate student in English departments across Canada likely has an opinion about him? Why not someone else? Who do you think should be inducted into the hall next year?