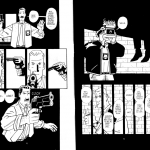 I Love Comics by Pete DeCourcy is a Monday to Friday examination of the many reasons why we here at Comicbookdaily.com love comics. Not all of them might be to your tastes, but hey – isn't that the whole point of Comics?
Paul Grist is one of the most innovative creators working in the comic book medium. Grist's art is notable for its spare – sometimes stiff – style and heavy use of shadow. He is known primarily for his creator owned work such as the British Super-Hero Jack Staff and his tongue in cheek police procedural Kane.
One of the things that Grist does in work  is the dense layering of story, with breadth–a large cast of characters and many ongoing plotlines–and depth–backstory and flashbacks that reach back decades, centuries, and longer. He's also known for his experimental  panel layouts. Splash pages meld together lettering and art to give you more information than you'd suspect.
"… I must write Huzzahs to you for a job damn well done! You write/design/tell a graphic story very well indeed!" – Praise from the legendary Alex Toth to Paul Grist.
Grist's first work was published in the 1980s by DC Thomson and Fleetway. His early work also includes St. Swithin's Day (written by Grant Morrison and published by Trident Comics), Grendel: Devil in Our Midst (written by Steven T. Seagle and published by Dark Horse Comics), and a Judge Dredd adventure, Kinky Boots authored by Robbie Morrison.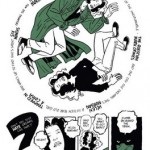 He later founded his own publishing company, Dancing Elephant Press, under which Kane and Jack Staff were first published, but both titles later moved to Image Comics.He also published Burglar Bill under the Dancing Elephant umbrella (though it had partly appeared in an earlier form published by Trident Comics).
While I'll no doubt spotlight Jack Staff more in upcoming columns. (This is a daily feature people!) I'd really like to spotlight the amazing quality that Grist brings to the table with this ongoing series. Blending elements of pretty much every British comic, as well as culture into one comic and keeping it coherent at that is really something special. (I should point out that Alan Moore is actually a character in Jack Staff – Morlan the Mystic.)
If you haven't checked out Grist yet, you're missing out on one of the most inventive minds in comics since Will Eisner – I realize that's a pretty big compliment – but once you read it you'll be nodding your head in agreement.
Check out a great interview where Grist talks about his storytelling techniques here.
Pete DeCourcy is the Editor In Chief of ComicBookDaily.com and Manager of Blue Beetle Comics in Barrie, Ontario.