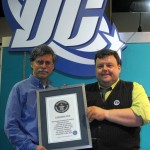 Official Press Release
Burbank, CA –  Warner Bros. Entertainment Inc. (WBEI) has created DC Entertainment Inc., a new company founded to fully realize the power and value of the DC Comics
brand and characters across all media and platforms, to be run by Diane Nelson, it was announced today by Barry Meyer, Chairman & CEO, and Alan Horn, President & COO, Warner Bros.
Nelson came to the Studio from Walt Disney Records, where she served as Director of National Promotions.  She is a graduate of Syracuse University's Newhouse School of Communications.
Prior to overseeing Global Brand Management, Nelson had served as Executive Vice President, Domestic Marketing, Warner Bros. Pictures.  Nelson rose quickly through the ranks, having also served as Senior Vice President, Domestic Marketing, Warner Bros. Pictures and prior to that, Senior Vice President, Family Entertainment, Warner Bros. Corporate Worldwide Marketing and Planning.  She was also Vice President, Worldwide Corporate Promotions, a post to which she was promoted in March 1998, after joining the Studio in September 1996 as Director of Worldwide Corporate Promotions.
At Global Brand Management, Nelson and her team of more than 15 employees worked in all media and platforms to support a number of other key franchise properties, including  "The Matrix Reloaded," "The Matrix Revolutions," "Batman Begins," "The Dark Knight," "Happy Feet," "Polar Express" and "Charlie and the Chocolate Factory," among others.
Before that, Nelson served as Executive Vice President, Global Brand Management, Warner Bros. Entertainment, with the primary responsibility of working cross-divisionally and throughout Time Warner to maximize and optimize all the various windows and outlets available to the Studio's signature franchises, brands and event properties on a global basis.  In this post, Nelson's primary focus was the management of the Harry Potter brand, which she has overseen since the brand's launch at the Studio in 1999.  These efforts have helped drive the success of the brand to become the most successful film franchise of all time, as well as a respected consumer property that has generated billions of dollars for the Studio.
DC Entertainment, a separate division of WBEI, will be charged with strategically integrating the DC Comics business, brand and characters deeply into Warner Bros. Entertainment and all its content and distribution businesses.  DC Entertainment, which will work with each of the Warner Bros. divisions, will also tap into the tremendous expertise the Studio has in building and sustaining franchises and prioritize DC properties as key titles and growth drivers across all of the Studio, including feature films, television, interactive entertainment, direct-to-consumer platforms and consumer products.  The DC Comics publishing business will remain the cornerstone of DC Entertainment, releasing approximately 90 comic books through its various imprints and 30 graphic novels a month and continuing to build on its creative leadership in the comic book industry.
In her new role, Nelson will report to Jeff Robinov, President, Warner Bros. Pictures Group, in order to best capitalize on DC Entertainment's theatrical development and production activities and their importance to drive its overall business with each of the divisions of Warner Bros.
Nelson will bring her expertise and more than 20 years' experience in creative brand management, strategic marketing and content development and production to ensuring DC Entertainment's dual mission of marshalling Warner Bros.' resources to maximize the potential of the DC brand while remaining respectful of and collaborative with creators, talent, fans and source material.  Additionally, Nelson will continue to oversee the franchise management of the Harry Potter property, which she has done since 2000, and also continue to represent the Studio's interests with the author of the Harry Potter books, J.K. Rowling.  Nelson will segue from her post as President, Warner Premiere but maintain oversight responsibilities of that division.  (An executive succession plan for Warner Premiere will be announced shortly.)
Paul Levitz, who has served as President & Publisher of DC Comics since 2002, will segue from that role to return to his roots as a writer for DC and become a contributing editor and overall consultant to DCE.  This transition will take place as expeditiously as possible without disrupting DC's business operations.
In his new role, Levitz will be called upon for his deep knowledge and more than three-decade history with DC Comics, both as a comic creator and an executive.  Besides serving as a writer on a number of DC Comics titles, he will be a contributing editor and consultant to DC Entertainment on projects in various media.  Additionally, he will consult as needed on the transition and integration of the DC Comics organization into DC Entertainment and will utilize his unique experience, knowledge and relationships with the comics industry's creative community to help achieve DC Entertainment's goal of maximizing the value of DC properties.  Further, Levitz will advise DC Entertainment on creative and rights-holder relationships, in particular regarding the legacy relationships that have been a part of DC Comics for decades.
Widely recognized and respected for his support of writers, artists and creators in the comics industry, Levitz is best known creatively for his work with DC Comics, having written most of the classic DC characters, including Batman, Wonder Woman and the Superman newspaper strip. At Comicon International in 2008, Levitz was awarded the Bob Clampett Humanitarian Award as part of the Will Eisner Comic Industry Awards, the only industry executive ever so honored.
"DC Comics and its super hero characters are truly touchstones of popular culture, and the formation of DC Entertainment is a major step in our company's efforts to realize the full potential of this incredible wellspring of creative properties," said Meyer.  "Diane knows our studio as a creative executive, a marketer and a senior manager, and this varied background will help her effectively and creatively integrate the DC brand and properties across all our businesses.  We're also thrilled that Paul will remain involved with DC and we'll be able to tap his expertise to help us reach our goals for this new business."
"It's no secret that DC has myriad rich and untapped possibilities from its deep library of iconic and lesser-known characters," said Horn.  "While we've had great success in films and television, the formation of DC Entertainment will help us to bring more DC properties across additional platforms to fans around the world, while maintaining brand integrity and authenticity.  Diane is a terrific choice to lead DC Entertainment, and with Paul in his new role as a valued consultant and contributing editor, both our company and comic fans win."
"Based on the great success we've had working with DC Comics to create some of the most popular and successful super hero films of all time, I've long believed that there was much more we could do across all of Warner Bros.' businesses with this great body of characters and stories," said Robinov.  "The prioritization of DC and the creation of DC Entertainment is a great opportunity that reaches far beyond the film group.  There are endless creative possibilities to build upon the many significant successes already achieved by my colleagues Kevin Tsujihara and the Home Entertainment Group in the videogame, home video and direct-to-platform arenas and Bruce Rosenblum and the Television Group in live-action, animated and digital series.  Collectively, we have the ability to grow a body of properties highlighting the iconic characters and the diversity of the creative output of DC Comics."
"The founding of DC Entertainment fully recognizes our desire to provide both the DC properties and fans the type of content that is only possible through a concerted cross-company, multi-platform effort," said Nelson.  "DC Entertainment will help us to formally take the great working relationships between DC Comics and various Warner Bros. businesses to the next level in order to maximize every opportunity to bring DC's unrivalled collection of titles and characters to life."
"After so many roles at DC, it's exciting to look forward to focusing on my writing and being able to remain a part of the company I love as it grows into its next stage," said Levitz.  "It's a new golden age for comics and DC's great characters, and I hope my new position will allow me to contribute to that magic time."
DC Comics will celebrate its 75th anniversary in 2010 (NEW FUN COMICS #1, the first DC comic, began publishing in 1935), at which time more explicit details regarding DC Entertainment's corporate and management structure, film and content release slate, creative roster and business objectives will be unveiled at a multi-faceted anniversary celebration and press conference in the first quarter of the year.
Current DC properties in development and/or production at Warner Bros. Entertainment include:
— "Human Target" is being produced by Warner Bros. Television for a mid-season debut on Fox.
— "Midnight Mass" is in series development at Warner Bros. Television for consideration for the 2010-11 season.
— "Jonah Hex," Warner Bros. Pictures' supernatural Western starring Josh Brolin, Megan Fox and John Malkovich, recently wrapped production in Louisiana.
— "The Losers," Dark Castle/Warner Bros. Pictures' action-adventure drama starring Jeffrey Dean Morgan, Zoe Saldana and Chris Evans, began principal photography mid-July in Puerto Rico.
— "The Green Lantern," Warner Bros. Pictures' next big superhero tentpole release, recently cast Ryan Reynolds as the titular character.  The film has a projected second quarter 2011 release date.
— "Lobo," based on the DC Comics anti-hero, has Guy Ritchie attached as a director; Joel Silver, Akiva Goldsman and Andrew Rona are producing for Silver Pictures and Warner Bros. Pictures.
— Warner Premiere's direct-to-platform DVD animated release of "Green Lantern: First Flight" debuted July 28.
— Warner Bros. Animation currently produces "Batman: The Brave and the Bold," which airs on Cartoon Network.
— Warner Bros. Interactive Entertainment released "Batman: Arkham Asylum" on August 25, a dark, action packed videogame adventure for Xbox 360 videogame and entertainment system,  PlayStation3 computer entertainment system and Games for Windows.
Prior to being named President, DC Entertainment, Nelson most recently served as President, Warner Premiere since its founding in 2006.  Warner Premiere is a Studio-based production company which develops and produces high-quality, direct-to-DVD and short-form digital content, including the highly successful line of DC Universe animated DVD titles, and also pioneered the development of the motion comics category.  Under Nelson's leadership, Warner Premiere functions as a full-service production entity with its own resources and release schedule, furthering the Studio's mandate of being a destination for both established and up-and-coming talent to create stand-alone properties as well as experiment in new media.
Here's his official letter of resignation via DC's The Source:
Dear Friends,Thank you for your efforts, your support, and your contributions to DC Comics over the long years that I've had the honor of serving as part of DC's leadership team. Together, our staff, creative contributors, readers, retailers and business partners have helped bring us to the beginning of what looks to be a new golden age for comics in the United States, and one that will bring more respect for the talent and the medium.
It will come as no surprise to anyone who's heard me answer a comic convention request, "When are you going to do more Legion stories?" that I'm going to step away from my executive desk in coming months to resume my writing career, in comics and hopefully other forms as well. One of the lessons I learned from my many great teachers, from Frank McCourt through Joe Orlando and Jenette Kahn, is that creative work is more enduring than executive acts, and I look forward to adding to the stories I've told. Expect to see my byline at DC, as it has appeared for almost 37 years, adding what I can to a mythology and company that has my enduring affection, and expect to see me around the world of comics, which I hope never to leave. I already hear Karen and Dan sharpening their blue pencils with glee, waiting for my first pages.
DC will remain in the hands of the people who have had ultimate responsibility for its success throughout the past two decades, the management team of Warner Bros., headed by Barry Meyer and Alan Horn. They have encouraged our growth as a creative enterprise, and I have confidence that the people they will select to join the DC team, beginning with Diane Nelson, will do their best to make DC a success. While that transition process is taking place, I'll continue to run DC until the baton can be carefully passed, and afterwards will have a role in which I can provide my advice and help.
On a personal note, I deeply appreciate the warmth and friendship I have found in these halls since my first visit, as a 13 year old comics fan. The relationships I have made here, including one that began in a DC circulation meeting and developed into the first DC marriage in four decades (thereby rebooting a grand tradition?), have been and will remain central to my life.
And now, if you forgive me, the future is calling.