DC solicitations for March 2011 went online yesterday and I was shocked, shocked, to see Absolute Promethea Volume 3 solicited.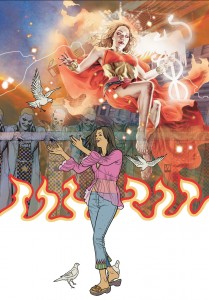 The final Absolute edition of Alan Moore's epic collects issues #24-32 with the spectacular artwork of J.H. Williams III!
ADVANCE SOLICITED • On sale AUGUST 17, 328 pg, 8.25" x 12.5", FC, $99.99 US
Last week I looked at Absolute sales numbers and found Absolute Promethea Volume 2 to be the worst selling Absolute edition ever at 805 units its premiere month.  I know Alan Moore is a big name in comics and J.H. Williams III has struck it big time with Batwoman but who is buying these Absolute Promethea volumes?
This is a premium item priced at $100: why is material that received lukewarm sales at best during its initial production getting the "Absolute" treatment.  Based on production I'm sure modern works that DC already has large scans of is the easiest to remaster in any format.  But even then isn't there better material to draw from in the last twenty years?
The oldest material to see an Absolute edition is Ronin, published in 1983, followed by Crisis On Infinite Earths in 1985 and The Watchmen and Batman: The Dark Knight Returns in 1986.  We need to see smaller works get the Absolute treatment, 200 pages for $50; skip the slipcase if need be.  This oversized work should focus on art: here's what I'd like to see:
Let me know what you'd like to see by posting a comment!