Word on the street is that the DC Archives program is in peril, or at least that's what the Collected Editions blog is saying and I agree.  The brouhaha started last week on Robot 6 when two DC Omnibus collections were advanced solicited on Amazon: Jack Kirby Omnibus Volume 1 and Steve Ditko Omnibus Volume 1.  Now Teen Titans Omnibus Volume 1 is up for pre-order, and we've already seen Green Lantern Omnibus Volume 1 and reviewed it here.  For now let's ignore the wonder we're all feeling for those who have the time to mine Amazon.com for advance solicitations…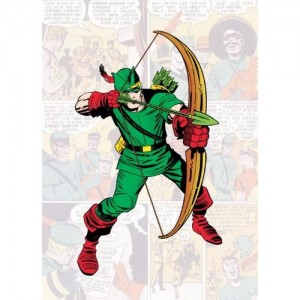 Two direction changes here for DC with their reprint material.  They're offering material in an Omnibus format that previously would have been published in the DC Archives line, Jack Kirby and Steve Ditko Omnibuses.  They're offering material previously published in the DC Archives line, Green Lantern and Teen Titans.  Unfortunately the Amazon listings don't show dimensions so we don't know if they'll be slightly oversized but that's how DC seems to be producing their Omnibus volumes.
The big item I haven't seen mentioned in these posts is that DC offered all their DC Archives at 70% off through Diamond for the past three weeks.  To me that's the biggest flag pointing to a direction change for DC reprint material.  If nothing else it looks like DC wants to dump what's still in print.
Of course we could be looking at this all wrong.  The Kirby and Ditko volumes sound like collections of various titles that didn't have the page count to be in their own DC Archive.  The Green Lantern and Teen Titans volumes are at this point repackaging material already published in DC Archives volumes.
It's been slow going for DC Archives fans lately: four volumes published in 2010 and one solicited for 2011.  I'm a fan and have all volumes 1 and 2 plus more for favourites like Green Lantern and T.H.U.N.D.E.R. Agents but they're expensive, I only pick them up when deeply discounted, and have that odd yellow tinge to the paper that I've never understood.
No question there is a lot of work to be done gathering, restoring and printing this older material but they're too pricey: $50-60 for 200-300 pages of standard sized material, especially for modern work like Teen Titans.  These new Omnibus volumes are $50-75 for 300-500 pages of material, most likely oversized.
For now it's wait and see.