This weekend I was checking the comic news to see if any of the publishers were taking part in Black Friday or Cyber Monday, big discount shopping days surrounding Thanksgiving in the United States.
I came across Digital Dark Horse cyber Monday deal: 50% off all books from their digital store for the first 500 customers.  Getting in the small print it had to be a minimum $20 before discount and you had to apply a coupon code on checkout, meaning it wouldn't work from their IOS apps.
I'm an iPhone and iPad user and enjoy the apps.  Future Shop in Canada frequently offers Apple Store gift cards at 20% off so I load up my account at a discount and buy away. To this point I've been reading digital copies of comics I already own but wanted to start getting new-to-me material. Yes I have CBR/CBZ copies of most of my comics so I can enjoy them when I travel without lugging heavy trades along, but that's a topic for another day.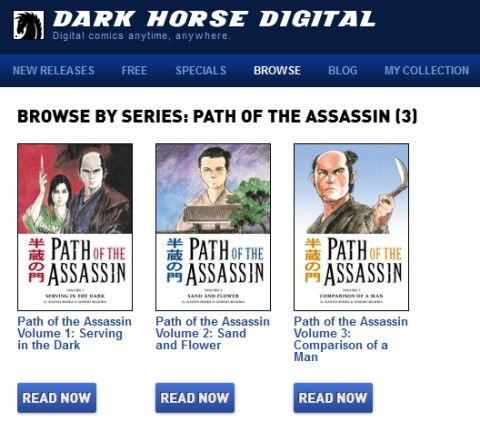 Perusing Dark Horse's digital store through a web browser I came across the perfect material for my entry into digital reading: the works of Koike and Kojima. Dark Horse had printed Lone Wolf & Cub, Samurai Executioner and Path Of The Assassin in these tiny volumes that literally fit in the palm of my hand. The digital volumes were each over three hundred pages and I was getting them for $3 each. The best part was that they were a wonderful large size on my iPad screen.
Picking manga that's read right to left probably wasn't a good choice for first experiences but for some reason that's only Path Of The Assassin: the other two read left to right. Hmm.
After reading through several hundred pages I can report that comic reading on an iPad is a wonderful experience: bright, clean pages well displayed. No worries of how the material will show based on paper, ink and printing.
I can really see myself moving to digital comic reading for most regular sized material, instead of buying standard comic sized trades and hardcovers. Digital gives the material in a convenient and easily digestible format.
What it won't replace is the oversized special material that I love so much: Absolute editions, full sized comic strip reprints, Artist Editions. Just this month I'm engrossed in Prince Valiant Volume 4, Parker Martini Edition and The Definitive Flash Gordon And Jungle Jim Volume 1.