My family moved in April from a large house to a more modest dwelling. At the old place I had a home office and a good sized library; now I had one room to make it all work. This post isn't "shelf porn" or a tour through my collection: it's about making your space work to store and display your collection.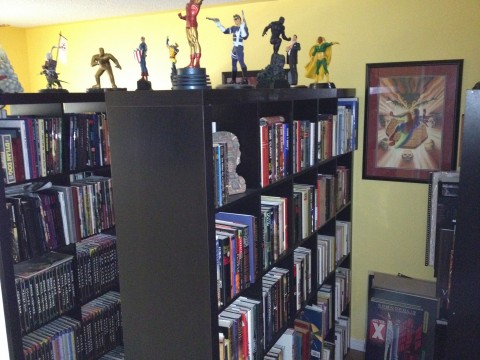 No surprises here but I only collect books, hard and soft cover, so bookshelves are my best bet. My home office and library is 8′ 8″ by 13′. My original plan was very traditional: line two walls with bookshelves and put my desk on the free wall, leaving the fourth wall since it has the closet. Looking for bookshelves invariably leads to Ikea, so I started in their online catalogue. The Billy bookshelf is their standard but I looked at the other "systems" and stumbled across the Expedit.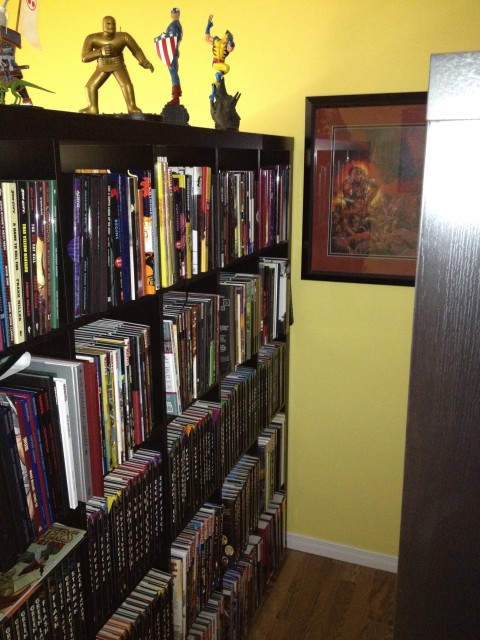 The Expedit line are shelves 15.25″ deep made up of even 13.5″ squares. The even grid meant a stable shelf with lots of dividers to keep the books in place. While looking at them I had a eureka moment and realized I could use both sides of the shelves to double my available space. The only way to use both sides would be to have the Expedit shelves come out into the room.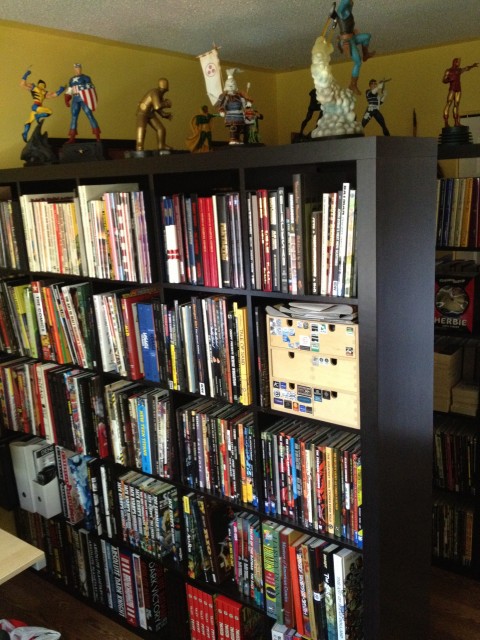 It looked like everything would fit so I bought two of the largest Expedit shelves, a 5 x 5 grid a little over six feet high and wide, and assembled them in the room. Moving around I settled on 26″ of space between shelves: that let me stand between them without either side touching me. Regular sized books fit within the shelves on both sides but the larger books stick out an inch or two.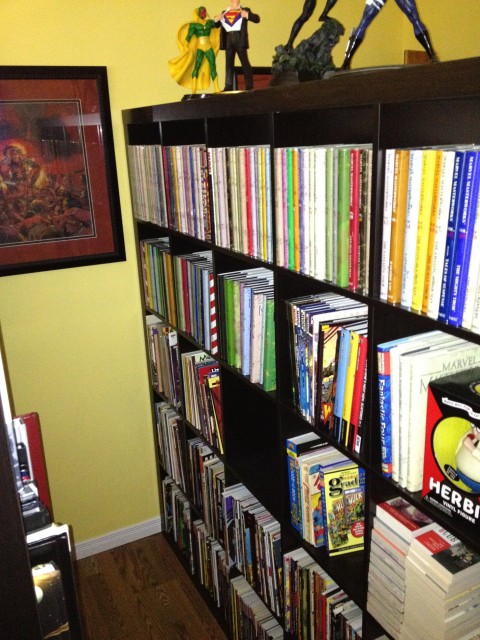 After getting my desk in the room, spacing things out and loading up the shelves I realized a shelf for oversized books was required. Luckily I had an old Billy bookshelf I was able to press into service, putting it on the closet wall and still having 26″ of space between shelves. Unfortunately I have books that don't seem to fit anywhere so they're stacked neatly on the floor. With the Expedit shelves pressed against on wall I was able to have a 30″ walkway along the one side of the room to get from my desk by the window to the shelves and out the door.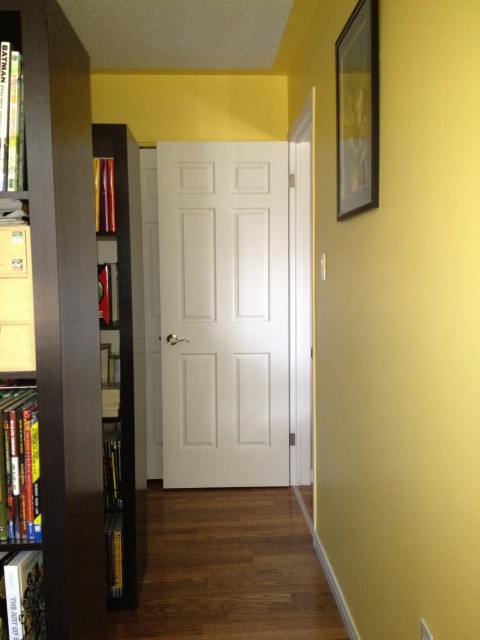 With two feet of clearance between the shelves and the ceiling I had a place to display some statues: five per shelf worked nicely. As well the available wall space allowed for me to hang four paintings and a few comic pages.
It's not perfect but I was able to work with the space I had and have my comic book collection and an office. If you're looking carefully at the shelves you'll see the books aren't organized yet; just the DC Archives and Marvel Masterworks so far. Still deciding if I want them organized by publisher and title.