So you've just seen The Avengers movie.
It's awesome.
You want to own a piece of the movie by purchasing some of the action figures.  So you just go down to your favourite retail store and buy a couple of the figures, right?
WRONG.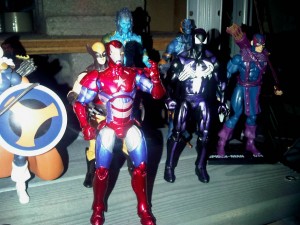 You can do it that way, but let me give you a couple of tips to help you wade through the toy aisles and maximize your collection.
The title for this column is Buying Action Figures…Retail, because you can buy action figures anywhere.  You can buy action figures at your local "Walmart/Toys R Us/Insert Big Box Chain Store Here", but there are also conventions and toy expos, online retailers and your local comic book shop or action figure store.  Each of these choices have different experiences and strategies, so I am just going to focus on retail for now.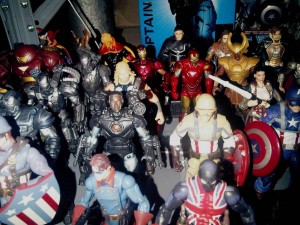 Retail is a good place to find everything you want/need in one place.  Big retails chains like Walmart, Zellers and Toys R Us (to name a few) are easy to find as well.  You can check out the toy aisles with very little effort, but there is one drawback, they may not always have stock.
Big retail chains have immense buying power.  They can buy a lot of stock, and have the space to display it and store it in the back.  But if it doesn't sell quickly, their inventory will sit there on the pegs in the toy aisle.  This is called "peg warming".  Peg Warming isn't good.  If a toy sits there too long people may think the toy line isn't popular and it won't sell.
Lately the big retail chains have been receiving the first couple of waves of new action figures.  Last year's Thor and Captain America and this years Avengers toys are good examples.  The first couple of waves showed up at retail, but the later waves never showed up, because the first waves were still sitting there on the shelf.  Those later waves started popping up at "liquidation" style store like Winners (or Marshalls), The Bargain Shop and Giant Tiger (in Canada) for a lower price than what was on the shelf at other stores.
So if you are wanting to buy all the toys in a line, make sure you hit every retail store you can find.  You'll never know what you'll find.  This past Christmas I stopped by Sears and checked out the toy aisle.  I found a Thor 6″ Destroyer figure.  It wasn't available anywhere else at the time.  It was a surprise to find it and it is perfect for my collection.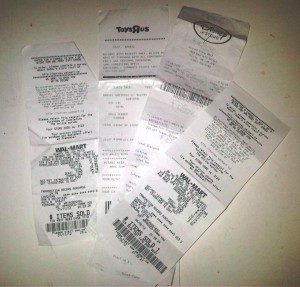 Another good tip with buying toys at retail, is save your receipts.
You will notice that when new toys are released at a big box retail chain, they will be on display for 2 weeks or so, then they will go on sale.  Sometimes it is "Buy One Get One" or you'll get a certain percent discount.  If you keep your receipts you will be able to price match your purchase and get the sale price.  Most of those stores will price match up to 2 weeks from the purchase date.  If you throw out your receipt, you are throwing out a lot of (potential) money.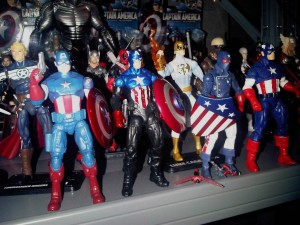 Also a good tool in your arsenal when you are searching the toy aisles is the current flyers for the stores in your area.  Big box stores are trying to get your money, and many of them will price match to get your business.  It is easy to get price matching when the retail price is listed on the ad.  Usually the stores won't price match percentage discount, but if the sale price is clearly marked, you can get your action figures for a good price.  Plus price matching is handy when you are at a store that has something you are looking for, when the store with the advertised sale doesn't have that particular action figure.  As long as the store will price match, you'll be guaranteed to get what you want, for the price you want to pay.
Since you can't be at every store, all the time (some of us have to work), action figure forums are a great resource.  If you do a quick web search you can find a "gazillion" web forums to help you.  Right now I am on two forums, Action Figure News and Joe Canuck: I check them every day.
Not only is it a good place to talk toys to the action figure community, it is a great place to find out what is available in different regions and stores.  There are many times I will jump on the forum and find out which store has what I am looking for.
Recently I found out on the forum that Winner's was selling the G.I. Joe Sky Striker (Sky Fighter here in Canada) for $16.  I know my local Winner's was sold out, but I was able to find out which stores in the "Big City" had them in stock.  So if I wanted to, I could make a road trip and get the stuff I want.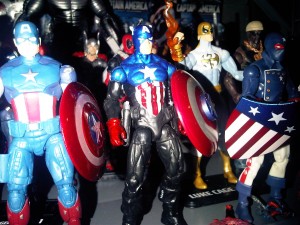 My final tip for collecting action figures in retail, is have a team.  Every super hero succeeds when he/she teams up.  You can succeed too with your toy collection when you team up.  Like I said about the forums, you can't be everywhere.  But if you have some friends who are interested in action figures as well, trade your numbers.  Text each other.  Just drop each other a quick note about what you find at each store.  It works for me and my group of friends who collect toys.  If you just fire off a quick text, everybody knows what they will find.  Facebook is another great tool.  Our group created a group on Facebook where we will update each other on what we find, what sales are on, and what is on our wishlist.
I hope these tips work for you, and help you maximize your action figure buying dollar.
In the immortal words of Red Green "I'm pulling for ya! We're all in this together."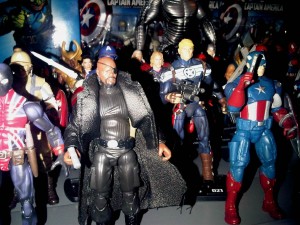 Photos are from my personal collection of Marvel Universe, Captain America, Iron Man and Thor action figures.